Isn't it annoying when a fighter acts cocky and invincible, but then, when he loses, it's always someone else's fault?
Unfortunately, along with all of the down-to-earth, well-respected athletes that enter the world of MMA, there are also a bunch of whiners that take no accountability for their downsides. So, it's always refreshing to have a conversation with a guy like Bellator lightweight title contender Dave Jansen. The native of Portland, Ore., has had his ups and downs, but he always takes responsibility for his own state of mind.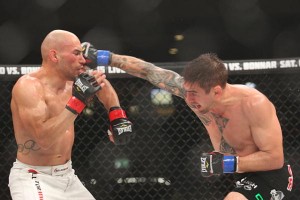 Two years ago, after winning the Bellator season-seven lightweight tournament, Jansen was on top of the world. He was on a six-fight winning streak and was in line for a shot at then-champion Michael Chandler. Then, on June 2, 2013, it was announced that he had to pull out of the bout due to an ACL injury. The injury put him on the sidelines for nearly a year and a half.
---
Advertisement

---
Most fighters would be devastated by an injury so close to a title shot, and Jansen was no exception. He moved to a dark place mentally. In October 2014, he was finally back in the Bellator ring, facing Rick Hawn in a fight to regain his relevancy in the division. After three hard-fought rounds, Jansen swept the scorecards, extending his streak to seven and earning another shot at the belt, which is now in the hands of Will Brooks.
"I attribute my win streak to preparation and having a positive mental attitude," Jansen told Combat Press. "I've had my highs and lows, of course. I hit a low point after my surgery, and I had to dig myself out of a well of despair there to come back and get ready for Hawn. I try to surround myself with the best people I can. That's a big part of it."
Jansen did not wallow in depression, but, rather, picked himself up and pulled off a huge victory. A few months later, he finally got the call. He will face Brooks this Friday night at Bellator 136, live from the Bren Events Center in Irvine, Calif.
"I found out about three months ago, and I was happy," Jansen intimated. "I'm getting my shot now for a reason. I'm more ready than I've ever been. I've always been prepared to fight for the belt, but I'm really coming into my power as a fighter. And, the relationships that I have — I have a very strong woman in my life. I'm not even going to call her my girlfriend. She's my partner, you know? That's powerful right there — a huge motivator."
Jansen and his girlfriend, Zina, met about a year and a half ago. After reconnecting, they have been together since last December. His mental attitude has only gotten better since he has had her in his life.
"She's always on my mind, and it's really good," Jansen admitted. "I'm centered for a change going into this fight."
In addition to surrounding himself with the right woman, the Oregonian also surrounds himself with a great team at Rose City Fight Club and 10th Planet Jiu-Jitsu, both in the Portland area. His coaches and teammates include UFC veterans Mike Pierce and Ian Loveland, Ryan Lowe, Andy Minsker, Robert Villardi, Marc Sprague and Brent Primus, a Brazilian Jiu-Jitsu black belt and undefeated Bellator lightweight. In addition to the human capital that Portland has to offer, he also takes advantage of the geography to aid in his training.
"My cardio has never been better," said Jansen. "I pride myself on being in the best shape I can be. I've got this new tool called a KickBike, and it's all about independent limb development — being able to kick with both legs. There's no gears of anything, and I'm using that to go up Mount Tabor in Portland, Ore., five times per day. It's not that high, but it's an inactive volcano, and it's beautiful up there at the park. It takes me about seven or eight minutes to get from the beginning to the crown. I'm also wrestling, kickboxing, boxing and jiu-jitsu. I feel confident, relaxed and focused."
Focus is something Jansen takes very seriously. He taps into many different resources to keep his mind right. Some of the activities are physical and some are mental, but all of them seem to work. The lightweight challenger sounds the calmest, coolest and most collected he's ever been.
"My mental game is at a whole other level," Jansen explained. "I've been doing meditation and hypnotherapy. I like to kick, I like to punch, I like to grapple, I like to choke people, but my mind has been sharpened recently.
"I've taken up juggling for the last year and a half or two years. That's an activity I enjoy. I like to listen to MF Doom on YouTube. There are a lot of hypnotherapy tracks I listen to in my free time, and have been picking up yoga. My girlfriend and I do yoga at night before bed. I like yin yoga, where you hold the stretches for longer. Another thing is kettlebells. They have really changed my body. There's a guy named Pavel Tsatsouline, and he developed the Russian kettlebell workouts. Now, he's got a company called StrongFirst, and I'm really trying to learn as much as I can from his books. I like to read, too."
Well, a solid mind and solid body are exactly what Jansen will need as he steps into the cage on Friday night. His opponent is no joke.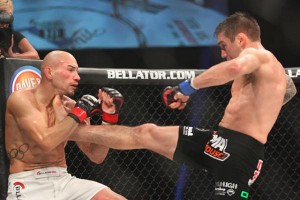 "Ill" Will Brooks is originally from Chicago, but trains out of American Top Team in Coconut Creek, Fla. The well-rounded, 15-1 brawler suffered his only defeat two years ago by a first-round flash knockout at the hands of fellow Bellator mainstay Saad Awad. Since then, he has gone 6-0, become the season-nine tournament winner, captured the interim lightweight championship and solidifying his standing with a TKO of Michael Chandler last November to become the undisputed Bellator lightweight champ.
Brooks has five knockouts and four submissions under his belt, and Jansen holds only one knockout to complement his 10 tapouts, but paper can be deceiving. Both men are very well rounded, and Jansen is ready for wherever the fight goes.
"I've been working on being unpredictable and remaking myself," Jansen said. "I want to be a different fighter every fight. I have a few tricks up my sleeve for this next fight. I also have a general strategy, but I can't have a solid game plan, like a Plan A. I just want to be able to respond appropriately to any given situation. That's really what I took away from the Hawn fight."
Jansen is a fun fighter to watch, but the fact that he has been working on the mental aspect of his game brings an interesting dynamic as he vies for the Bellator lightweight title this Friday night. Focused and ready to go, he has one prediction for how this fight is going down.
"I see this one going in my favor, and I see myself making it look really easy. The biggest obstacle is myself, and I feel really confident in myself. All the heavy lifting is done. I've been shaping this sword like a master craftsman, folding steel for a decade now. Now, I'm just putting the edge on it. That's going to make my fight that much cleaner. I'm going to take mercy on Will Brooks by making it quick and relatively painless."
Jansen would like to thank all of his coaches and training partners at Rose City Fight Club and 10th Planet Portland, his massage therapist Bill Proppe, his family, his friends, his girlfriend Zina, and his sponsors: Onnit, Paradigm Sports Management, Future Legend, Float On, Zin Yoga and Hypnosis, Bulletproof Nutrition, Bee Local, and Fuzion Vapor. Follow Dave on Twitter:
@DaveJansen155
---
Advertisement

---