Sacrifice. What does it mean?
A young Olympic gymnast sacrifices normal childhood and teenage years for a potential once-in-a-lifetime shot at a gold medal. This may be fruitful or it may bring disappointment, but the sacrifices are made and those years are gone forever. When some out-of-shape slug says he's going to give up chocolate as a New Year's resolution, only to crush a Hershey bar after a few days, no sacrifice is made, and that guy should keep the word out of his mouth.
Some people take sacrifice seriously and some toss it around like another buzzword. This is what separates the talkers from the walkers. Titan FC heavyweight title contender Jon Madsen knows a thing or two about sacrifice.
---
Advertisement

---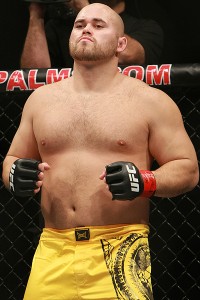 Madsen was a successful multi-sport athlete throughout high school, competing in track, football and, most importantly, wrestling. After high school, he went on to win an NCAA Division II wrestling title while attending South Dakota State, and he followed that up by moving to Granite City, Ill., to join Matt Hughes's HIT Squad and try his hand at mixed martial arts. The Midwesterner sacrificed his home life to pursue the dream of competing as a professional fighter.
After skipping the amateur circuit, Madsen went on to compile a 3-0 pro record, which earned him a spot on season 10 of The Ultimate Fighter. He went 1-1 while on the show, but the UFC brass was so impressed that they gave him a contract. He went 4-1 in the Octagon, only to be released after his first pro loss to teammate Mike Russow by doctor's stoppage. It's pretty rare for someone with that track record to get bounced after one loss in five fights, but it happened nonetheless.
After a few years on the bench, Madsen resurfaced a year ago at PCFN 7, back in South Dakota. He looked fresh. He looked hungry. He knocked out Matt Foster at 48 seconds of the first round.
On the surface, Madsen's story doesn't seem that unique. It's not uncommon for a former collegiate wrestler with his track record of success to try his hand at MMA. Of course, there are sacrifices, but nothing above and beyond what any other athlete does. However, there is a big piece of this story that's missing. Madsen has a wife and two children that live in Minnesota, but he currently trains in Colorado.
Madsen knows more about sacrifice than most fighters do. Sure, there are plenty of athletes that have families, but most of those folks live and train in the same place where their spouse and children live. This California native, who grew up in South Dakota, trained in Illinois and Minnesota. Now, he resides in Colorado, and he has sacrificed a lot of time with his family to keep them grounded in their home while he chases his dream of being one of the best fighters in the world.
After the old HIT Squad team disbanded, many of those fighters, in one way or another, ended up at Marc Montoya's Factory X Muay Thai in Englewood, Colo. Madsen followed suit. With guys like Joe Warren, Chris Camozzi, Brian Rogers, Dustin Jacoby and a whole stable of hungry up-and-comers by his side, Madsen is in the best training environment yet and has no plans on leaving.
"I plan to stay at this gym until I'm done fighting, so my family and I sat down and had the conversation about what my goals are and what I'm trying to do with this," Madsen told Combat Press. "So, they're on board. They know what's going on."
Madsen's wife, Crystal, and their children have plenty of activities on their own plates, which makes being away from home that much tougher. His daughter, Grace, is 12 and his son, Taylor, is nine years old. Both are active in sports. In addition to taking care of the kids and getting them where they need to be, Crystal still grinds out her own professional work week just like anybody else.
"She has a full-time job," Madsen explained. "She works in a county attorney's office back in Minnesota, which is right by our hometown that we live in. She's working full-time, and right now Taylor's in hockey and Grace is in volleyball, so [Crystal]'s running every weekend. I always say that she has a harder job than me right now. I'm just training, and getting my body and mind right for my fight, and she's the one who's really doing the hard work right now. She's running a lot, working a lot, and has a lot on her plate."
For a fighter who has only competed once in the last four years, this might seem like an unreasonable sacrifice to make. However, with his background and his skill level in combat sports, Madsen knows that he belongs back in the Octagon. If sacrifice is what it takes, then sacrifice is what he makes.
Near the end of 2014, Madsen was supposed to compete in his first event under the Titan FC banner. Unfortunately, a late injury forced him out of the mid-December bout, and his debut was put on hold. In January, he got the call from Titan again, and this Friday night, he is set to face Chase Gormley for the vacant heavyweight title at Titan FC 33, live from the Brookley Aeroplex in Mobile, Ala.
Gormley is another big man who had a short stint in the UFC, dropping first-round stoppages to Stefan Struve and Brendan Schaub before getting released in 2010. Since then, he has gone 5-2-1 on the regional circuit and is currently riding a four-fight winning streak. That is some momentum that Madsen is ready to bring to a halt.
"It's a great match-up for me," admitted the TUF alum. "He has a wrestling base, as well, and some boxing background. As far as stylistically goes, I'm more athletic, I'm stronger, I'm faster, and I have more advantages to win this fight.
"Truthfully, I just need to make sure I'm on top of my game and I don't get caught with anything early in that first round. I have a feeling my cardio is going to be a lot better than his. He's going to come out hard right away and try to get me with something right away, so I just need to be smart and not get caught."
Training at altitude in Colorado will definitely have its benefits for Madsen when he faces the larger Gormley, who trains at sea level in California. Madsen has the background and the experience to take his opponent to task, but he also has that motivation of his family, who he hasn't seen in person for over two months.
"I'm sacrificing a lot of time with them, but Gormley's going to pay for that on the 20th," warned Madsen. "That's for sure. Somebody's going to pay in blood."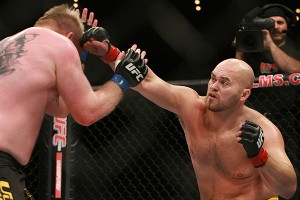 Madsen's next step in chasing his dream of getting back to the UFC takes place under the Titan FC banner this weekend. It may not be the ideal promotion for a guy who went 4-1 in the Octagon, but it is a great launching pad to get back on the radar of the UFC brass. The title belt would just be icing on the cake. At 35 years old, Madsen is a brand-new fighter and is ready to show the world as much on live television when Titan FC 33 airs on the CBS Sports Network.
"Titan's giving me a great opportunity to showcase the new skills that I learned, so if I fight with them a couple times this year, I'm fine with that, but I'm looking to get into a bigger promotion and a promotion that's got a little more money to spend, so I'd like to get in there," said the father of two. "Whether Bellator, UFC or another one, I just want to start working my way up the ladder and start making some waves in the top 10 of the division."
Sacrifice means different things to different people, but just like that Olympic athlete, Madsen is giving up time with his loved ones to chase his dream of being the best in the world. His wife and kids may be in close contact through phone and Facetime communications, but not being around them has created a fire in Madsen's belly that only a win will help subside. As he steps into the cage on Friday night, he is going to let his opponent know what sacrifice is all about.
"Don't blink, because there are going to be some fireworks, and I'm going to be explosive. I plan on putting Chase Gormley away. I'm not the same fighter as I was before."
Madsen would like to thank his wife and kids, as well as his coaches and training partners at Factory X. He would also like to thank his sponsors: Jaco, Lexani, Ahero, Aerofest, ProSupps, Good Luck Farms, Redline Tavern, SMA, and Action Spine and Sports Medicine. Follow Jon on Twitter:
@JonMadsen713
---
Advertisement

---