Every sports fan has grown accustomed to clichés. We hear them all the time…
"I'm having the best training camp of my life."
"This title fight is just like any other fight."
---
Advertisement

---
Another one that gets thrown around quite often is the whole idea of learning more from your losses than you do from your victories. Though it gets bunched up with all the rest of the clichés we've come to expect, this one can actually be measured to some extent. Fighters can visibly look much better after they suffer a loss or have a lackluster performance, and that can be attributed to the trials and tribulations they endured during a previous fight.
Joe Guerrero, who lost his debut and has gone on to win his next six, is a perfect of example of when a cliché is actually true.
"I definitely believe that cliché," Guerrero admitted in an interview with Combat Press. "I feel like I've learned massive amounts from my last loss."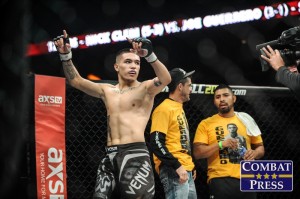 MMA wasn't always the main goal for the young Colorado native. Growing up, his first dream and passion was wrestling. However, due to some other circumstances off the wrestling mats, he fell short of that goal.
"I wanted to go to college and wrestle, and then I wanted to try out for the Olympics and maybe wrestle for the Olympics," Guerrero explained. "I didn't do so well in school, so I didn't get to go to college because my grades weren't good. So, I reverted to MMA when I was 19 years old. I was kind of lost. I didn't have anything and I didn't know what to do. After I found out that I couldn't wrestle, I found the next best thing and it turned out to be something I enjoy just much as wrestling."
Guerrero's amateur debut didn't end well for the aspiring fighter. He dropped a unanimous decision to Joe Espinoza at Resurrection Fighting Alliance 11. He has rebounded tremendously, however, and has a flawless record since suffering the loss in late 2013. He remains an amateur and has tons of work ahead of him, but Guerrero receives some buzz every single time he steps in the cage.
Guerrero has no doubt improved since the loss. He looks better every single time he fights, but all but one of his victories has required Guerrero to go the distance. He is still chasing the ever-elusive finish.
"That is something that I hear from my main coach, Luke Caudillo. He is down on me because if you are going to be somebody in this sport not only do you have to win but you have to get those finishes," Guerrero said. "I don't have any animosity towards anybody who would say anything like that, because they are right. There is a reason why we are where we are. If we don't finish fights, then we don't get the publicity and get your name out there. It makes sense, but I've been working hard and the finishes haven't come often or as easily, but I have won six of my seven fights. It's not that I'm not trying to finish, it is just that in the heat of the moment [it] is not there and I'm taking amateur as a experience right now and grabbing so much information as possible preparing myself for that pro debut."
It is crazy to think that a guy like Guerrero is still an amateur, especially since he has fought for the RFA for almost his entire career. The RFA is a well-respected organization that has provided the UFC with many great fighters over the years, and that trend doesn't seem to be slowing down.
The average amateur coming up the ranks fights in very small arenas at shows that usually only the locals have ever heard of, let alone a show like the RFA, which airs live on AXS TV. And even though the prelims don't get aired most of the time, the publicity one gets from a show like the RFA far exceeds what any other local promotion can offer.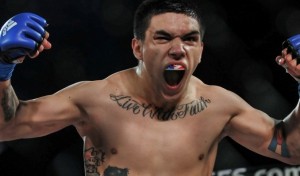 "Being able to make my MMA debut for RFA at the First Bank Center in Broomfield, Colorado — it was just awesome," recalled Guerrero. "For me, it wasn't anywhere different from what I'm used to being, because in high school I wrestled in the state tournament and that was at the Pepsi Center. Growing up, I was used to going to places like the First Bank Center and the Budweiser Events Center. I wrestled at big stadiums like that, so I'm used to the crowd and big arena atmosphere, but I think everything is a blessing — not to say that I didn't earn what I have because I work my butt off day in and day to earn that shot with RFA.
"Ever since I lost that fight, [the RFA] told me if I keep working hard they'll have me back on. It's going to help my career because it's a very good spotlight. They sign guys to the UFC left and right, and for me to get my name out there as an amateur, I feel like when I make my pro debut I'm just going to skyrocket from there."
The finishes haven't come for Guerrero, yet his skills can't be overlooked. But, when will he turn pro? Guerrero might not have done well with his academics growing up, but that doesn't mean he is not a man with a plan. In fact, he has a very specific plan to make the best of his MMA career.
"Ever since I lost my first fight, I wanted to go on a streak," said Guerrero. "I told myself I wouldn't turn pro unless I was 7-1 or 8-1, so I'm at that marker now. I need to win this next fight. My coach, also, reminds me every day that I need to get the finishes, whether it's a knockout or a submission. I need to start bringing it forward, like I do when I'm training, and the finishes will happen in the cage.
"I'm so much of a technician that I want to be right in there. I don't want to go in there and say, 'Oh, I should've done it this way.' I want to be able to go in there and say that I did everything I wanted to do and I am happy with the way I performed. I just want to get as much experience possible before I make my pro debut.
"I feel like one or two more fights and I am ready to go, because I don't plan on losing. I plan on finishing my amateur career with a bang. Whether it happens in the first, second or the third round, I'm going to get out of the fight without the judges' decision. Maybe two more fights and I'll be going pro. More than likely 2016, I'll definitely… I'll be a pro."
---
Advertisement

---