Whether or not someone believes in luck, both good and bad luck can happen to anybody, at any time and, usually, for no real reason. Call it chaos theory or the butterfly effect, but, at the end of the day, luck is simply a fact of life.
For MMA veteran Jamie Varner, luck went on a bit of a skid for about a nine-month period of his career. In August 2013, the former WEC lightweight champion dropped a controversial split decision to Gleison Tibau. Varner clearly scored more points throughout the fight, but the judges didn't unanimously see it that way. Five months later, he entered the UFC's Octagon for the fifth time, only to be knocked out for the first time in his career.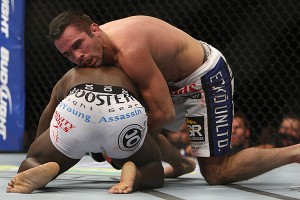 "Abel Trujillo—I was beating the brakes off that guy and just got caught," Varner told Combat Press. "That guy was looking for a way out. He looked like he was done. I could even see it in his eyes. He looked like he had given up, and, next thing I know, I'm pushing myself up off the mat."
---
Advertisement

---
Any fighter, coach or even casual fan knows that anyone can be knocked at any time in any fight. In June 2011, heavyweight Pat Barry knocked down Cheick Kongo twice in the first two minutes of their fight, before Kongo stood up and snot-bubbled Barry at 2:39 of the first round. That's just one example of the immediate impact that comes with one punch, kick or knee. Anything can happen, but it's pretty unlucky for Varner to have that happen after the decision loss to Tibau. However, his streak of bad luck was not over yet.
At UFC 173 in May, Varner was ready to put his losing streak to an end. His own gym, Impact MMA, was up and running full bore. He had shaken off the loss to Trujillo, and he was prepared to finish James Krause and get back to his winning ways. Then, as Krause threw his first leg kick of the fight, Varner picked up his leg to check the kick. Krause's kick fractured Varner's ankle in two spots and caused a partial ligament tear. The round ended, Varner couldn't finish and the ref stopped the fight, declaring it a TKO win for Krause.
Cats may have nine lives, but in the human world, the saying is that bad things happen in threes. If that truly is the case, Varner should be expecting a big win in his next outing, which happens to be this Saturday night at UFC on Fox 13, live from the U.S. Airways Center in Phoenix. Standing across the cage will be a Nebraska native who trains with the Elevation Fight Team in Denver.
"The UFC said, 'Hey, when do you want to fight?'" explained Varner. "I said I wanted to fight in my hometown [on] December 13th. They shot me over an opponent, I said yes, and then they talked to the other opponent and he said no. And then, they shot me over Drew Dober, and I said yes again. It didn't really matter who they put in front of me. I'm going to fight anybody. That's one thing the fans and everybody know. I'm down to get into a fight, no matter who, when or where."
The 26-year-old Dober was a longtime fighter under the Mid-America Martial Arts team in Omaha, Neb., before making the transition to Denver earlier this year. A couple years ago, he made an unsuccessful bid to get onto The Ultimate Fighter reality show, returned to the cage to drop a decision to future Bellator lightweight champ Will Brooks, and then redeemed himself on a five-fight winning streak to earn a UFC contract.
In Dober's UFC debut, he fought 15 pounds heavy and lasted all three rounds with Sean Spencer, before heading over to Germany to drop a decision to hometown favorite Nick Hein. An 0-2 mark in the Octagon doesn't look pretty, but considering the circumstances, the Nebraskan showed a lot of heart by going the distance.
"When they sent me over Drew Dober, I had no idea who the guy was. But I said yes, and I guess he said yes as well. So, I'm excited to be fighting in my hometown," said Varner. "I really don't know much.
"He's going to be a kickboxer with some wrestling, and I'm expecting a tough fight. I know he's a tough dude. That's one thing that I have seen. I've seen him dropped twice in a round and put in a triangle fully locked up, and then come back and win the fight. So, he's a tough dude. He's not a guy you can sleep on, and he seems like he's pretty tough to finish as well."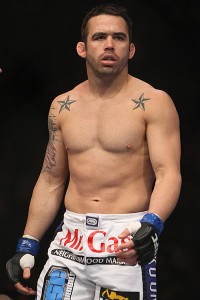 Varner is used to facing tough opponents. Between the whole Donald Cerrone saga back in his WEC days and the huge upset of Edson Barboza in the UFC, Varner always accepts big challenges and comes in ready to throw down. However, with an ankle injury severe enough to usually require three to four months of recovery time, how effective can he be only seven months later?
"My ankle will never be the same," Varner admitted. "As long as I tape it up and wear an ankle brace, I'll be OK, but I can't even train 100 percent. I'll never be able to fight without some sort of ankle tape or neoprene sleeve or something.
"Recovery was pretty smooth. I did a lot of rehab. We avoided surgery, which is great. Going under that knife will always set you back. Having to be in a cast or a boot for a really long time, you get the muscle atrophy. I was able to avoid that, and training, as of now, has been great. I haven't had any issues. I've taped my ankle up for every single workout, and it feels 100 percent as long as I've got it taped up."
Varner has been a polarizing figure throughout his MMA career, but if there's one thing that nobody can deny, it's his professionalism. He's never missed weight, he's got formal training as a boxer and wrestler prior to MMA, he owns five "of the Night" accolades, and he has fought the likes of Cerrone, Barboza, Benson Henderson and Joe Lauzon, to name a few. Come Saturday night, he wants the fans to expect one thing from him.
"I need to keep my job, so people should expect me to go out there and fight to win, not to just survive or not to just grind out a decision. I'm going to go out there and try to win a fight, and as dominantly as possible, as fast as possible, and in the best way I know how. I need to win if I'm going to keep my job. You can only slip on so many banana peels before the UFC finally decides enough's enough."
Varner would like to thank all of his coaches and teammates at Impact MMA, his family, his friends and his fans. He would also like to thank his sponsors: Body Fortress, Headrush, Memory Tag, Smart Shop and Prime Archery. Follow Jamie on Twitter:
@JamieVarner
---
Advertisement

---