Mention Coppell, Texas, and people may give you a blank stare. It's a small town of approximately 38,000 people that wasn't anything more than a farming village until the 1970s. Outside of the area's residents, not many people will know where it's located within the 268,000-plus square miles that make up the Lone Star State.
Mention Dallas, on the other hand, and a spark of recognition will light up in people's eyes. It's a big city, a metropolis in the northeastern part of the state. It immediately conjures images of the NFL's Cowboys franchise, the Southfork Ranch from the famous Dallas nighttime soap opera of the 1980s and, of course, that unforgettable skyline.
Coppell lies on the outskirts of this metropolis, a suburb nestled between Dallas, Irving and Grapevine. It's home to Mohler MMA, where Bellator fighter Jason Sampson trains.
---
Advertisement

---
But nowadays, any mention of Dallas is met with another image. One of biohazard suits and the ebola virus. Coppell is far from the hospital in Dallas where Thomas Eric Duncan was treated for the disease, but its proximity certainly must have its citizens concerned. And what of the MMA community, where close physical contact is the norm?
"People talk about it a lot, but it's really no big deal—even though the majority of my day is spent in other people's sweat and blood, so maybe I should be worried," Sampson, with a laugh, told Combat Press.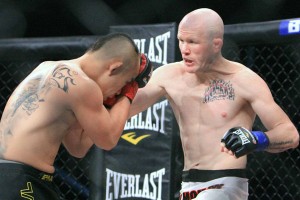 Sampson was already on a path to mixed martial arts before he moved to the Dallas area. It wasn't an easy road, though. He had a troubled childhood, where fights and experimentation with drugs were part of the norm. Then, he found martial arts.
"I was blessed to begin my jiu-jitsu training under two phenomenal coaches, Rafael Lovato Jr. and Lovato Sr., before moving to Dallas and training jiu-jitsu under Allen Mohler," Sampson explained. "I really owe it to the Lovatos, though. That was the beginning of my journey in martial arts. If it wasn't for jiu-jitsu and fighting, I would be dead or in prison. I am extremely blessed to be where I am in my life, and I owe it all to jiu-jitsu, which led to my fighting career. I had a gift and work ethic, and I loved training and it took over my life. When I walked into the gym and started training, I became good very quickly. I'm also thankful to Coach Mohler for taking a chance on me where many people wouldn't and letting me start my coaching career at his gym. Jiu-jitsu truly saved my life."
Sampson made his pro debut in 2009 and won his first eight fights. He finished six of those fights within the first round and only went the distance on one occasion, a split decision victory over future UFC fighter Erik Perez.
"Perez was my toughest fight, but I was also going through women problems at the time and my mind wasn't focused like it should have been," Sampson recalled. "I had a horrible training camp. Mentally, it was very tough on me, and everything we do is mental. And it didn't help that we fought in his hometown. I was booed so much I wasn't even able to speak after I won. It was a really awesome win for me, but it was hard as well. I had a couple opportunities to submit him and finish the fight, and I should have taken advantage of that. The best Jason Sampson did not show up for that fight, but I was still able to get the win."
Perez is now 4-2 inside the UFC's Octagon, making Sampson's victory all the more impressive. With such a notable win on his resume, Sampson is certain to start receiving more recognition.
"Perez is not the only guy in the UFC that I have beat," Sampson noted. "I also beat Shane Howell, via a first-round armbar, and he recently had his UFC debut. But really, I just want to become better and better during each fight, during each practice, during everything. If I get recognition, great. I am confident that my skills will lead to bigger and bigger opportunities in the near future."
Sampson's success hasn't come without its setbacks, though. After his eighth professional win, a first-round armbar finish of Joshua Montoya in 2011, Sampson was sent right back into action against Montoya less than four months later. It was only the second time Sampson went the distance, and this time the result wasn't what he was hoping for or even what he expected after the final bell. He had lost a split decision.
"Josh Montoya is a tough guy, but myself and the overwhelming majority of people that saw the fight thought I won," Sampson said. "I took him down every round, with a total of about 13 takedowns, and the judges somehow gave him the win. A number of other things happened leading up to that fight and in my life as well. I beat him fairly easily for our first fight—I was mentally ready and beat him in his hometown.
"But I've moved past it. It lit a fire under my ass to train harder than ever, and here I am with three wins in one of the largest organizations in the world and now 11-1. Montoya and I are friendly and I respect him as a fighter, but I know I'm the better fighter, so I have no interest in revisiting that fight. I've moved past it, but you never know what will happen in the future."
Despite the setback, Sampson did move on to bigger and better things. He made his Bellator debut in his next fight, a 2012 bout against Jeremy Myers. Sampson sunk in a rear-naked choke in the third round to finish Myers. Ten months later, he was back in the Bellator cage against Chris Pham. Once again, the fight went to the third round. And once again, Sampson secured the late submission finish, this time via armbar.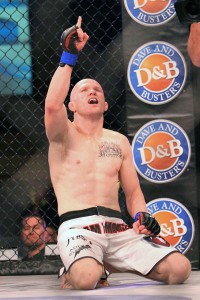 It was more than 20 months before Sampson would step into the cage again. He battled injuries that kept him sidelined, but he returned in early October to fight Danny Sykora. Sykora was a Pinnacle Combat MMA mainstay who had finished his opponent in all seven of his victories. Sampson welcomed him to the promotion by taking him the distance and emerging with the unanimous decision win.
"It was very satisfying to get that win," he admitted. "It's been a long road back and, honestly, it felt like my first fight all over again. Nerves kicked in, but once I got back in there it felt great. I'm very happy to bounce back from what I went through and get the win October 10. It's like I always tell my students, hard work pays off!
"I feel really good about my performance and the win it produced. I'm always looking to finish the fight and I'm harder on myself than anyone else, so I really was looking to finish him. I almost did at the end of the second round, but he was saved by the bell! However, I am happy it went three rounds since I needed that time back in the cage. He's a game opponent and has fought tough guys and never been finished, so I knew it wasn't going to be an easy fight. Feels great to get back in there and win!"
Unfortunately, the preliminary card fight didn't find its way onto the Spike.com broadcast, leaving very few fans with the chance to see Sampson's return.
"Honestly, it hurts my overall exposure a little bit, but at the end of the day my job is to fight," Sampson said. "I step into the cage regardless of the other circumstances. My job is inside of the cage, and everything else will fall into place."
That "everything" includes what happens next.
"I don't ever call anyone out," Sampson explained. "I find it disrespectful, and if you do call someone out, it normally doesn't work out in your favor [laughs]. I just let my manager do his job and I do my job and keep getting better. But whoever may come, I'm ready.
"I have a great management team behind me in KO Reps, so they will handle everything outside of the cage and I will handle everything inside of it. They have been by my side since before the knee injury and I believe in their guidance. Right now, my job is to keep training hard and getting better. I am keeping my weight down so I can be ready for different opportunities. I am excited to close out 2014 and have an active 2015. Whatever life brings me, I'll be ready!"
Life has been good to Sampson. His return to the cage in October is just one reason for celebration. Sampson is also a newlywed, having married his wife, Susan, just three months ago. He's now undefeated under the Bellator banner through three fights and has an impressive overall resume. He's poised for a move to bigger fights, and perhaps even a slot on the Bellator main card.
"I am just very excited to be back after a long layoff due to the knee injuries," said Sampson, downplaying any rush into the spotlight. "I feel confident in my game and I am only getting better, so whoever they put in front of me, I am going to take them out and get the win. I'm ready for anything or anyone that comes my way."
Sampson is a very positive person. He's overcome a lot in his life. He could have gone down a much different path and ended up in a dark place, but he didn't. It's not surprising, then, to hear the Mohler MMA instructor talk about his biggest advantage in the cage.
"My biggest strength is my heart," the 32-year-old confessed. "I have heart, and you can't teach heart. That's what I tell my students all the time. Heart is something you have to find within you. You either have it or you don't."
Sampson, who started wrestling at the age of 11 and captured a Pan Am title in 2006, was warming up for his fight with Sykora while Bellator's televised headliner was underway. In that fight, fellow bantamweight wrestler Joe Warren was making his bid for the Bellator title against champion Eduardo Dantas. Sampson need only look at that fight to see where his heart can take him.
"I knew what was going to happen. Everyone counted Joe Warren out and he was the underdog, but I know Joe and he believes in himself a million times over. He got hit, but he kept pushing forward and won the fight with his wrestling," Sampson said. "My hat's off to him. He's a phenomenal athlete and I'm happy for him."
One day, Sampson might be coming after that title. Right now, however, he's not in any rush. He's simply enjoying his recent victory. He's healthy again, and he's happy to be back in action. He's busy teaching his students at Mohler MMA and improving daily as he works out in the gym. Right now, everything is perfect in the little Dallas suburb of Coppell, Texas.
Jason would like to thank his wife, Susan, adding, "She is my No. 1 fan and supporter and she means the world to me. She handles everything for me and keeps the pressure off so I can eat, sleep and train and be ready for the fight when its time." Jason would also like to thank all his coaches, especially his jiu-jitsu coach, Allen Mohler, and MMA coach, Sayif Saud. He would like to give a shout out and big thanks to all the guys over at Team Takedown and Octagon MMA for helping him get ready for his fight. He would also like to thank Isaac Greeley and his gym family in PA, CryoUSA, Airrosti, Texas Sports Hyperbarics, and Core Chiropractic for keeping him healthy and providing the best athletic recovery out there. He would like to thank his sponsors: Christopher Grace Custom Homes, Build My Scores, Comfort Technologies, Core Power, No Roidz Required, Watkins Mortgage and Buff Products. Jason would also like to thank his family, friends and students for all the support over the years and Oren Hodak and KO Reps for managing him. He would like to send a special thank you to his grandpa for being at his last fight and his mother-in-law, Emma Hughes, for always praying over him and his cornermen right before the fight. Follow Sampson on Twitter:
@thejasonsampson
---
Advertisement

---