Hayabusa is an established brand of martial-arts gear, providing top-of-the-line products for reasonable prices. This edition of CP Gear Review will cover the company's Ryoko Mesh Gear Bag. This bag comes in one size and color.
I must admit, before this bag arrived, I wasn't sure what to expect. It's a mesh bag, and these are typically very underwhelming designs that are simply intended to keep gear less stinky. Most mesh bags are just mesh with a simple drawstring, and that's it. However, I was very pleasantly surprised with how great Hayabusa's mesh bag really is.
Before we get into its features, I'd like to point out that this bag is huge. Stuffed full, this bag probably wouldn't pass as a carry-on with most airlines. Needless to say, the main compartment alone easily stored two size-A3 jiu-jitsu gis, a change of clothes and a pair of shoes, and it still had a lot of room to spare. The bag easily could've handled additional gear like boxing gloves, shin pads and headgear.
---
Advertisement

---
In addition to the main compartment, there is a huge interior pocket to keep dry stuff separate from the wet stuff. There are also a couple of exterior pockets, plus two water-bottle holders.
The construction is very sturdy for a mesh bag. The mesh itself is durable, but the zippers are large and sturdy. The bottom of the bag is very thick and holds its form to stay flat. When I took this to the 2018 IBJJF World Master Jiu-Jitsu Championship, I actually collapsed it flat and put it into a checked bag, where it took up very little room. Once at my destination, it was easy to throw gear into the bag to take to the tournament.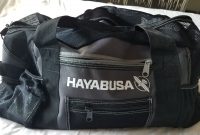 The final assessment is that the Hayabusa Ryoku Mesh Gear Bag is a great product for all types of combat gear. For the very reasonable price of $59.99, this is a fantastic bag for both regular training, as well as competitions. There is a ton of room, and it's well constructed. I would definitely recommend this item to anyone looking for a quality, breathable gear bag. This bag and other Hayabusa products can be ordered at www.hayabusafight.com.
---
Advertisement

---