Anything can happen, right?
When that phrase is uttered, the events that proceed are sure to be either pure excitement or pure stupidity.
Your team is down 21-0 during the fourth quarter of the Super Bowl? Anything can happen.
---
Advertisement

---
Your team is one out away from losing the World Series. Anything can happen.
In the MMA world, it's almost a cliché. Anything can happen.
Just look at the last year in the UFC alone. It was a year when the MMA world was in constant turmoil, an emotional roller coaster that saw many ups and downs. Michael Bisping finally captured the middleweight title on less than three weeks' notice, and in brutal fashion no less. Nate Diaz defeated Conor McGregor on less than two weeks' notice. The women's bantamweight title changed twice after the fall of Ronda Rousey. UFC 200 featured Brock Lesnar and the shenanigans that followed Jon Jones' troubles inside and outside of the cage. Hell, MMA finally broke ground in New York.
While 2016 was an amazing year for many, it was a rough year for UFC flyweight Ian McCall.
McCall has not fought since January 2015. First, it was due to injury. More recently, it turned into the strangest streak in UFC history.
The news broke earlier this week that McCall's fifth — yes, fifth — fight in a row would be scrapped. This time it was due to Neil Seery pulling out because of the loss of his mother-in-law. Keep in mind that not a single person is angry at Seery for pulling out for the reason he did, but his withdrawal still left McCall without an opponent once again.
Many have suggested that the MMA gods just don't want McCall to fight anymore. All of his recently booked fights fell through within two weeks of the scheduled date of the bout. This time, likely as a result of McCall's lengthy string of bad luck, the UFC had a backup plan. McCall will fight Jarred Brooks. However, the bout is still a week and a half away. Anything can happen.
Go back almost five months to UFC 203. It's sometime in the wee hours of the morning on Sept. 11, 2016 in Cleveland. Fans had just witnessed the MMA debut of CM Punk, as short lived as it was, and the incredible knockout by their hometown hero Stipe Miocic as he defended his UFC heavyweight title. As the droves of people returned to their homes, MMA fighters returned to the hotel where they were staying in hopes of some relaxation. The hotel elevator had recently experienced some technically difficulties the day prior, which even resulted in the loss of one of the bouts. This is when a chance run-in turned into the opportunity to become the savior the UFC desperately needs.
Former UFC flyweight Louis Gaudinot recently tweeted at McCall about saving the upcoming fight before the UFC announced that Brooks would be McCall's new opponent. They had a conversation about the run-in that occurred that night in Ohio.
"Well, I've always had an interest in fighting Ian," Gaudinot told Combat Press. "Not out of… Nothing disrespectful, like I don't like him or anything, but he was the number-one flyweight in the world at the time before I was in the UFC [and] before I was on The Ultimate Fighter.
"I wanted to test myself against the best guys in the world, so when I first got into the UFC after my first fight, they asked me who I wanted to face. I said Ian McCall. It was right after they did the four-man tournament. So I've always had interest in him. There's kinda been rumbling that we might have fought here or there, but nothing ever came about.
"You know, my boy Jimmie Rivera was fighting Urijah Faber that day. I think it was UFC 203. They had the elevator incident [where] a couple of fighters… I remember one guy got hurt and actually got pulled from his fight. I remember one of the employees was like, 'Why don't you take this one, because it's a little bit safer. It's the employee elevator.' And then that night, coming home, I know that Ian was a little bit… inebriated, you could say. And, as a joke, I said, 'Hey, if you don't want to die tonight, you might want to take this elevator.' So we took the back elevator, and we were kind of joking around and he was like, 'I heard you wanted to fight me or something. Now's the best time. Come on. Go ahead.' I think that was really, like, the gist of it."
Since that fateful night, McCall has now had two additional bouts scrapped — one due to his own injury and the other due to Seery's tragic loss. The UFC 208 affair against Brooks will be McCall's first bout, fingers crossed, since January 2015. It's a fight, had the UFC not chosen Brooks instead, that would have given Gaudinot less than two weeks to adequately prepare for his second UFC stint. It would also have been Gaudinot's first bout since March 2016.
"I mean, it's high risk, but it's also high reward," said Gaudinot. "I mean, obviously, he's been training for… god knows how many months, with all the fights that fell out for him. Like I said, he's still top 10 in the world — and I still think he's one of the best in the world — so it's definitely an uphill battle. But that's why I got in this sport. I want to fight the best guys.
"I've been fighting in the [Cage Fury Fighting Championships] and I just feel like the guys that are on the local level aren't on my level, and I don't really… It's hard to get up for a training camp and go train every day when you're fighting for peanuts and you don't feel like these guys offer you anything. You can't really get up to the challenge.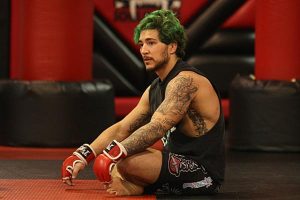 "I was willing to fight Ian at [UFC] 203. I mean, I guess the news came out that Ray Borg was hurt the night before. I saw it in the morning, and my managers and training partner Jimmie Rivera was texting [UFC matchmaker Sean] Shelby, saying, 'Louis is here. He's ready to cut weight.' I was actually going down to hop on the treadmill and start cutting the weight. Then, like 15 minutes later on our way down, they sent the text that the commission called the fight off. I was already in Cleveland and I was ready to fight then."
While McCall has had trouble keeping bouts, Gaudinot has only fought twice since his UFC departure, including a fight where he captured the CFFC flyweight title with a first-round knockout of Sidemar Honorio. That was nearly a year ago. His lack of fights, though, have not been due to a hard time finding opponents, but rather a hard time finding the right opponents.
"I've really just been on the sidelines," Gaudinot said. "I've been offered a couple things, but, like I said, I don't want to fight for peanuts. I don't need to fight for money. I run a martial arts school and I have my own business and everything, so that's going good. I really want to fight for the UFC or a big fight and get a good challenge. I know a lot of flyweights are pushing for the fight with Ian, but we have our history and stuff, and I think our styles… I think we could put on 'Fight of the Night' here in Brooklyn.
"I feel bad for Ian that it happened again. Going back to [UFC] 203, my training partner was like, 'McCall's fight is off. His opponent got hurt or sick or something.' And I was like, 'Nah, that was two months ago. That was the last fight.' And he said, 'No, no, no. That is this one.' And then I was like, 'Damn! Twice in a row?' I know he got sick when he was supposed to face Neil Seery [the first time], and now [Seery] pulled out because his family member passed away — which you can't blame him, because family comes first with everything. I mean, look. As a fan, I like Ian McCall's style. He's never really in a boring fight. I would love to go in there and throw down with him. I think we'd put on an exciting fight for the fans in the New York [and] New Jersey area."
It's hard to argue that the UFC's flyweight division is made up of quite the characters, with McCall being one of the main attractions. When Gaudinot was in the UFC, he was known for his bright green hair and exciting fight style. It's for this reason that Gaudinot felt that this fight was meant for him.
"That's one of the things I like about Ian McCall," said Gaudinot. "You actually sit down and listen to him in some of these interviews… Some of these guys, they have the personality of a toothbrush. It's just painful to hear them talk or just do interviews and stuff. They have no personality.
"My losses at flyweight were to Tim Elliott, who gave Demetrious Johnson a hell of a run, and to [Kyoji] Horiguchi, who also had a title shot. So I've lost to top guys that got title fights and everything. I feel like I do belong there, and I do feel that I'm top 10 in the world."
Gaudinot also holds a win over current bantamweight contender John Lineker, who also fought McCall and took a unanimous decision. Gaudinot is very proud of the win over Lineker, but he has a weird way of showing it.
"He's been going on a tear, so I kind of watch his fights hoping that he wins so that the better he does, the better it looks for me," said Gaudinot with a laugh. "I mean, T.J. [Dillashaw] just beat him, but T.J. couldn't finish him. I finished him. I'm the only one who's finished him in the UFC. Got a little feather in my cap there."
McCall's bad luck didn't lead to a call for Gaudinot, though. The UFC did have a backup plan. However, Gaudinot still feels that his return to the UFC should be happening sooner rather than later.
"When I was cut, Shelby said, 'Go win two and then come back to me.' So I went out and I won two. I won [with] a local promotion and I won the [CFFC] flyweight title with a first-round knockout," said Gaudinot. "I think I offer something that a lot of flyweights don't, which is power. I can end it with one punch. I'm just keeping my fingers crossed."
As it is widely known, MMA fighters usually have to carry a full-time job in order to pay for the expenses of a training camp and all that comes along with it. When Gaudinot isn't fighting, he is fully invested in his gym and his own business. It's a smart plan to have, as the long-term monetary benefits of being a fighter just aren't there.
"I train with Team Tiger Schulmann, and most of the fighters work and either own or operate a gym," explained Gaudinot. "You see a lot of these guys. When the sport's done, it's not like the NFL or the NBA, where you're making this kind of money that you can put aside and have a life afterwards. You have to have a backup plan for when your fighting career is over.
"As much as we'd like to, we're not going to be fighting till we're 50 or 60 years old, so the window of opportunity is really short and you gotta plan ahead. So I teach martial arts to kids and adults, and I love it. I help build kids' confidence. I help [people] get into amazing shape and lose weight, and it's just fun. I don't look at it as work.
"At the end of the day, when my fighting career is done, that's really how I feed my family. That's how I make my money and everything. I don't need to fight at these local promotions for a little bit of money. I'm not desperate. I want a big fight. I want a good fight. My business helps me to not just take the first thing that's thrown at me, and I can kind of sit back and wait because I don't need to fight. I fight because I want to fight. I think me and McCall have fireworks written all over it."
It doesn't look like Gaudinot will get his chance quite yet. But he's ready and waiting. Anything can happen.
---
Advertisement

---