Any winning competitor, no matter the sport, will always say that the hardest part of being a champion is not capturing the title, but keeping the title. This is especially true in mixed martial arts.
To be the best, a champion has to fight the best, and the best part about that is it only makes all of the fighters better. However, when a fighter captures a title early in his career and defends it over a lengthy period of time, it is easy to get too comfortable.
Ring of Combat's Julio Arce, an instructor at the Tiger Schulmann's flagship location in Bayside, Queens, N.Y., was the promotion's bantamweight champion after only his fifth professional fight. At ROC 47, over two years ago, he captured the vacant strap. He defended it three times over the following year and a half. In the ROC bantamweight division, Arce was the man. He had won all of his fights in dominant fashion.
---
Advertisement

---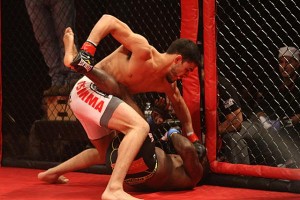 Then came ROC 52 in September. Things didn't exactly go the 26-year-old's way. After three rounds against Team Bombsquad's Brian Kelleher, Arce's title had been stripped, and the young pro had to take a step back.
"I let him push me against the cage too much, and I let him move forward too much," Arce told Combat Press.
Arce was a bit out of his element. He was a young champ who had never lost. He likely got too comfortable in the cage. As his opponent pushed him out of that comfort zone, Arce just wasn't fighting the way he wanted to.
In November, the New York native was set to face Josh Robinson at ROC 53. However, he suffered an injury in training and had to pull out. Coincidentally, Kelleher stepped in and knocked out Robinson less than 30 seconds into round three.
"I had a slight tear in my bicep," Arce explained. "I didn't want to risk messing my body up even more, where I might have to get surgery. I didn't want to be out for so long, and I couldn't really use my arm. So, I had to back out of the fight."
Arce's foray into mixed martial arts was a bit different than most. He wasn't a lifelong athlete who had been wrestling since he was young. He wasn't a martial artist in any capacity, either.
"I got into MMA because I was a fat, chubby kid who liked playing video games and watching TV, and I didn't really do anything," Arce admitted. "No other sport interested me. I was brought to Tiger Schulmann's for my first class, loved what I learned, and it just took off from there."
Once Arce got the itch, he made up a lot of ground in a short period of time.
"I had a lot of amateur fights," said Arce. "I had about 47 amateur fights with a mixture of boxing, MMA and kickboxing."
All of this and Arce hadn't even turned 23 yet, which makes his early MMA success easy to understand. He is now 8-1 as a pro, with two knockouts and two submissions, and he has never been stopped. The title loss brought some perspective to his game and his training. The next step is to get the title back. Tomorrow night at ROC 54, he will be back in the cage with Kelleher.
"All I can say is, that last fight, it wasn't my night," Arce said. "He got the victory, and I went right back to training. I'm more motivated than ever, and I had to push myself. I got a loss, I got a rematch, and it's time to get back in there and do it.
"I feel like I'm just going to stand in there, work and not let him push me back like he did before. I'm going to look for the finish. That's all I'm looking for right now. This is a big fight for both me and him."
Arce has come a long way since this days of being a chubby, video-gaming kid. As an instructor at the Schulmann's gym, he works and trains all day, every day. Under the tutelage of Bryan Gotthoffer, Danny and Ron Schulmann, and training partners Louis Gaudinot, Jimmie Rivera, Nick Pace, Lyman Good and many others, Arce is growing fast as a professional athlete.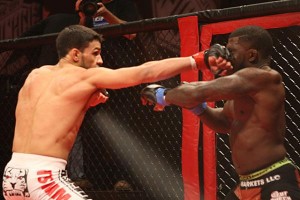 "It's a new version of me," said Arce. "It's a much more aggressive version, and I'm hungrier than ever. I have one goal in my mind: to get in there and win this fight. He gave me my first professional loss, and he made me go back to the gym and get better."
Getting the strap back from Kelleher is job one when Arce steps back into action at the Tropicana Casino and Resort in Atlantic City, N.J. However, like many young fighters, it is his dream to make it into the patented Octagon.
"I want to get that UFC contract and fight in the UFC," Arce said. "I want to get in there. My other teammates were in there, and I want to make a statement [and] show them why I belong there."
Arce was at the top of his game for a long time. As early as he is in his career, now was a good time to get knocked out of his comfort zone and have some holes in his game exposed. Now that he has had five months to fix the issues and get better as a fighter, Arce is ready to get back to his winning ways.
Arce would like to thank his family, sisters Cassie and Melissa, nephew J.J., mentor Bryan Gotthoffer, Danny and Ron Schulmann, David Fish, all of his training partners, and his sponsors: Tiger Gear and Nutra-Bio. Follow Julio on Twitter:
@JArceTSMMA
---
Advertisement

---