Momentum is a funny thing. We see it in sports at all the time. Once a team or an individual gets momentum on their side, they start performing at their optimal best. Though mixed martial artists are not immune to this phenomenon, it is harder for them to gain and sustain any type of momentum given the nature of the game.
Usually after putting in a great performance, fighters take months upon months before stepping back in the cage. Sometimes they spend less than a few minutes inside the cage once they do return to action. Given those dynamics, it is easy to see why momentum can be a very tricky thing for MMA fighters.
Bantamweight Melvin Blumer would like to keep momentum on his side. He's coming off a highlight-reel backfist knockout of veteran Jeff Curran at Resurrection Fighting Alliance 24 earlier this year. It will be a tough act to follow, but Blumer is confident he has made all the adjustments and has the right tools around him to keep this train rolling.
---
Advertisement

---
"One of the biggest changes I've made is sticking to the game plan — listen and trust in my coaches," Blumer told Combat Press. "I've gotten more patience. As I've got more and more fights under my belt, it's become easier to stick with the game plan. I think that is what I have to do here at RFA coming up. I believe if I do that, I'll get the job done."
Judging by his record, it seems as if the game plan for Blumer and his team is very clear: finish the fight. Even during his two decision wins, Blumer has pushed the pace and seemed to be working toward a finish almost constantly. He doesn't discriminate either when it comes to how he gets the job done. His finishing rate is an even split between knockouts and submissions. Stats like these are the reason why Blumer should be on any major show's radar.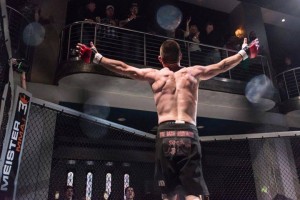 "At Minnesota Militia, which is the gym I train and teach at, we never started as set wrestlers or as any other martial art," Blumer explained. "We grew up playing hockey and played some baseball as well growing up. Since we really didn't have anything to fall back on, we decided we had to be great at everything and all aspects of the game. A lot of time, wrestlers have a tough time getting outside the wrestler background and they usually always revert back to just being a wrestler. Me, starting as just a hockey brawler, I never had that go-to move or discipline. So I decided to be very, very versatile and always strive to be good everywhere, no matter where the fight goes. We prepare for the best and the worst."
One of Blumer's finishes came in the aforementioned March battle against the respected veteran Curran. After a very entertaining round, Blumer landed a beautiful backfist that floored Curran. The bout was called with only seconds to spare in the round. It was one of those moments that reminds fans about why they watch the sport.
"I don't think you'll see one like that for a long time to come," touted Blumer. "I'm a little surprised more people are not talking about it. You know, I've fought all over the place — [including] Tokyo, Japan — and actually I've fought guys from almost all the major organizations except for the UFC, until I fought Jeff. I've fought all of them and seem to be doing very well. That KO should really stick out as one of the greatest moments, especially finishing a guy that never gets finished. I think it was 11 years before that night since he was KO'd and that only happened one other time. So I think that really opened some people's eyes."
If Blumer feels he didn't open enough eyes after his last performance, he will get another chance when he faces Brazilian prospect Leandro Higo. Higo, a product of Team Nogueira and the Pitbull brothers, is considered by many to be the best up-and-coming 135-pounder in Brazil today. Stylistically, it's a match-up that should not be missed. Outside the UFC, it could be argued that these two are top-five bantamweights and ready for the call-up.
"I feel good about my odds against him," admitted Blumer. "This will be my third [Brazilian Jiu-Jitsu] black belt [opponent] in a row that I would have fought. The last two, I had to fight off some tough submissions from both of them. I feel like my game is well rounded enough, but, to be honest, he is tough. He comes from a great camp and you can tell he is a tough kid. He comes to fight. I know he comes in there and he brings it. He comes out throwing bombs, and I actually got to sit ringside for his last fight for RFA.
"What stood out is that he seems a lot like me. He comes to fight and doesn't necessarily want to go to the scorecards. He's like me also, that if there is 30 seconds left in the round, he could have coasted to a decision, but instead he pushed the pace, went for the choke and he finished it. He didn't have to, but if I was in that situation I would have done the exact same thing, because I come to finish fights. I don't ever want to go to the scorecards. I want people to know that I won that fight decisively and I want my opponent to know that too."
This is a match-up of two of the top bantamweights currently employed with an organization not name the UFC, so a win here could mean huge things to come.
"I really, truly want a shot at the UFC. I just feel like with my last few performances and my six-fight winning streak, which I think I only went to decisions once and the others I finished my opponents [and] the last three were pretty dramatically as well — I finished Jeff Curran and I KO'd Dennis Dombrow before that [and] then I KO'd Tony Zelinski, who is a Bellator vet — and I hope all that really pushes me to the next level."
Blumer is out to keep the momentum going on Friday night in Minnesota. If the train keeps rolling, he could ride it all the way into the Octagon soon enough.
---
Advertisement

---