It's better to live one day as a lion and die than to live a lifetime as a sheep. — Anonymous (Italian/Roman Proverb)
There are those among us who live like sheep. They plod day in and day out, choosing the safer option, sticking with the herd, never daring to put everything at risk for the sake of greatness. Then there are those who live like lions, facing the world with no fear and willing to chase after their goals with a ferocity like the king of the jungle.
You may not know this, but lionesses are actually the fiercer of the genders. They hunt, protect their young, and protect their prides.
---
Advertisement

---
Professional MMA fighter and boxer Maureen Riordon lives her life with no fear. She is willing to jump into any fight, even when the odds seem to be stacked against her.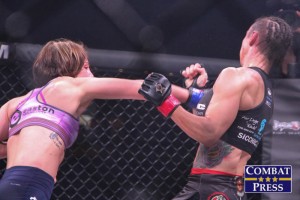 If you watch Invicta FC, then you probably caught her last battle against Shannon Sinn, a former teammate and longtime rival. Despite leaving Sinn's face swollen, bruised and bloodied, Riordon lost the fight by a controversial unanimous decision.
"John McCarthy was the referee for our fight. John, the ring doctor, the cutman and the announcer all congratulated me on my 'impressive win' while we were waiting for the scorecards," Riordon remembered while speaking with Combat Press. "I trust John's opinion; he has been involved in MMA for a really long time.
"I know she won round one. I start slowly in fights. I go in like a coach assessing a student so that I can pick my opponent apart. I am gauging the strength of her punches and kicks, checking out the openings.
"It felt good to punch her in the face. I know I didn't lose to her."
Riordon has made no bones about it. She thinks she won the fight. She made her case on her own website. The main points of her argument are that she was never gassed, in danger or even physically hurt, whereas Sinn sustained a lot of damage from knees and elbows while keeping Riordon pinned against the cage.
"There has been a common cliché uttered in MMA: don't leave it in the hands of the judges," said Riordon. "Well, I think that if the matchmaker is doing their jobs right, the fighters are evenly matched and it will end in decision a lot of the time. There have been enough bad calls that a change is needed. Don't press back on the fighters who end up in decisions. The judges need to be held to some level of accountability.
"Is a fighter backing up or are they counter-striking? Can a fighter be controlling the fight by backing up and punching at the right times? Is it ring control when a fighter is leaning on you against the cage, resting their weight on you because they are so tired, and you are peppering their face with elbows? We need scorecards we can see. We need to know how to improve, and we need the judges to have some accountability.
"After the fight, Roxanne Modafferi said something that has really helped me. She explained that what we do is entertainment [and] being interesting is our job. 'Our job is to entertain the fans; win or lose if they were entertained then you did your job.' And that is something that I have heard, is that our fight was great [and] we put on a good show."
Riordon's MMA debut took place against future UFC fighter Marion Reneau. The fight ended in a loss for Riordon, accounting for her current 0-2 record. She would jump at the chance to improve her record in a rematch against Sinn.
"I would gladly get back in the ring with her for another 15 minutes," Riordon said. "I am not afraid of what she can do. And when I win, that would set up the fan favorite — the rubber match. I think there are a lot of fans who would like to see it, and I would love to get a chance to punch her for another 30 minutes."
MMA hasn't been Riordon's only priority. Immediately following her pro MMA debut loss to Reneau by armbar, she made her pro boxing debut against Canadian Lita Mae Button. Button was also making her pro debut, but had over 45 amateur wins under her belt. It was hard for Button to find someone willing to fight her, but Riordon rose to the challenge. Even after her fight with Reneau in which Riordon injured her right elbow, essentially leaving her with only her jab against a fierce southpaw.
"The ring doctor and my coaches told me not to fight," Riordon revealed. "I couldn't keep my right hand up for more than 15 seconds. I waited a week and it still wasn't better. But with women's sports as they are, I knew they would not be able to find a last-minute replacement for me. I didn't want her to lose her purse, and I really respect who she is and what she has done. So, I entered into the fight armed with just my jab.
"It was brutal. I was in so much pain. But my main concern was to not do any more damage to the arm. I made it to the decision with her. I went four rounds with a girl who had been boxing for years. To have been able to stand against her was awesome. I never, ever want to do that again, though. To go in one-handed against a champion and have to rely on my jab? No thanks [laughs]. But that is my superpower in this sport: no fear. Fear is replaced by curiosity for me. I want to find out if I can do something, instead of being afraid to fail at it.
"When I fought Lita, I was on my way out of my old gym. It wasn't a good situation for me, but I finished those fights there. Then, I went to Easton Training Center in Boulder [Colo.]. My second boxing fight against Alma Garcia was my first full camp there, and I feel like I have never performed better. I didn't breathe hard the whole four rounds. I never had a better fight.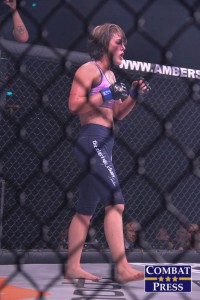 "That experience led me to believe that my success isn't dictated by where I train, or the gym, or the person was with. That fight, and Easton, reignited my spark and passion and led me to be able to fight for Invicta FC. I couldn't be happier with the future of my career."
Riordon's professional boxing career is at 1-1. She had hoped to improve upon that record this weekend against Angela Hayes, but she was forced to withdraw from the scheduled contest when an old injury started nagging at her again. The fight would have marked another short turnaround for Riordon, had she been able to compete.
"I know, I know, it's a short fight camp again," laughed Riordon. "But you have to take fights when you can get them, especially on the women's side. There are just not enough opponents to be choosy in women's combat sports. I trained MMA first, and I think it's better that way. Boxing is a small part of MMA.
"It's easier to take a boxing fight after an MMA fight [because] I am not beating up my shins for weeks on end. I did back-to-back [MMA fights] before and that was hard, in contrast to this. This is doable. It's not easy, but it's not impossible."
This time, though, Riordon has decided not to fight while injured. The decision wasn't an easy one. It's tearing her up to have to pull out of the fight.
But there is no doubt that Riordon is a lioness. She approaches her prey with a fierce focus. Even though she has faced defeat, she hasn't allowed that to take her pride or keep her from taking on the next fight. She will never be just one of the herd.
Maureen would like to thank her coaches at Easton Training Center, coach Steve Mestes of House of Pain Boxing, striking and conditioning coach Chris Trammell of Easton, and all of her teammates for all their support. She would also like to thank her sponsors: The Electric Chair Salon, SuperTees, Amber Sports, & Katz Chiropractic. Follow Riordon on Twitter:
@babyfacemma
---
Advertisement

---