As an "Astro Girl," Alex Chambers is no stranger to soaring to great heights in mixed martial arts.
Almost two years ago, BRACE hosted an Australian first—an event that only featured women's mixed martial arts bouts. In the headliner of this history-making event, Chambers, who was recovering from an illness, blasted Japanese veteran Mika Nagano with a knee and punches in the very first round.
Almost six months later, Chambers became the first Australian woman to secure a victory in Invicta FC. The firsts keep coming for Chambers: She's now half of the very first duo of Australian women to be signed to the UFC.
---
Advertisement

---
"It's great to not only have one Aussie, but now two Aussie females [in the UFC]," Chambers explained to Combat Press. "I think that's pretty exciting, that's for sure. I definitely think it will inspire a lot of females looking to get into the sport, that this can happen. It's something that's real and something that can happen for them. If they work hard and focus and set their goals, they can get there."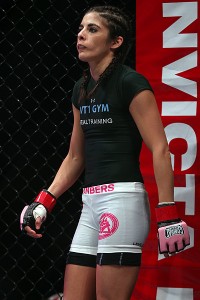 Chambers made her professional debut when she was just over the age of 30, back in 2010. When she first stepped into a cage to secure the first of two wins for her maiden year, women fighting in the UFC was a distant hope and dream. There wasn't really a set path that Chambers could take in the sport that she had fallen in love with.
"Back when I started my fighting career, there wasn't the UFC [for females] and there wasn't even Invicta at the time," Chambers said. "I guess it was difficult for females to kinda look at where they were going with the sport. It was kinda like, get a fight when you can and where you can, whereas now females can make a career from it and they can aspire to get into the UFC. They've got that goal that they can work towards. It was very different for everyone. It's really exciting stuff and definitely not something that I thought I would have an opportunity to do—to fight for the UFC while I was still fighting—that's for sure."
Chambers is passionate about the growth and development of MMA in Australia. It's something that not only her, but her team at VT1 in Sydney speak about with a great deal of pride. While so many fighters believing they need to leave Australian shores in order to obtain the very best training, Chambers looks at things in a different light. She understands that for Australians to continue to get better in the sport, it's about development at a local level.
"It's something that we have discussed before, you know, wanting to build on MMA in Australia," Chambers said. "If we all move overseas for our fight camps, then we're kind of not building the great MMA that we could have here. It is something that we discussed at our gym before, but I'm really, really happy at the gym I'm at—VT1—and I'm so confident. Every time I travel overseas and train at other gyms, it just makes me realize how good I have it back with my team, that's for sure. Doing my fight camps here in Australia is definitely something that I wanna do."
Chambers is bound to gain interest in the public eye now that she is featured on a television series that is broadcast all over the world. However, the 35-year-old isn't letting what plays out on the television influence anything in her life. That first fight in the UFC is still the top priority.
"What I'm looking forward to is the new fans that the show is going to bring to women's MMA," Chambers admitted. "I'm a very down-to-earth person and I'm grateful for the opportunities that I have been given. I'm happy that I'm following my dream and I'm doing something that I love. I wanna make the most of this opportunity while I've got it. It could potentially change my life. We'll have to see when we get our fights in the UFC. I'm really excited for [my debut], and I'm looking forward to getting back to my team and having fun with MMA."
Alex would like to thank F1 Nutrition and Level Clothing. She would also like to thank her strength and conditioning coach, Liam Plunkett of LR-P Performance, as well as her coaches and team at VT1. Follow Chambers on Twitter:
@alexchambersmma
---
Advertisement

---