Raymond Daniels has become known for highlight-reel knockouts and breathtaking displays of athleticism. But on Aug. 7 at GLORY 23, Daniels is aiming to provide plenty of disappointment to fans.
That's because Daniels heads into a rematch with Nieky Holzken for the vacant GLORY welterweight title. It's a rematch where many in the combat sports world have already deemed a winner and a loser.
"I think it's insulting, but at the same time I don't [pay] any mind to it," Daniels told Combat Press. "I just know that come next Friday, a lot of people are going to be apologizing."
---
Advertisement

---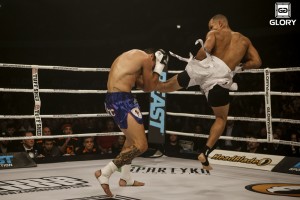 The two originally met at GLORY 19 in the finals of the welterweight contender tournament. Daniels would go on to lose the first encounter by TKO when he was knocked down too many times. The fight was a vintage performance for Holzken, who utilized his ringcraft to trap the explosive Daniels in corners and unleash with his powerful combinations. Daniels believes their second meeting will be different for a number of reasons.
"I'll be going in fresh — that will make a huge difference," Daniels said. "We fight two totally different styles. It's like a sprinter versus a marathon runner. If you run a lap, the sprinter will win. If you run a mile, the marathon runner will win. I'm explosive like a sprinter. Nieky is a marathon runner."
"I give Nieky credit. He had more in the gas tank and won that fight. People came up to me after and said, 'Good fight.' No, Nieky dominated me."
One of the common themes in their first bout was Holzken's ability to put Daniels into the ring corners. It was a series of attacks from Holzken that played out multiple times throughout the contest. However, Daniels has learned from his mistakes.
"I've definitely engaged a lot more in a ring setting," Daniels said. "I'm from martial arts, so I'm used to being in a more open format. I've also made adjustments to make sure I spar with people who use the Dutch style and maintaining my space."
If Daniels were to emerge victorious, he would become the first American champion in GLORY. For a sport that's filled with international stars, American fighters at the top level are hard to come by. GLORY has made great strides in the American market, though, by securing a deal with Spike TV, but the company is missing a vital piece to the puzzle that Daniels is hoping to provide.
"It's going to be one of the greatest feelings," Daniels said. "I think it would be an honor to represent my country and my sport, and I'm looking forward to having this opportunity to get a little vindication at the same time."
The former karate star has become known as a virtual human highlight reel during his time with GLORY. There was his knockout of Francois Ambang at GLORY 16. Prior to that, there was his knockout of Brian Foster at GLORY 11. He's also has a litany of highlights from his days of participating in traditional martial arts competitions. It's safe to say that whenever Daniels competes, fans are expecting something exciting from him.
"Every time I go into the ring, I'm trying to give the fans something they've never seen before," Daniels explained. "I want to give them something that they can enjoy, something that they want to come back and see. I don't feel the pressure from other people because I put the pressure on myself to go out [and] do what I know I'm capable of doing."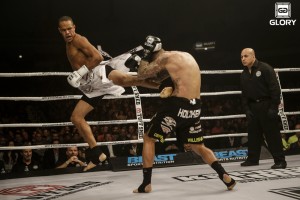 Added to the pressure from fans for a highlight-reel moment, there's the fact that Daniels is competing against some of the best kickboxers in the world while he has only nine professional kickboxing fights to his credit. It's not common for a fighter to compete against a guy like Holzken, who's considered to be one of the best pound-for-pound kickboxers in the world, in just his seventh professional fight.
"I look at it as everything happens for a reason," Daniels countered. "I [have] faith in myself, so I know I can compete with the top guys in the world."
At GLORY 23, Daniels will have another opportunity to validate his place among the best in the world. Holzken is considered one of the best on the planet for a reason. Daniels has shown a knack for producing moments that fans will remember, and he'll enter the bout without being drained by an earlier tournament bout.
GLORY routinely puts on excellent shows and nobody can ever complain about watching Daniels fight. Fans can expect nothing less than excitement from Daniels in his showdown with Holzken, a fight that should definitely be considered "must-see TV."
Daniels would like to thank all of his sponsors, coaches and training partners for their help. He also wanted to mention his school,
World Champion Karate
, which is located in Orange, Calif.
---
Advertisement

---