Focus is key to performing well in any endeavor. It really doesn't matter what business, what sport or what hobby a person is focusing on, but focus is the key to success.
When mixed martial artists lose focus, they suffer dearly, arguably more than any other athlete. MMA is no joke. Unlike team sports, it is one athlete versus another. Unlike other one-on-one sports, even other combat sports, MMA fighters are looking for any way to finish a fight. It can be a knockout, a submission, an injury, a disqualification or a decision. There are so many ways so lose at MMA, and focus can be one of the most deciding factors in any fight.
Last fall, it was tough for MMA veteran Gilbert Smith to stay focused. After his appearance on The Ultimate Fighter in early 2013 and on the show's finale event, where he dropped a submission to James "Bubba" McDaniel, Smith went on a three-fight winning streak, but he wasn't getting much love from promoters. Then he dropped a decision to veteran Brian Foster and picked up another win. However, things weren't progressing. In fact, even in success, the amount of compensation wasn't even paying for the cost of training and getting ready to fight. Smith was starting to lose focus. He even started entertaining the idea of pursuing other careers.
---
Advertisement

---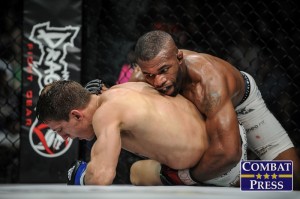 In November, at Resurrection Fighting Alliance 20, Smith picked up a win over tough up-and-comer Bojan Velickovic. Things were starting to look up, both career-wise and mentally. The RFA has been one of the top feeder promotions to the UFC, and Smith is focused on getting back to the Octagon.
Smith's last fight was definitely a step in the right direction along the path to the UFC. In January, the Coloradan faced dynamic striker Chidi Njokuani at RFA 22 for the welterweight title. Even though Smith started his combat career as a grappler, he was able to go the distance with Njokuani. Even in defeat, he proved a lot to himself.
"In the fight with Chidi — think about it — I fought most of that fight in the stand-up against a tough striker, and he wasn't able to finish me," Smith told Combat Press. "I didn't win the fight, but I was able to stay in there and defend myself to the decision. You know, if you watch Chidi's other fights, he was destroying kids, and he couldn't do that with me. I gave him a tough enough fight that we went all five rounds, which gives me confidence."
Confidence is so important in MMA. Even though Smith has fought in the upper echelon of the sport, he still needs to take something away from every battle, because the field of opponents keeps getting better too.
"I came out in the first round, and I was able to dominate and get my takedowns and do everything I needed to do," explained Smith. "But, when I came out in the second round, Chidi was able to adjust, and he kept his distance and was able to take advantage of his length. He used his long-range jab and his long-range front kick to keep me at bay. I couldn't get in and get my takedowns. From there, I never adjusted. This camp, I've been working on a lot of different angles, a lot of different options and a lot of different things, because, no matter what happens in the fight, we've got to be able to adjust."
Since the fight with Njokuani, the belt has been vacated, and it was subsequently won by Xtreme Couture's Benjamin Smith, who has put up a 14-2 record in his short, three-year pro career. In March, at RFA 24, he secured the title. Tonight, at RFA 26 in Broomfield, Colo., Gilbert Smith will step up to challenge Benjamin Smith in his first title defense. More than anything, Gilbert Smith is focused on one thing and one thing only. He wants that belt. He feels very confident that the current champ will not be able to hang on to it.
"He seems like a pretty decent guy," the title challenger said. "He obviously has a good skill set, but he's a completely different athlete. We're on two different levels. Anything he does, I do it better. I don't mean to say I'm going to go in there and walk right through him, but he's not going to outstroke me, he's not going to outwrestle me, he's not going to submit me, and he's not going to knock me out. It's just not going to happen. I fought better competition on a higher level and I've done relatively well, so I feel I'm well prepared for this fight. I've been training extensively for his type of skill set and the things he brings to the table."
Obviously, Benjamin Smith did not put up the kind of numbers he has by being a pushover. While most of his wins have been by decision, he does hold four knockouts and two submissions. He has proven to have been a handful for most of his opponents.
"He's able to break people down and make them fight his game," Gilbert Smith said. "But, unfortunately for him, his game is very similar to my game. So if he wants to turn it into a grappling or wrestling match or a stand-up fight, I don't really care. If he tries to fight his way, he's going to have to worry about everything I'm bringing to the table. I'm not going in there to go to decision or go to the second round."
To prepare for this opportunity, Gilbert Smith understands that he needs to be the best all-around mixed martial artist. Keeping that level of focus is key, and he has translated this directly into his training regimen.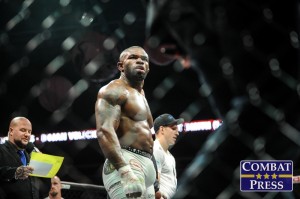 "I don't just go to the gym and work on one specific thing," explained Smith. "At the level I'm at, I need to constantly keep improving, because nobody gets easier. These guys don't get easier. They keep getting tougher and tougher, better and better, stronger and stronger, more skills with every fight. So, I think, at the end of the day, my conditioning, my mental state [and] my confidence keeps getting better.
"I live at the gym. I'm either at the gym or I'm on my way. All my stuff that I have planned is on hold until after this fight. I don't have time to play. I don't have time to party. I don't have time to chill. I need to win this fight for my team, for my coaches, for my training partners, for my family. I believe this fight is the only one. There is no second shot."
Focus is so important in all endeavors, but it is essential in MMA. Gilbert Smith has been in the Octagon, he's been on The Ultimate Fighter, he's fought for titles, and he is now in a position to get a look from the UFC with a win over Benjamin Smith.
"I have no goals past June 5. My only goal is to win June 5. I don't care about anything past that."
Smith would like to thank Team Victory MMA, Factory X Muay Thai, Castle Rock BJJ, FitQuest, Hustle Hard Boxing, his family, friends, fans and his sponsors: Heuberger Subaru, Bulge Clothing, Rocky Mountain Rehabilitation, ChiroCare Recovery Center, Pink Tank, Caveman Chefs, and 8th Street Paninos. Follow Gilbert on Twitter:
@JamalSmithMMA
---
Advertisement

---