In sports, there are people who play games and there are people who finish games. Everybody remembers that kid on the soccer team that was a great passer or a great defender. Or, in baseball, there are always those guys that put on a tremendous outfield performance. However, at the end of the day, there is nothing better than a finisher
Finishers seal the deal in the most dominant fashion. Whether it's the goal-scorer that never misses in the clutch or that slugger that buries one deep in the ninth, certain athletes just seal the deal.
Henry Corrales is a finisher. In over four years as a professional mixed martial artist, he has finished 10 of 12 opponents and has never lost a fight.
---
Advertisement

---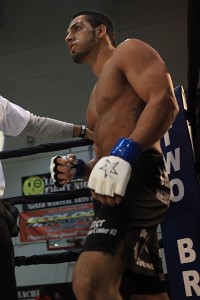 "That's just my style," Corrales told Combat Press. "I just want to finish fights. I don't see it any other way for me, you know? It's just the way I am."
Corrales was born and raised in a rough part of Los Angeles County, Calif., and, in the concrete jungle, there aren't decisions at the end of fights. Those fights always go to finish.
"I grew up on the streets a little bit, getting in a lot of street fights," Corrales said. "[I] got in a lot of trouble on the streets, with weapons involved, things like that. Fighting someone in the cage for money isn't that big of a deal for me. It comes really natural."
The L.A. native has always been an athlete, playing traditional sports in his younger years, but the street element was always there.
"I always played competitive sports, mixed with getting into a lot of street fights," Corrales elaborated. "I'm just a competitive person, and it just makes perfect sense for me. I boxed a little bit here and there, and I grew up playing baseball and football."
Well, for most people, hindsight is 20/20, so it's easy to say that Corrales should have been training in MMA since a young age, but things don't always work out that way. In his neighborhood, that's not what most people were doing as teenagers.
As Corrales grew out of his teens, like most fighters without a traditional combat sport background, it took the encouragement of a buddy to get him to take a shot at MMA.
"I was 23 years old, and my friend would always tell me that I should fight. So, eventually, I just went for it and it happened," Corrales explained.
And, happened it did. In his first two years as a pro, Corrales went 7-0, earning a shot at the King of the Cage featherweight title. In his eighth fight, at KOTC: Terrified in October 2013, he took the strap from Jerod Spoon in a five-round, split-decision war, and he hasn't let go since.
Since that title-winning decision, Corrales has finished four opponents in a row and earned himself a spot on the Bellator featherweight roster. How did a guy who wasn't even training five years ago get to the upper echelon so quickly?
"That just comes down to my work ethic," said the Californian. "I'm just completely focused on fighting. I've dropped a lot of bad habits, and I've been non-stop for five years, just training my ass off. I train with a lot of black belts in Southern California — some pretty good Brazilians, pro boxers and stand-up guys."
Corrales spends most of his time training with his striking coach, Eddie Cha, at All In Martial Arts in Buena Park, but he also trains BJJ with Juliano Prado and Adriano Nasal at Total MMA in Tustin. His training partners include UFC fighters Francisco Rivera and Ernest Chavez, as well as a whole stable of hungry up-and-comers.
As is the case for any fighter, a good training team is important, and for his next bout, Corrales will need to be ready to bring his A-game. On Friday night, at Bellator 138, live from the Scottrade Center in St. Louis, Corrales will step right into a televised main card when he faces former featherweight champ Daniel Straus.
Straus's career has been somewhat storied as of late. As he was slowly climbing the ranks with several decisions in a row, he stumbled upon BJJ black belt and UFC vet Alvin Robinson in October 2012. Straus opened the eyes of many with a second-round submission of the decorated grappler. Then, at Bellator 106, only one year later, the American Top Team standout went the distance with then-champion Pat Curran to capture the featherweight title. However, the glory didn't last long.
In March 2014, Curran won the belt back with a submission. Straus rebounded with a 50-second knockout of Justin Wilcox and then was submitted again, this time by Patricio "Pitbull" Freire in January. This does not sit well with the former champ, who is ready to get back into the cage. Corrales is happy to take Straus as his Bellator debut.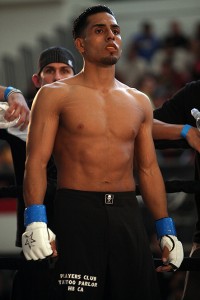 "It was like the best situation for me," Corrales said. "This is a fight that I dream of. A former champ, super tough dude, great skill set, scrappy dude. Man, I could not have asked for more, you know? I'm just very happy and thankful right now. I'm going to show that [on] June 19."
Even with Straus sporting a 22-6 pro record and a past Bellator title, Corrales feels he is the better fighter. He doesn't feel that Straus holds an advantage in any part of the game.
"It's going to be a tough, scrappy fight," Corrales stated. "I don't think he's going to want to stand with me and exchange punches. It's going to be me defending a lot of takedowns, and just me being in his face and winning each exchange.
"It's going to be a violent, fast-paced fight. I'm going to be in his face from the moment the bell rings, just very aggressive."
Corrales has the chance of a lifetime with nothing but upside potential. Straus needs to win this one or he will fall way down the Bellator featherweight ladder. Corrales, though, is on the bottom rung, looking to work his way up. The momentum is definitely in the corner of the Californian, who has never tasted defeat.
On Friday night, a West Coast fighter will meet an East Coast fighter at the center of the cage in the center of the country for what is definitely shaping up to be a "Fight of the Night" candidate. Corrales has come a long way in a short time, and he looks to keep his undefeated record intact with a big finish at Bellator 138.
Corrales would like to thank his coaches and training partners at All In Martial Arts and Total MMA, as well as his family, friends, and fans. He would also like to thank his sponsors: Dreamscapes, Mentom Eyewear, and Recon Nutrition. Follow Henry on Twitter:
@HenryCorrales86
---
Advertisement

---