As the ink from her ballpoint pen scratched over the contract, Arlene Blencowe realized that her vision of being successful in mixed martial arts had come to fruition. The Australian fighter had signed on with Bellator MMA, one of the world's leading mixed martial arts companies. The move would allow her to take the next big step in her competitive career.
After a shaky start to her mixed martial arts career — she won just one of her first four bouts — Blencowe now has the very real possibility of being a top fighter in a top organization. Her debut with the company takes place at Bellator 137 on May 15. The 32-year-old is full of anticipation.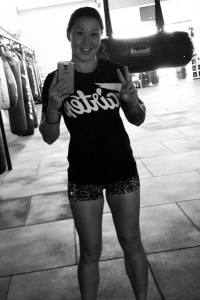 "It has been just over two years since I made my MMA debut and I had never thought or intended it would get this far," Blencowe admitted to Combat Press. "It was supposed to be a sport to keep me active between boxing bouts. I'm glad to be part of the rise of women's mixed martial arts and look forward to being a pioneer of the sport.
---
Advertisement

---
"I'm excited and ready. It has only been six months since I signed with [Bellator], but it feels like it's been so much longer. If I had a dollar for every conversation or time the word 'Bellator' has been brought up, I would be rich. It'll be good to replace the words with some action."
Before she embarked on her mixed martial arts career in 2013, Blencowe won two world titles in boxing. With her background, it is no surprise that she typically gets the better of the stand-up exchanges in her MMA bouts.
"It's no secret that my striking is a strength inside the cage, having come from a striking background and being that I still compete as a boxer," Blencowe explained. "The beauty of MMA is that the fight can end up absolutely anywhere, and I'm thankful to have coaches who have worked so hard in improving all aspects of my fight game. But I won't shy away from the idea of letting my hands go."
Originally, Bellator had slated Blencowe to meet Alexis Dufresne, who was also poised to make her Bellator debut after losing back-to-back bouts in the UFC. However, Dufresne had to withdraw from the bout after she found out that she was pregnant. It took some time, but eventually a new opponent was found for Blencowe. That opponent is veteran Adrienna Jenkins.
"It definitely threw me," Blencowe said. "You expect opponents to pull out through injury, not due to pregnancy. That's something the male fighters never have to worry about. I wish Alexis the world of happiness — motherhood is the best thing.
"I was confident I would have a replacement opponent, as it was still six weeks out from the fight date and I knew someone would jump at the opportunity to fight on a promotion such as Bellator — I know I would have. I'm just happy to have an opponent. I have trained extremely hard for my debut, and facing someone who is a veteran to the sport will make for an exciting fight."
Motherhood is a big part of Blencowe's life outside of the cage. To get the best training that she can get, Blencowe has to make a lengthy commute. In effect, it means that she can go through tortuous periods of being away from the biggest and most important part of her life. Her May 15 bout is the most important of her career, and it meant even more sacrifice for Blencowe.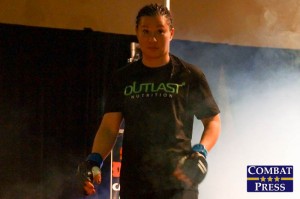 "This fight camp has been the toughest yet," Blencowe admitted. "I have spent the longest period of time away from my children to be in Sydney with my coaches for training. If it wasn't for my mum being back at home taking care of things, it wouldn't have been possible to have had this preparation. I normally juggle family commitments and training back at home, but with the international step up in my career, I have had to step my training up. And that requires me to be in Sydney, four hours away from home. It's a huge sacrifice and one that I will make sure pays off. I'm counting down the days until I fight, but also counting down the days to be home again with my family."
Blencowe is the first Australian woman to sign with Bellator. She has the very real opportunity of also becoming the first Australian fighter to win a major mixed martial arts title.
"It brings a smile to my face," Blencowe said. "I barely ever sit back and give myself credit for what I have achieved in combat sports within such a short space of time. I'll be even happier when I am labeled the first Australian to be crowned a Bellator world champion. This win — a good win — will hopefully get me up onto the main card of televised fights and also bring me one step closer to a fight for the vacant featherweight title."
Arlene would like to thank TeHuna Fight Gym and Damion, Stevie, Tama and everybody else there. She would also like to thank Toe the Line Boxing/Jabout and Mark Grech, Martial Arts Development and her wrestling coach, Stephan Jaeggi. She would also like to thank Brotherhood MMA, Justin Murray and Chris Vender, her manager from MMAU. Arlene would also like to thank: Fairtex Australia/Shogun Martial Arts, Outlast Nutrition, Gass'd Nutrition, XXXIndustries, BKH Concreting & Scaffolding, St Johns Park Bowling Club/Tuncurry Beach Bowling Club and Enriched Health. She added, "As always, a shout out to my two favorite people who inspire me everyday, Kaylah and Keane." Follow Blencowe on Twitter:
@arleneangerfist
---
Advertisement

---