Love is what led Ben Nguyen to the UFC.
The clichéd thing would be to say that he loves mixed martial arts. He lives, breathes and sleeps the sport. Sure, it's an important aspect of his life, but it isn't the be all and end all. At 26 years old, he could look to do whatever he wants with his life, really, it's early days yet.
The fact is though, that without falling in love with a special someone, he probably wouldn't have been given the opportunity that is coming his way on May 10 in Adelaide. If it wasn't for meeting the girl of his dreams, his UFC dream may have never eventuated. And he never would have gotten the phone call that fighter's hope for each and every time they win a fight.
---
Advertisement

---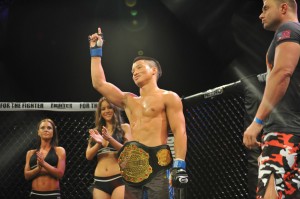 "In a way, love got me to the UFC — as cheesy as that sounds," Nguyen admitted to Combat Press with a laugh. "I met an Aussie girl when I was over in Thailand, and that's what brought me back over here. [Getting the call from the UFC] was just really emotional for me. I felt like my heart rate just shot up, I couldn't stop thinking about the possibility of my face and my name being displayed on the big screen. That's just been my dream for a long time, I just about broke down and cried, I was over the moon.
"Just looking back, it has just been a long journey to get here, and there's been a lot of hard work to get to where I am now. Just looking back at all the places that I've been to and everything that I've been through — it has been eight years and it's all finally starting to come together. Eight years of training MMA has finally lead me to this one point where I am now taking the step up to the biggest platform for MMA there is."
With love in his immediate sights, the next step for Nguyen was to get his foot in the door in competing in mixed martial arts in Australia. Enter Ben Livingstone and Shogun Fight Management, who helped Nguyen secure his first fight in nearly two years.
"I was out at Tiger [Muay Thai] at the time," Livingstone recalls. "Brian Ebersole is one of my good mates and I was out there visiting him. Between myself and Brian, we organized for Ben and Cody Stevens to come over and fight on Roshambo [MMA] and have a fight out here. At that point Ben was dating an Aussie girl and he spoke to me afterwards over a few drinks and asked 'do you reckon you could get me a few fights over here?' so he could see his girlfriend. I remember saying 'mate, best thing is, move out here and I'll get you as many fights as you want.' We discussed the whole UFC thing and getting our way there, I just said for him to do what he does and win fights and let me set 'em up and he knock 'em down.
"It has been a long journey so far and at a couple of points he'd ask me 'when am I in, who do I talk to?' I've been in talks with the UFC since early November — like serious chats with them, but you know what they're like, they never give anything away. So this past week I got a little bit back, and that's when I realized we were getting somewhere. I mean, he also had the likes of Brian Ebersole and Roger Huerta talking to them for him, he has some big hitters in his corner.
"It has been a long journey though, Ben thinks it has been longer than it has [laughs]. I just said to him, 'mate go and ask Brian Ebersole about how long it takes,' by the time he got his start he'd already been fighting longer than most. Ben is only 26, it's the perfect timing and even though he had to do the hard yards but that's the way it works — nobody is given the red carpet — well, very few are anyway."
Nguyen had his first fight in Australia in April of 2013 which was the second fight of his current seven-fight winning-streak. For most Australian-based fighters the only viable path to the Octagon is often through The Ultimate Fighter series, which is where the vast majority of the Australian and New Zealand contingent of the UFC's roster came from. Nguyen could have tried his hand at the acclaimed television series, however, he opted to fight his way to the Octagon — and did so with a great deal of success competing in both the bantamweight and flyweight divisions.
"I think I was able to shine a little bit brighter over here," Nguyen admitted. "I think that going over to the Tiger Muay Thai trials and making the team and moving to Thailand and then later coming over to Australia, it got me exposure in a different way. I'm kind of glad that I went through that process. I wouldn't trade my experiences of traveling through Thai and now coming here for the world, I think it was fate for me to come here."
This fight will mark the first of Nguyen's career under the tutelage of his new coaches at Integrated MMA. Nguyen has previously prepared for his fights in Thailand at the acclaimed camp Tiger Muay Thai, and this time, as well as in the future, he plans on keeping his camp on Australian soil.
"I can't wait to represent Queensland, and Australia, my new home," Nguyen exclaimed. "Having new coaches — Dan Higgins and Adrian Pang at Integrated MMA — they've really helped me improve my game a lot so it's really good to get them the notoriety they deserve and I'm pretty much the first UFC fighter out of their gym. I'm really happy with the camp here, it's going really well. So from now I plan on training out of Brisbane and training my ass off for the fight."
"I always knew we could get Ben to the UFC, but he needed the right team behind him," Livingstone added. "If he wants to achieve his goals he needs the right training partners, and in my personal opinion, at his weight and skill level, Integrated MMA in Brisbane is the very best for him to be at."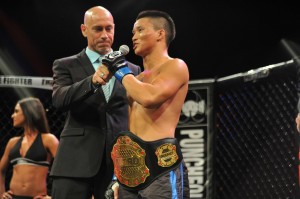 Nguyen's UFC debut will see him returning to the flyweight division, which is his natural weight class. With a limited amount of opponents on the local circuit at 125 pounds, Nguyen has been forced in the past to fight up a division, albeit successfully. Fighting in a division that has a small amount of active fighters on the roster gave Nguyen a clear advantage in his efforts to being signed to the UFC — and a little video clip that had been seen by millions around the world certainly didn't hurt his chances either.
"I just knew deep down it was going to happen this year," Nguyen proclaimed. "And when that video went viral, I just knew it was going to happen so I just started training as if I was going to have a fight. Then three weeks down the road we get a call from the UFC so it all worked out.
"We were in talks with the UFC in November, I don't think the video hurt at all, but who knows it could have played a part. I'm excited to be fighting in my optimal weight class. [But] I'm not that excited about cutting weight [laughs]."
In his first foray into the Octagon, Nguyen meets Alptekin Ozkilic who is coming off back-to-back losses. For Ozkilic it's likely to be a "do-or-die" affair and for Nguyen it's the perfect opportunity to make an impact on debut.
"I'm just going to go in there and have fun," Nguyen declared. "Expect a really exciting fight. I never like to let a fight go to a decision; I love to put on a good show and love to finish, so it will be exciting."
---
Advertisement

---