Mixed martial artists are all too aware of the term sacrifice. It's synonymous with their profession. Some are willing to sacrifice more than others, even to the extent of stripping themselves of everything they know and any comfort they enjoy to chase a dream.
Megan Anderson knows sacrifice. The Invicta FC featherweight is only a few months removed from leaving everything behind in her homeland of Australia. Family. Friends. Virtually all she has grown comfortable with, it's all been left behind as she takes the next step on her journey.
"It was a tough decision," Anderson told Combat Press. "I'm very close to my family, so that was one of the biggest things for me. Transitioning-wise, it's not too bad. America is pretty much the same as Australia, just far more bigger, more people. I guess, just family and friends, not being able to see them, I wasn't able to properly say goodbye to them. That was the hardest part for me."
---
Advertisement

---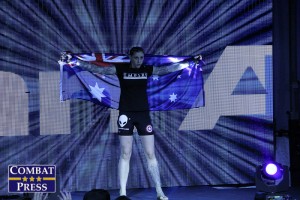 Over 9,000 miles separate Australia from the United States. The time difference is dramatic. When Anderson's day is coming to a close, the next day is just beginning for her family. She is very close with her parents, especially her mother — or "mum," as Anderson would say.
"We try to talk as much as possible," said Anderson. "It's super hard with the time difference and with them working. We just kind of have to message during the week and we can Facetime on the weekends. It's super hard, and I think about that all the time and I always miss them."
For the first time, Christmas and New Year's would be spent be away from her family. This time, it would be spent in a house in Missouri, shared with several other fighters.
"Christmas time, it was pretty hard," Anderson admitted. "It's not really the event of Christmas that's hard. It's more of watching other people get to celebrate with their families and spend that quality time with their families. I've only been here for three months and I'm still getting to know people. I came to a country and moved here where I pretty much didn't know anyone. I've moved into a house with six or seven other people, and I'm now living with these people that I don't know and I've got to get to know. It's different. It's definitely, I guess, shows the sacrifice and determination I'm willing to go to achieve my goals."
Anderson is still very much new to the world of MMA. She is still in the learning phase. The idea of being a fighter is not something she had in mind while growing up.
"I used to be one of those people who, back when it was the early UFC days, I thought it was like a brutal sport and it was terrible and I didn't like it," said Anderson. "I always wanted to do boxing, but what happened, I went to a MMA gym to pick up tickets to a local MMA fight night. The coach asked me about training and I said no, but I've always [wanted] to do boxing and I'd like to try it.
"I didn't end up going to the fight night. I ended up going to a friend's birthday party and I ended up getting drugged. Someone had spiked my drink and put [me] in a hospital. And that kind of freaked me out a little bit and I thought maybe I'll go and try MMA even if it was just for self-defense purposes, and it was just something I fell in love with."
Anderson is now six fights into her professional career and coming off a loss to Cindy Dandois under the Invicta banner that dropped her record to 4-2. It was a tough loss to take, but this was especially the case with this being her promotional and stateside debut.
"I needed to be humbled a little bit," said Anderson. "I definitely learned more of how I should act outside of the cage and all that kind of stuff. I learned from that fight. I definitely was overconfident. I didn't underestimate Cindy, because I knew she was good, but… I just… I guess I wasn't as serious I should have been. Coming off of four straight wins, I guess I was pretty excited."
That's a rare and honest admission for a fighter to make. Now, Anderson is intent to learn from her mistakes, inside and outside the cage. It was a moment very few could have fully prepared themselves for. Admittedly, the media obligations and how to handle them were something Anderson was not prepared to handle.
"I talk to someone for 10 minutes, maybe 30 minutes, and they take one little sentence and they take it out of proportion and make it completely opposite to what I was meaning and twist the words," she said. "It's something I'm still getting used to and it still annoys me, but I'm just not going to get worked up by it because it's going to happen more and more and it's something I guess is a part of the sport."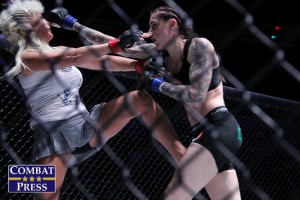 Much of Anderson's frustration comes from the fact that many found her arrogant and disrespectful towards her previous opponent, Dandois.
"I just try and be honest," Anderson said. "That's one thing I've learned, is to keep certain thoughts to myself and talk about the fight in a respectful way. Even going into the fight, I 100 percent respected Cindy and I knew she was a pioneer in the sport. She fought and beat some of the best girls."
Fighters know that to win back the support of fans, they must start by winning fights. Now under the tutelage of UFC fighter James Krause, Anderson is determined to do just that. She's excited to show her sacrifice has yielded positive results.
"I didn't the fight the way I wanted to fight," said Anderson. "I get frustrated because I know that I am 10 times better than the way I performed on that night. I think this is going to be very different than my last performance and I have every faith in my corner."
Anderson will have the opportunity on Jan. 16 to prove that her fight with Dandois wasn't a showing of her best stuff. She kicks off Invicta FC 15 against fellow featherweight Amber Leibrock, an undefeated fighter with just one fight under her belt. Anderson knows sacrifice, but on that January night, she'll be out to prove something to herself, Invicta and the fans. She'll be out to prove that the sacrifice has paid off. She'll be out to prove she belongs in the Invicta cage.
---
Advertisement

---