During the Resurrection Fighting Alliance's short life span, the company has undoubtedly garnered a great reputation of catapulting young up-and-coming fighters to the big stage of the UFC. Just like many before him, Darrick Minner signed with the RFA with the hope of fighting for a belt and getting the call from Zuffa officials. Things started well for the Nebraska native. He went 2-0 to start his RFA career and earned a title eliminator against current champion Luke Sanders. However, that's where the momentum would come to a halt.
Sanders stopped Minner in the second round of their RFA 17 contest and went on to win the belt less than three months later. Now, it's Sanders, not Minner, who is expected to get the call very soon. There is little Minner can do about it now, except win his fights. What's the famous quote? "Winning cures everything." This seems to ring true with Minner. After the loss to Sanders last August, Minner has reeled off two impressive first-round finishes under the Dynasty Combat Sports banner. He comes into his RFA 24 fight against Marvin Blumer oozing with confidence.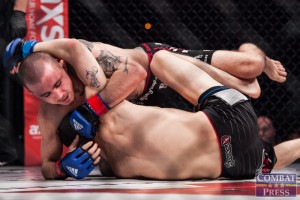 "With Sanders, I feel, leading up to the fight, it was a bad weight cut — a bad everything, really," Minner admitted to Combat Press. "It was a bad couple of days leading up to the fight. I'm hitting my stride now because I don't stop. I am always in the gym and I don't stop, and I feel that is going to catch up to me and help me in the future. I got a couple of wins and I feel confident I can keep it going."
---
Advertisement

---
Although Minner is still young in years at age 24, he's been through some experiences during his mixed martial arts career. There have been highs and there have been lows. It seems whenever he gets into a good streak and is on the verge of achieving the next level, he usually runs into a bump in the road.
Since losing to Chad Obermiller back in 2013, Minner has fallen into a pattern he hopes to break this Friday night in Prior Lake, Minn. In his last eight outings since that loss, he has failed to win more than two fights in a row and, you guessed right, he is coming into the Blumer fight on a two-fight winning streak. Minner would like nothing more than to change recent history.
"All I'm going to do different this time is win," declared Minner. "My weight is better than it has ever been. I feel better leading up to this fight. All the losses are frustrating. I'm young and hungry, and I am just going to keep grinding until everything falls into place. I believe they have, and this recent pattern is going to get wrecked come March 6th."
As it stands today, the aforementioned Sanders is still the reigning RFA bantamweight champion. Since Minner's last loss was to the champ, his road to a title shot could take a little longer if Sanders stays atop the division for the foreseeable future. Minner, though, has a plan for anyone who believes that.
"You can't deny someone who is going to keep winning," he said. "I don't care if I have to improve my record to 4- or 5-1 to get back up there. We'll see when that time comes. Unfortunately, that is not up to me. I just have to keep winning."
Anyone who looks at this match-up on paper could very easily confuse the two fighters' resumes. They have an identical record and a high finishing rate (only one decision between the two in a total of 30 combined fights). More impressively, they both finish their fights on the mat. Out of Minner's 11 wins, nine have come by way of submission. Meanwhile, Blumer has submitted 10 of his 11 victims. They have similar styles then, right? Wrong, at least according to Minner.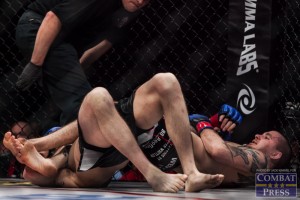 "I believe our styles are way different," he explained. "He is going to come in, and he is going to strike and throw hands. He ends fights by submission, but he is good on his feet. My transition game on the mat is going to be there. Transition-wise, I'm a completely different fighter. His submission game is way different than my submission game. I don't feel we are very similar, but I guess we'll find out."
Regardless of the outcome of this fight against Blumer, there is one thing we can expect from Minner. He will have a fight booked or he will be close to having another fight as soon as he is done with Blumer. Minner started his young career just a little over two years ago and already has 16 fights under his belt.
"I like to stay active," Minner admitted. "I like to know the next day [after the fight] when my next fight is. I don't like to stay out of the gym. I'm in the gym after a fight as long as everything goes well on Monday. I don't like to get out of a routine. All these guys go in and they fight, do a training camp and they take a month off. After that they have to come in and get back in shape. I just keep working. I never get out of shape, and I keep progressing and learning."
Minner's plan to an RFA title shot is simple: fight a bunch of times and win. It should make for a fun — and busy — year for Minner's fans. And, this time, he's determined to keep the momentum rolling.
---
Advertisement

---