Mixed martial arts is an ever evolving sport. Though the sport has only been around a little over 20 years, the amount it has progressed over that short span is a true marvel. A sport that started with very few guys at the highest levels now is seeing a very large number of new promising prospects, and that number only seems to keep increasing as each day ticks by.
Maybe one of the most talented fighters coming up from the crowded lighter weight classes is Julio Arce. After winning the Ring of Combat bantamweight strap, Arce feels it is only a matter of time until he is a major player in a major promotion. Winning a belt in a well-known regional promotion has helped expose his name to the masses.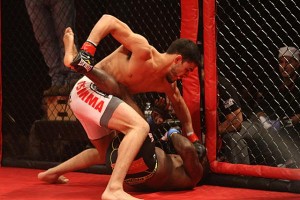 "I feel now I am considered a top prospect and people are starting to see that I am not just some kid," Arce told Combat Press. "[I am] someone who is going to come in here and bring the fight. Everyone is working hard in the game to get to that same promotion, the UFC. I am just going to work even harder and push myself more and more. Even after my fights, I am right back in the gym. That is the discipline that has fell upon me the first day I started training."
---
Advertisement

---
The title of being a Ring of Combat champion can only take one so far in the MMA world. Arce understands that in order to get to where he wants to be, he needs to beat fighters who have established names or, at the very least, a name that has more weight than his own.
Thomas Vasquez fits that bill perfectly, according to Arce. Though Vasquez has had only eight professional fights, some of those contests have taken place under the Bellator banner, one of the most recognizable brands in MMA.
"He is a very well-rounded fighter," said Arce. "He is battle tested and he is ready to go. Fighting him is going to bring me out as a fighter even more and it's going to be a great thing for me."
Though Arce, a Tiger Schulmann product, had a lot of praise for his upcoming opponent and that opponent's experience, he has prepared for moments like these throughout his martial arts training.
"As an amateur, I did every discipline I was suppose to do," Arce explained. "From grappling, wrestling, boxing and Muay Thai, I did them all and I feel very comfortable in all those areas. I feel like, when he is going to bring it, I'm going to be ready for it."
There's just one guarantee come fight night. The crowd will be on Arce's side. He is a native of the area and trains not far from the arena, so there is little doubt whose name will be cheered louder when the intro music starts playing in the venue. Some fighters like having fights away from home because they don't have to stress about getting tickets for family and friends. Also, fighters sometimes don't deal very well with the pressure than can come with wanting to perform knowing all their loved ones will be in attendance.
This isn't the first rodeo for Arce in this department, though, and he is ready to overcome all of it because he understands how important this fight could be for his future.
"Anything that has to do with tickets and stuff like that gets taken care of. It's [taken care of by] a good friend of mine; his name is Reggie. I'd like to give the shout out because he takes care of all that stuff for me, and that is like a burden off my shoulders that I don't want to have to deal with," admitted Arce. "As for fighting, I've fought with family there [and] without family there. When I'm in that cage, I don't hear the crowd. I only hear my coaches in the corner and that is it. It is just me in there."
In Arce's upcoming fight with Vasquez, one thing is certainly hard to ignore. After starting his career much like Arce by scoring six straight victories, Vasquez has dropped his last two fights while fighting for Bellator. To get a title shot off a loss is not unheard of in the MMA world, but to get one following two consecutive losses can certainly raise some eyebrows.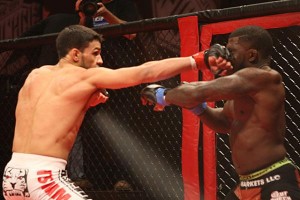 "A fight is a fight," Arce calmly stated. "He took the fight. I've been having problems finding an opponent, and he said he was ready to fight and I respect that. I'm ready to fight whether he came off a loss or he came off a win. A fight is a fight, and if you are ready to throw down, I'll be ready to throw down as well."
Part of this "just fight" mentality is an extension of what, ultimately, Arce is looking to accomplish in the sport, and that is to make it to the UFC. He understands that with the amount of shows the UFC is putting on, it is only a matter of time until someone gets hurt and the UFC comes looking for a short-notice replacement to step in.
"From what I see, a lot of UFC events, people get hurt and they find a replacement and that ups their ticket into the UFC. So, I just want to be ready. I want to stay in shape. I don't want to fight then take a break and have to say, 'Oh man, they want me to fight but I am not ready for it.' I want to always be ready. You never know. A while back, I got a call for a last-minute replacement fight in Nova Scotia from the UFC, but I had to turn it down because it was a four-day notice and I would have to literally cut 20 pounds to make it, and I want my first fight in the UFC to be like I am ready for it. Now, I want to be ready for that call at any given notice or just a few weeks out."
Julio would like to thank the people who have helped him get here. He would like to thank everyone at the Tiger Schulmann family, all of his teammates and his family, especially his sister, who has always been there and shown support. He would like to thank his fight manager, David Fish, who is always looking out for him like a big brother. He would also like to thank everyone who just continues to support him, as well as Tiger fight gear clothes, who supply him with everything he needs. Follow Arce on Twitter:
@JArceTSMMA
---
Advertisement

---