Report cards mean different things to different students. The slacker goofing off in the back of the classroom might dread what comes on that piece of paper. The honor-roll student might be disappointed if there's anything less than an A. Some grades come with a reward. When the student was young, it might have been a trip to the ice cream shop, a new toy or the latest video game. As they grow older, it might be a new tablet, laptop or even a car.
But how many of those rewards are truly unique? Anyone can play a video game, for example, but how many people can say that their reward for good grades involved training with world-class fighters? Well, GLORY kickboxer Josh Jauncey can.
"If I got good grades in school throughout the year, my parents would reward me by letting me spend my summer vacation with family or friends overseas. Instead of taking a relaxing holiday, I'd go to Holland at train at Mejiro Gym," Jauncey told Combat Press. "I went to Mejiro because 1) my close friend, former fighter Onno Hansen of Team Van Den Burg/Hansen, was a former Mejiro fighter from the '80s and was still friends with Andre Mannaart. I stayed at Onno's place when I was in Holland, and 2) Mejiro had once been or was still home to many of my favorite fighters, like Rob Kaman, Peter Aerts, Remy Bonjasky and, of course, Andy Souwer.
---
Advertisement

---
"Anyway, I met—and was starstruck by—Andy there when I was 15. Then again when I was 17, when I got the chance to train with him more and he even brought me along for a strength and conditioning session with his personal trainer.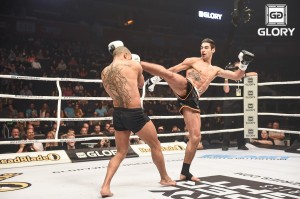 "Once I graduated high school, I plumbed for a year to save up to move to Holland to train and fight for as long as my money would last. I phoned Andy, as we'd stayed in contact since my last visit, and he was impressed with my motivation and invited me to come train with him and become part of Team Souwer. So that's what I did, and it was a dream come true! I'm currently the youngest and only North American on Team Souwer."
Jauncey was already a competitive kickboxer when he met Souwer. He had started at age nine and idolized Souwer as he progressed through his amateur career. Jauncey's father, Vincent, was also a former kickboxing champion and helped Jauncey develop his skill set. By the time Jauncey was in his late teens and experiencing the dream of training alongside Souwer, the payoff of all that training was showing in his performances in the ring.
"I was about 17 or 18 years old when I stopped a very talented Dutch fighter in the second round with [a] spinning back kick to the liver that he was unable to recover from," said Jauncey, recalling the proudest moment of his amateur career. "I'd heard of him when I was younger and was pretty terrified to fight him. I trained harder than ever, my father and brother came up with a great game plan, like always, and it worked out even better than we expected!"
The London-born, Canadian-raised athlete was benefiting from a strong group of training partners and coaches. As the years passed, he'd have the luxury of access to even more world-class talent in the gym. UFC featherweight champion Jose Aldo has made numerous trips to Amsterdam to train with Souwer, and Jauncey has had the good fortune of experiencing what it's like to train with one of the MMA elite.
"Training with Aldo was such an amazing experience that I only could have gotten from being with Team Souwer," Jauncey said. "He is such a humble guy and such a technical fighter, so fast, strong and his head movement is crazy good. Sparring with him was always a lot of fun and very tactical. A chess match would be an understatement. Words can't describe how it felt when he included me in the team he flew to Rio to help him train when he was scheduled to fight Anthony Pettis but ultimately ended up fighting the 'Korean Zombie' [Chan Sung Jung].
"From Aldo, I learned that no matter what your situation, you can always achieve your dreams. He literally came from nothing and now he is the greatest MMA fighter in the world. There's no good reason to not follow your dreams. Only excuses."
By 2013, the year of his 20th birthday, Jauncey was ready to take it to the next level. He turned pro, and by 2014, Jauncey, now 21, was stepping into the GLORY ring.
"After my first pro fight, which was in just a small event in Zaandam, Holland, on a Mejiro Gym card in 2013, I was fighting in pretty decent-sized arenas," Jauncey explained. "My second pro fight, which I took on just two weeks' notice, was in Tenerife in front of 5,000 people, where I knocked out their hometown boy, and my third pro fight was against HINATA on a Shoot Boxing event in front of another 5,000 people in Tokyo.
"Once I get on the stage and hear my music, the crowd or hype doesn't even cross my mind. I actually believe I fight much better on bigger events with bigger crowds. However, I will say that fighting for GLORY is like no event I've previously seen in regards to how organized and smooth everything ran. It was like clockwork and we—the fighters—were treated brilliantly!"
Jauncey's GLORY debut came in May at GLORY 16 in Denver. He was fighting Warren Stevelmans, a veteran with 85 fights under his belt.
"Stevelmans was a very tough opponent for me but more so mentally than anything else," Jauncey confessed. "I'm not going to lie, I was pretty worried about fighting him. He was a guy that I'd been watching and admiring for years while he fought the best of the best, and now I had to fight him! But again, I trained really hard and my team came up with a great strategy, and it worked. It was a hard fight, but I wouldn't say it was my hardest. I've had many grueling fights before that, it's hard to say what was the most difficult."
The fight got off to a rocky start for Jauncey. In the fight's early moments, Stevelmans connected, rocking the younger fighter.
"It was a flash knockdown," Jauncey said. "Once I hit the ground, I was already recovered. I realized what had happened immediately and told myself I'm not blowing this massive opportunity. I got up, listened to my brother telling me to move, I did it, got my feet back under me and from that moment on, the fight was mine."
The 21-year-old turned the tide and walked out of the ring with a decision win in the Superfight Series bout. It was a big win, but it wasn't the knockout finish.
"I didn't really expect to be able to knock him out," Jauncey admitted. "He hasn't been knocked out many times at all. He is a tough guy, but we knew that I could definitely outpoint him, pick him off and, ultimately, wear him down, which is exactly what I did."
Jauncey knew what to expect, but that doesn't mean he believes he had a flawless performance. If he had to do it all over again, there are some things he'd do differently.
"Yeah, not get knocked down!" Jauncey laughed. "But other than that, I believe I could have taken a few more risks and pushed the pace a little more. My cardio was great in that fight, but the idea of being mile high in Denver was still in the back of my mind and I didn't want to get too carried away."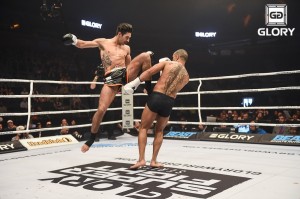 With the win over Stevelmans, Jauncey had his GLORY debut out of the way. The win placed the 21-year-old, whose overall record now stands at 20-4 with nine wins by some form of knockout, in the No. 17 slot in GLORY's lightweight rankings. On Nov. 7, he returns to the GLORY ring to seek another win. His opponent is Jae Gil Noh, a GLORY newcomer who sits at No. 19 in the rankings.
"Well, considering he hasn't ever fought for GLORY, I don't understand why he is even ranked so close to me, but a win for me is the best thing in the world," Jauncey said. "So no matter who they put in front of me, I'll be happy to beat them. Realistically, I don't see how this win could put me in the top 10, but I plan on being there by the end of 2015. I want to be the start of the new generation of kickboxing legends."
Noh may be new to the GLORY promotion, but he isn't a rookie fighter by any means. The South Korean will bring a 30-12 mark to his fight with Jauncey.
"He's much more experienced than me, but that doesn't bother me anymore after my last few fights," revealed Jauncey. "He's pretty old by fighter's standards and I think this might be his last chance at anything, so he is probably wanting to take my head off. I'm cool with that.
"He's a basic fighter, but he does the basics very well and with a lot of power. I'll definitely be mindful of that, but I don't see it being an issue. At the end of the day, there's no fighter that you want to get hit by."
Jauncey will have a few things on his mind when he steps through the ropes and enters the ring at GLORY 18, which takes place at the Grand Casino Hotel and Resort in Shawnee, Okla. First, of course, will be the win. But once he has his hand raised, his mind will turn toward the future and what comes next in his GLORY run.
"Honestly, I'm happy to fight whomever GLORY wants me to," Jauncey said. "However, a rematch with HINATA, under GLORY, would make me very happy. I came close enough to beating him under Shoot Boxing rules that I believe I deserve a second chance, considering I only lost due to a shoot-point and I wasn't in my right state of mind going into that fight. Plus, I don't think he deserves to be No.6."
Before Jauncey can entertain the idea of avenging the loss he suffered to HINATA, he has to make it through Noh. It's no easy task, fighting a veteran of 42 fights, but Jauncey is confident heading into his latest Superfight Series bout.
"I may not be on Spike this time, but I promise I will put on one of the most exciting fights of the night, mark my words!"
The report cards stopped coming several years ago, but, for Jauncey, it looks like those good grades are still paying off.
Josh would like to give a big thanks to GLORY for giving him this opportunity once again and everyone who's been supporting him either personally or through social media. He says he'll save the rest of his thanks for after his fight, because "there's a lot of people who do a lot for me every single day just to see me win." He also asks fans to "make sure to tune on to SPIKE TV on Friday, Nov. 7, to watch GLORY's return and support this amazing organization!" Follow Jauncey on Twitter:
@jauncey93
---
Advertisement

---