Even if you are from outside of the United States, the city of Boston carries with it a certain reputation. Sure, it's the name of a major city and, in the realm of sports, its name is associated with the Celtics, Bruins and Red Sox, but when people think of Boston, what they're really thinking about is the sense of pride and toughness that goes hand in hand with the city.
Growing up, Charles Rosa was your typical Boston kid. And even though his dreams as a mixed martial artist have now started to come true, he will never forget where he is from or how he got to where he is today.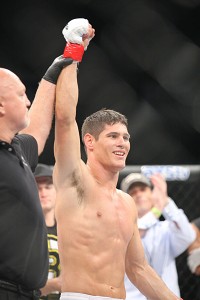 "I had a good life. I had everything I needed. But it was rough," Rosa confessed to Combat Press. "I live in Florida now and I notice the difference in the upbringing. If you've seen the movie The Town, I think that would be a good way to describe it. You have to see it to understand it. You have to stick up for yourself. You've got to be tough to be from Boston."
---
Advertisement

---
Rosa's ties to Boston remain strong. He has made a habit of going wherever he needs to in order to get the best quality of training, though, and that quest to be with the best is certainly what led him to become part of the American Top Team family in Florida. Rosa takes a great deal of pride in being able to represent who he is, where he comes from and his team at the very elite level of mixed martial arts. Now, with the recent news that Rosa has signed with the UFC, the kid from Boston will finally be able to make that long-awaited transition to the big stage, providing him with the best platform to represent his hometown and team while making an impression on fight fans.
"It's the best thing in the world," Rosa exclaimed. "It's awesome to represent Boston. It's really a big deal for me to represent not only Boston, but also my country."
After nine professional wins in a row, and with all but one coming by way of first-round stoppage, everything has come together for Rosa. When he made his professional debut in 2012 after a long and successful stint as an amateur under the guidance of UFC veteran Charles McCarthy, Rosa knew he was going to have to work hard to stand out from the pack. Rosa isn't an overnight success by any means. Now, he gets his chance to prove just that against Dennis Siver at UFC Fight Night 53 in Sweden.
"It's everything I've worked for the last six years and it's finally paying off," Rosa explained. "It shows me that hard work and dedication pay off. This is my proof."
As fate would have it, Rosa was spending time training in Holland when he received his life-changing call-up to the UFC. With jet lag a non-issue, Rosa now has the opportunity to showcase skills he has honed with some of the world's best striking coaches.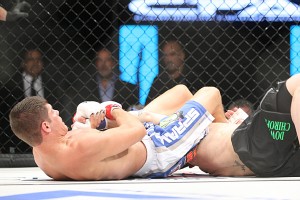 "It's awesome. That's why I came back. I came back to finish what I started. When I came back to American Top Team, I noticed a distinct improvement and difference in my striking," Rosa admitted. "When I was in Holland, they said I showed such improvement in such a short amount of time, they wanted me to stay to really complete me. I tried to change my ticket, but that wasn't possible. I went home, but then I came back to finish what I started."
Although it may not be seen as ideal, Rosa's UFC debut comes on just one week's notice. Taking any fight on short notice can be detrimental to a fighter, and it can be a huge risk for a fighter who boasts an unblemished record. Combine that with his opponent being an experienced UFC vet, and there's no denying that Rosa has the odds stacked against him on Oct. 4. Luckily, though, the way he has approached his career over the past four years has paid off for the young UFC hopeful.
"I'm always in shape. I'm always training," Rosa said. "I don't take vacations and I don't take time off. I'm always in the gym, training like I have a fight. The only thing I'm not super happy about is cutting the weight on short notice. But I'm ready. I've fought many times on super short notice as an amateur, and I beat Keith Richardson, 10-5, on less than a week's notice. I'm always ready. I would've liked a longer camp, obviously, but he's also taking [a different] fight on short notice."
---
Advertisement

---