After 54 professional bouts, Brian Green admits he still gets nervous. Tonight, he steps into the Bellator cage for what may be his final fight. After over a decade in the sport, "El Gringo Nica" has big plans following this bout. He will focus his efforts on coaching in Nicaragua.
Green is currently a 100 percent self-funded missionary in Nicaragua, where he coaches fighters and youth in an effort to keep youth off the streets and away from drugs while providing them with an opportunity to learn the sport of mixed martial arts. MMA has been Green's primary source of income in supporting his goals and ambitions to coach in Nicaragua. Although his efforts abroad have been substantial, he hopes to sustain a career in coaching, and to do so without the agony of competition. He has recently launched AFightersMission.com in hopes that exposure for his mission will assist him financially in his transition from competitor to coach.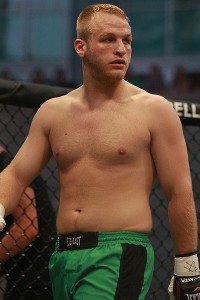 "In Nicaragua, I have been training a two-time world champion boxer, a former No. 1 contender boxer and TUF Latin America's Chimy Morales, who just had a devastating head-kick knockout on the show," Green told Combat Press. "When I return, I will continue training these guys and share my knowledge to help them become world champions. There is a lot of talent there that the world will see soon enough."
---
Advertisement

---
Tonight at Bellator 129 in Council Bluffs, Iowa, Green will share the cage with a fellow veteran of the sport in Omaha's Anthony "Lionheart" Smith. Green doesn't anticipate this fight needing the judges' scorecards.
"We both are finishers," he said. "I always fight to finish, or [I] get finished. I'm pretty sure this fight will not go the distance. I think that Anthony and I both will have some veteran tricks, and it will all come down to who can implement the better timing and transitions, if it's on the ground, or the better combinations on the feet. A fight is a fight, and someone is going to win and someone will lose. Hopefully, God permitting, I can get this victory."
In over 10 years of competition and 54 professional fights, experience could be a factor for Green against Smith. However, Green doesn't feel his experience changes the fight.
"The sport has changed a bit in 10 years as a pro, but fighting stays the same," he explained. "It has evolved, but it still comes to who can implement their game plan the best on fight night when it counts."
As far as predictions for the match-up, Green anticipates a barn-burner of a fight.
"I feel like this fight is a fight where two veterans are going to go out and fight until the other goes down," he said. "I don't see backing down in either mine or my opponent's DNA."
Green intends to hang up his gloves unless a win over Smith provides a "big opportunity." If it doesn't, Green is comfortable pursuing coaching and passing along the lessons he has learned in his career.
"I have learned too many lessons through MMA to mention. Most importantly, you need to have someone to help guide you through your career as a professional and help achieve your best interests," Green said. "Taking career-advancing fights, that will help your career and not hurt it. I never had that."
Now, Green hopes to share his experience and knowledge with others. His time in the cage may be coming to an end, but Green still has much to contribute to the world of MMA. He'll walk into that gym in Nicaragua and hope to guide others toward the chances he never had.
---
Advertisement

---