The difference between a curse and a blessing is often the perspective.
When UFC 176 was "postponed" by the promotion, the fighters scheduled to compete on the card were quickly distributed to other upcoming cards. After being part of the previously canceled UFC 151, it was déjà vu for lightweight Danny Castillo.
"It's the second time it's happened to me, so I was prepared. I knew exactly what I needed to do: take a couple days off," explained Castillo while speaking with Combat Press. "I try to take the positives from everything, and I got to work with 'Bang' [Duane Ludwig] for an extra six weeks, so that was huge for me."
---
Advertisement

---
Although Castillo wasn't frustrated by the change, the promotion's misfortune didn't end with UFC 176, as light heavyweight champion Jon Jones injured his knee and was forced off UFC 178. Once again, the situation played out in Castillo's favor. The original UFC 177 co-main event between flyweight champion Demetrious Johnson and Chris Cariaso was shifted to fill the void on the September card, leaving Castillo as a pay-per-view co-headliner for the first time in his 18-fight Zuffa career.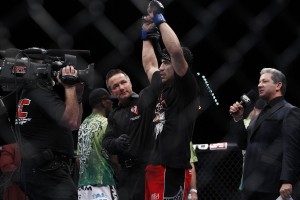 "Excited probably isn't the word I would use. There would probably be some profanity before excited," joked the 35-year-old. "I was extremely excited. It's something you dream about as a kid."
Adding to Castillo's excitement is the fact that the card is in his own backyard of Sacramento, Calif. While some fighters buckle under the pressure of fighting close to home, "Last Call" relishes his opportunity.
"It's my hometown," said the lightweight. "My friends and family are proud of what I've done with my life. And win, lose or draw this Saturday, they're still going to be proud. They get to see me in a packed arena, live, on center stage, in front of the whole world."
One of the reasons that Castillo was tabbed for the night's main card was his violent, second-round knockout of Charlie Brenneman in April. Yet, despite earning his seventh win inside the Octagon, Castillo wasn't satisfied with his performance.
"To be completely honest, my striking wasn't displayed in that fight," he admitted. "I landed a good overhand right, but I didn't use my angles or my combinations that we worked. I hardly used any kicks. I wasn't able to showcase Bang Muay Thai. Being that I've had an extra four months to work the Bang Muay Thai system, it's in place, it's intact, and it's perfect timing because I have a tough opponent this weekend."
Standing across the cage from Castillo will be The Ultimate Fighter 13 winner Tony Ferguson. Both fighters sit just outside the UFC rankings, but Castillo is hoping that will change after Saturday night.
"I was hoping for a fight with someone in the top 15," stated Castillo. "This is just as tough of a fight with someone that's in the top 15. It's unfortunate because I have to fight someone just as tough as those guys, but he doesn't have the notoriety. We both don't have the notoriety.
"That's why this is such an exciting fight. You have two hungry fighters that need a finish to make a name for themselves. I think a finish would put me in the top 15. That would be eight wins [in the UFC] for me in the lightweight division. Hopefully that gets me in the top 15."
Stopping Ferguson will be no easy task. The 30-year-old has been finished just once in his 18 career outings, but Castillo feels he has the tools and experience to do it.
"I'm really confident going into this fight," declared the Team Alpha Male product. "I've fought opponents like Tony Ferguson and I've come out just fine. He's got some power in his hands. He's really long and rangy.
"Is he the most technical striker? Probably not. Is he the most technical striker I've faced in my career? Absolutely not. Anthony Njokuani is a better striker than he is. Edson Barboza is a better striker than he is. He's a good grappler as well, but he's not a better grappler than Paul Sass. The list goes on. I've fought some of the best names in the sport and that's where I believe my resume and experience win this fight."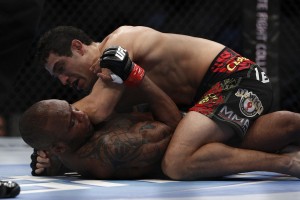 Castillo's positive outlook and confidence should not be mistaken for cockiness. He knows he's facing a very capable foe on Saturday night. However, the Californian believes he has an edge no matter where the fight goes.
"I'm a mixed martial artist with good, clean boxing. I've got Bang Muay Thai. I've got great wrestling. I'm a brown belt in jiu-jitsu. Not to mention, I'm a complete athlete," proclaimed Castillo.
"I'm strong, I'm fast, I'm athletic. We're both fighters, but I'm an athlete. We can't say that about him. He's a fighter, don't get me wrong, I'm not taking anything away from Tony Ferguson, he's a tough dude, but in terms of athleticism, that's me."
In addition to securing his own win on Saturday, Castillo hopes to set the table for his teammate, UFC bantamweight champion T.J. Dillashaw. Team Alpha Male waited a lengthy period of time to earn a UFC belt, and Castillo is certain that Dillashaw will retain his belt and lead the team to even more gold.
"There were a bunch of critics and media that said Team Alpha Male would never get a belt and that we're cursed, but I never thought that," recalled Castillo. "I just thought we had a couple of tough title fights that didn't go our way. These guys are still the best in the world. We have a talented room and, as they say, iron sharpens iron. Look for more of us to get more belts and continue to find success."
With an ever-improving skill set and beaming with confidence, Castillo's time in the spotlight is unlikely to be short-lived. And with a win over Ferguson on Saturday, Castillo himself may be joining the title picture sooner than later.
Danny would like to thank his sponsors: Memory Tag and Onnit, his coaches: Duane Ludwig, Fabio Prado and Amadeo Novella, Team Alpha Male, Sacramento and all of his fans. Follow Castillo on Twitter:
@lastcall155
---
Advertisement

---