Anyone who has experienced a hurricane firsthand will talk about the eye of the storm. It's a calm in between two waves of destruction and chaos. You can see everything swirling around you, but where you are, there's nothing.
Ian Heinisch is in the eye of his own storm.
What came before was a quick rise as a dominating high-level wrestler who made his foray into MMA only two and a half years ago as an amateur. Today, he is 10-0 in his combined pro and amateur MMA career with four submissions, a knockout, and a flurry of lopsided decisions. He also had a chance at a spot on season 23 of The Ultimate Fighter a year ago, but some past transgressions came back to haunt him.
---
Advertisement

---
Now, Heinisch sits in the eye of his figurative storm. His demolition of 10 opponents led to a spot on the Legacy Fighting Alliance 5 card, where he was set to meet fellow middleweight Lucas Rota. However, the Colorado native took to his Facebook page on Wednesday night and announced that a knee injury had forced him out of the featured fight. However, he also revealed that he'd have a new fight announcement on Friday.
In 2016, Heinisch, fresh off four wins in his inaugural pro campaign of 2015, strung together three more wins, including his World Series of Fighting debut and two middleweight title defenses with Sparta Combat League. Heinisch's slated battle with Rota seemed primed to serve as his entry into the big show.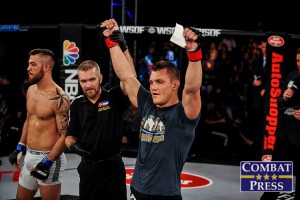 "I'm finally in the right direction to fast track to the UFC," Heinisch told Combat Press. "I'm waiting for a challenge. I'm ready to test myself, because I haven't been tested that much yet. I don't know if Rota's the guy. He's kind of on his way out, and I'm on my way up."
Perhaps it's better this fight didn't come to fruition. Heinisch's next fight announcement could turn out to be a better opportunity. In the meantime, he has been very patient. He has used the time to get better — a lot better. His wrestling base is already at a world-class level, but MMA is still a relatively new sport for the undefeated fighter.
"I've definitely been working on my jiu-jitsu game, and I'm comfortable going there with anyone," Heinisch said. "Before J.J. [Pugsley] left, I was doing it with him. Now, I'm working with Brian Rogers, Chase Hackett, and we actually have [Mario] 'Busy' Correa coming to our gym, and he's going to see if it's a good fit for him to be teaching us full-time. We've had some guys from Easton [Training Center] come in, and when D.J. Jackson was in town for the Fight to Win Pro, I was able to roll with him."
Heinisch's ground game is scary. He will frustrate the hell out of even the best grapplers. However, in Heinisch's last fight, his opponent was actually defending quite well. It was a bit frustrating for the SCL champ, but it also bolstered his confidence.
"I was kind of hoping for a finish, but the opponent was pretty slick on the ground, kept pulling guard, and I was comfortable being there," Heinisch explained. "I dropped him every round, but he was definitely durable. It was good to know that I can get on the ground with these high-level jiu-jitsu guys and dominate.
"I'm constantly working on my striking — just getting more comfortable on my feet. […] I'm just trying to work everything — jiu-jitsu and striking. My wrestling is there, but I'm keeping it sharp and working on my transitions."
Heinisch might not be able to show the world his skills on AXS TV on Friday night, but it won't be long before he's turning heads.
"They're going to see me in the UFC real soon," said Heinisch. "I put on exciting fights, I throw down, and I dedicate my life to this. I have no job. I train in the gym, and I train people. I'm coming up, so check out my documentary."
What comes after the eye of the storm is another wave of destruction. In Heinisch's case, this means more fights, more wins and, if he's lucky, a trip to the Octagon. As the other side of this storm approaches, though, Heinisch's future opponents are the ones who need to beware.
Heinisch would like to thank his coaches and training partners at Factory X Muay Thai and Landow Performance, as well as his family, friends, fans and sponsors: Illegal Pete's. Receptra, Parker Landscaping, Bad Boy, In The Cut, Elder Auto, Northern Climate Control, Caeman Chefs, Denver Sports Recovery, and Rad Roller. Follow Ian on Twitter:
@HeinischIan
---
Advertisement

---