Simon Marcus entered the GLORY ring as one of the premier Muay Thai fighters in the world. After a rough start, the GLORY middleweight champ has undergone some changes to evolve into one of the best kickboxers on the planet.
Marcus made his GLORY debut at GLORY 17 and immediately faced off against fan-favorite Joe Schilling. Marcus lost via knockout in the extra fourth round and then attempted to pick up some wins overseas. After a 1-1 split outside of GLORY, Marcus entered the GLORY 20 middleweight contender tournament with plenty of question marks. However, it was there that kickboxing fans began to witness the transformation of a Muay Thai fighter into an all-around martial artist.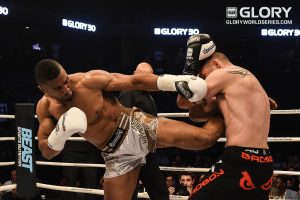 "A big part of it was getting to work with other styles," Marcus told Combat Press. "It was getting more adept to moving around with different people. Being in a traditional Muay Thai gym, I'd be so used to sparring and moving around with other Muay Thai guys that I'd get used to that style and form."
---
Advertisement

---
Marcus defeated rising star Wayne Barrett and Jason Wilnis to earn a crack at his longtime rival, Artem Levin. The two fought to a majority draw at GLORY 21, but Marcus took the title at GLORY 27 in a strange fight. Levin, seemingly fed up with the referee's actions, decided he'd had enough and gave kickboxing fans their "No mas" moment. Marcus went on to defend the title in spectacular fashion at GLORY 30, looking lightyears ahead in skill compared to his opponent, Dustin Jacoby.
As Marcus was evolving in the ring, he was also growing as a person outside it. The maturing GLORY middleweight champion decided now was a good time to change nicknames. No longer preferring to be known as "Bad Boy," Marcus recently announced he'll now be called "The One."
"I'm at a different point in my life," Marcus said. "'Bad Boy,' for one, isn't original, and that's more a description of my past than my present. I'm growing as a person and as a fighter. I'm turning 30 this year. It was time to get rid of the 'boy' and pick something more mature to represent who I am at this point."
"TheOne" Unveiled Exclusively on @G987FM @GLORY_WS @Hayabusa_MMA it's going down #Glory33 #AndStill #TheOne 💯👊 pic.twitter.com/cHso2MCsbE
— Simon The ONE Marcus (@SimonMarcusNo1) August 31, 2016
Just because he's older and wiser than the "Bad Boy" he used to be, that doesn't mean he can't get in touch with his inner child. Even the most stoic fan has to lighten up a little when meeting one of their childhood favorites. In the champ's case, the childhood favorite was former professional wrestler Bill Goldberg.
Tired to hit @Goldberg with The Spear but he caught me! 😂 Hahaha dream come true! @GLORY_WS @Hayabusa_MMA #TheOne pic.twitter.com/CP5vQLE2g3

— Simon The ONE Marcus (@SimonMarcusNo1) September 3, 2016
SPEAR! @SimonMarcusNo1 keeping @Goldberg on his toes during session sparring at @BattleArtsMMA @iamillcause pic.twitter.com/xRen75GSF2

— ChrisMorrison(@20MinTimeLimit) September 2, 2016
"It was awesome," Marcus said. "I looked up to Goldberg when I was a kid. It's kind of surreal to me to be training with him and [hear him say] he looks up to me at this point. He's a super down-to-earth person and a good person all around. I used to love WWF and WCW, and Goldberg was one of my favorites."
Marcus was also involved in a music video offering tribute to the legendary Muhammad Ali.
Check out My Tribute to The Great "MuhammadAli" featuring Nathan Elliott! Directed by Neal OwusuEntitled "When"

— Simon The ONE Marcus (@SimonMarcusNo1) August 22, 2016
"He's someone that has inspired me throughout my career," Marcus said. "I felt like I owed it to Ali and his fans for all the things he did to be a great person and a great fighter."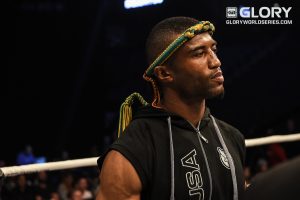 The Goldberg meetup and the Ali music video have provided some necessary breaks from the monotonous schedule of a training camp. Still, Marcus remains focused on the task at hand, which is a rematch with the aforementioned Wilnis at GLORY 33. Since the loss to Marcus, Wilnis has gone 4-1, including wins over the aforementioned Schilling and Filip Verlinden.
"His style hasn't changed much in all the fights I've watched of his," Marcus said. "I'm sure he'll try something a little different to mix it up, but either way, it doesn't really matter to me, because my arsenal is loaded and my defense is good. Whatever he brings, I'll be able to deal with it in the ring."
Marcus will have the opportunity to validate his confident claims on Friday, Sept. 9, when GLORY 33 rolls into the Sun National Bank Center in Trenton, N.J. The event airs live on ESPN2 starting at 11 p.m. ET. The Superfight Series will begin at 8:30 p.m. ET on UFC Fight Pass.
---
Advertisement

---