One of the most frustrating situations for a martial artist is to know that he has a special skill set and is very good at what he does, but lacks the conditioning to reach the highest level of performance.
Bellator heavyweight Tony Johnson, Jr., is a lifelong athlete. He was wrestling as far back as he can remember. He also performed as a high-level football player and eventually went on to college as a standout in both sports. Johnson has a unique pedigree that transitioned well into mixed martial arts.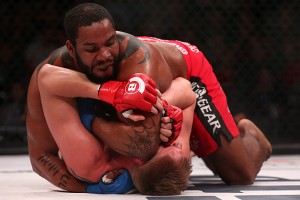 Johnson opened his MMA career in dominating fashion, going 4-0, including his capture of the King of the Cage heavyweight title in 2010. His first loss occurred in his first title defense when he was submitted by former Strikeforce heavyweight champ and current UFC light heavyweight titleholder Daniel Cormier. After the loss to Cormier, Johnson went on a three-fight winning streak through a combination of KOTC, Bellator and ONE FC events, before dropping a split decision to Chris Lokteff in Malaysia.
---
Advertisement

---
By the time he was 27 years old, and only nine fights into his pro career, Johnson had fought in four different states and two foreign countries while racking up an impressive 7-2 record and defeating the likes of Tim Sylvia and Derrick Lewis. Almost a year after his last loss, Johnson was back in action against Robert Neal, whom he knocked out early in the first round. He moved back into Bellator action against former Bellator heavyweight champ Alexander Volkov in April at Bellator 136.
With the Russian riding a three-fight winning streak, including complete domination in the season-10 heavyweight tournament, Johnson was the underdog going into the match. However, after three rounds of back-and-forth action, the Texan won by split decision. The victory was sweet, but Johnson remains very critical of his own performance.
"It was great to get that win, but I need to focus on my conditioning a lot more," Johnson told Combat Press. "I couldn't do the things I wanted to, because my conditioning wouldn't allow me to do it. There were some pluses, but more negatives in my eyes. I didn't finish him like I wanted to, so I told myself that I need to get into really good shape."
Johnson's body was his only limitation. He wasn't in the regimen of training for both football and wrestling like he was in college. In MMA, a fighter often needs to seek out someone to whip him into shape.
"One of my biggest strengths is my father, because he knows me and has been able to push me farther than anyone has been able to push me," Johnson said. "I found a guy named Omar Edward at M.A.D.E. Fitness, who is somebody that's like my father. He's only a couple years older than me, but he pushes until I can't go anymore. Our conditioning sessions will go for like two hours. He has me running five, six, seven miles per day, and that's a big part of my conditioning plan. I really respect that guy for getting me in shape and really helping me understand how to work out."
Often, when fighters are on the bench for this long, they get soft. Johnson has done the exact opposite. Anyone with access to social media can see that. He physically looks like a completely new man. His agility and conditioning are even better than when he was a college athlete. This will make a big difference on Friday night when he steps in the cage for the first time in nine months to face Raphael Butler on the main card of Bellator 148. As lean as Johnson has gotten, he is already under the heavyweight limit, which makes for a completely different match-up.
"I don't need to cut weight, and [I'm] really happy about that," said Johnson. "I didn't want to worry about cutting the weight. I just want to focus on training for Butler and not worry about my weight.
"For this fight, all of my training has been at Bonafyde MMA. I needed to focus on my boxing and my conditioning, so I wanted to stay in the area. My cardio back in the day did not allow me to do what I needed to do, because I wasn't in shape for it. Now, I am in shape for it and I can do whatever I want to do in that cage."
Butler is a different type of opponent than Johnson has faced in the past, which is why he has been so focused on his boxing as well. Butler was a Golden Gloves champion as an amateur boxer and holds a pro boxing record of 35-12-2. As an MMA fighter, the Chicago native is 9-1-1, but he has been on the bench for a couple months longer than his opponent. Regardless of their respective times off, Johnson knows that he needs to be prepared for one of the toughest fights of his life. That's where his reborn athleticism comes into play.
"I know he's a boxer [and] I know he's has knockout power, but I'm not worried about that," said Johnson. "I'm going to do what I do. I'm going to put it on this guy, man. He's going to see that I've been working on my conditioning. I'm going to show my improvements, and I'm going to improve every fight."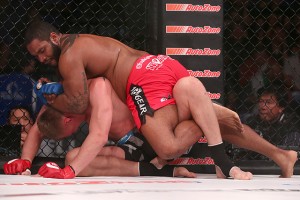 As a lifelong wrestler, Johnson has previously fallen into the trap of getting nervous on the ground. While his only submission loss was to Cormier, he's been trying to change that paradigm.
"I've been getting on my back," said Johnson. "I hate jiu-jitsu, because I'm a wrestler, and I hate getting on my back. Since I was four years old, being on your back was just bad. It's the polar opposite of MMA. I worked a lot on my techniques this camp. One thing I've focused on in this camp is focused on my conditioning in those sessions, but in grappling, boxing, wrestling, I just focused on a lot of technical work. Then, this last month and a half, I turned it up. I'm ready to go."
Johnson leads a very hectic life as the father of three girls. He runs his kids to school, braids hair, and always makes sure he is a big part of those girls' lives. However, in recent months, his conditioning has been of paramount importance. Johnson knows he has the skills and abilities to be the best in the world, so he is no longer going to accept the fact that his body composition has been holding him back. He's been putting in a lot of work over the last year, and he is ready to see the dividend pay off on Friday night when he steps into the Bellator cage at the SaveMart Center in Fresno, Calif.
"You will see a more improved Tony Johnson. My cardio is a lot better, so you're going to see me mix it up a lot more. One of the issues I had in the past was my body, and that's fixed."
---
Advertisement

---