Americans love their football. The hard hits, the dazzling plays, the grunts, the groans and the cheers. Baseball may be America's pastime, but football is America's passion.
It's no surprise that many former football players move into mixed martial arts. With the size, the speed and the athleticism required to be a football player, there is a different kind of groundwork in place than the typical martial arts or wrestling background. For the right athletes, the transition can be an easy one. Old-schoolers, like Herschel Walker and Bob Sapp, put on varying levels of performance, while some of the younger guys like Ovince St. Preux, Brendan Schaub and Matt Mitrione found a great deal of success at the highest level of the sport. Another lifelong gridiron grinder has been recently climbing the ranks of the Bellator light heavyweight division.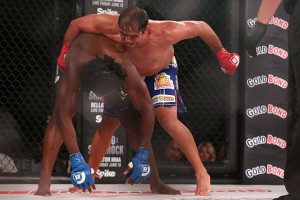 "Football is my number-one sport," Virgil Zwicker told Combat Press. "I played football my whole life, and I love it. I started around six years old and played all the way up until varsity in college. I had a bunch of scholarships to go to college, but I never went. I took a different path — a different kind of college."
---
Advertisement

---
Zwicker, who trains at Dan Henderson's Team Quest in Temecula, Calif., was a star football player as a child at the Pop Warner level. While he led a troubled childhood, living much of his early life on the San Pasqual Indian Reservation in southern California, the football field was where he found some solace. It kept him grounded. It only makes sense that as an adult, he is still involved in the sport. He is one of the coaches for the Temecula Valley Golden Bears, which also happens to be the team that his son Duke plays on.
"My kid plays for our local Pop Warner team here in Temecula," Zwicker said. "We are 13-0 right now. We've been playing since August, and we're the number-one team in the Mighty Mite division. This is the first year that the Pop Warner Super Bowl is putting on a national championship for the Mighty Mite division at Walt Disney World.
"It was us and three other teams that were invited to go over there and represent California, South Nevada, Arizona and Hawaii. We will be representing those four states. We will be playing another four states — I think the Eastern Conference region."
This Saturday, at the ESPN Wide World of Sports Complex in Lake Buena Vista, Fla., the Golden Bears, along with 15 other teams from around the country, will be representing the Mighty Mite division in the Pop Warner Super Bowl tournament. Zwicker will be there supporting his son, but not before he jumps into the cage for a competition of his own.
Zwicker is currently on a two-fight winning streak in Bellator. He knocked out his last opponent in the first round at Bellator 137 in May. Tomorrow night, he will finally be back in action when he faces middleweight veteran Brian Rogers at Bellator 147 at the San Jose State University Event Center in San Jose, Calif.
This will be the 11th Bellator appearance for Rogers, but it marks his first as a light heavyweight. Rogers had participated in two Bellator middleweight tournaments, but he is currently on a two-fight skid. He trains out of Factory X Muay Thai in Englewood, Colo., with the likes of Chris Camozzi, Joe Warren, Brian Foster and many other top-level guys. He has finished most of his opponents by knockout and will be looking to get back in the win column.
"I wasn't 100 percent sure who he was, so I had to look him up," Zwicker admitted. "I didn't really care who they gave me, I was just excited to get back in the cage. He's coming up to 205 [pounds], so he's going to be a little smaller. The only other smaller guy I fought was Houston [Alexander]. He looks to be a good fighter, very explosive, so I just need to make sure I'm ready to go.
"He definitely has that athletic background — big legs, big shoulders, big, strong back, and very explosive. He's dangerous with everything he brings to the table, and I just need to worry about his power. He also looks like a pretty fast guy."
For this camp, outside of the usual suspects at Team Quest — Dan Henderson, Sam Alvey, Rameau Thierry Sokoudjou, etc. — Zwicker has also cross-trained with St. Preux and Clint Harris in Tennessee, as well as at a newer local gym. He is getting a lot of different looks and keeps his focus on one thing.
"I've got to continuously win," Zwicker said. "If I win, everything comes easy. I'm not one to be chasing titles. I just want to keep winning. Obviously, I want to be considered for the belt, and if I keep winning, they can't deny it. I'm really focused on being the best I can be inside and outside the cage. I just want to continuously do it and enjoy it."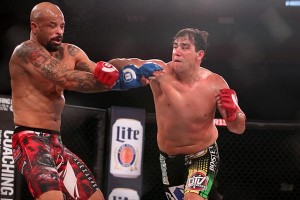 Zwicker is 14-4-1 as a pro, so winning is part of his pedigree. However, the Golden Bears are undefeated, and that brings a ton of pride to both him and his son Duke.
"My son has done a hell of a job playing football, as well as stepping up and growing up," Zwicker said. "Everybody that teaches him always says that the fourth-grade year is the growing-up year. It's been awesome, because it's away from the gym and it helps keep me focused and grounded."
MMA is Zwicker's job, but football is his true passion. Whether it was during his playing days or during Duke's, this sport rings true to his heart. The dedication he has put into coaching the young up-and-comers will finally pay off this weekend when they get the chance to vie for a national title.
"It's a really big deal," Zwicker said. "It's a once-in-a-lifetime opportunity. It's been an amazing year. I've been coaching basketball, football, other sports, mentoring youth for about eight years now, and this has definitely been the most rewarding one. For one, because my son is on the squad, but also because of just how focused and determined these kids have been. They're teaching us a lot."
At only 33 years of age, Zwicker has led a pretty crazy life. From growing up as an athlete and troubled youth to becoming a professional athlete, a family man and a mentor to youth, he has come a long way in a short period of time. On Friday night, he will be back in the cage to fight a tough opponent in California, and he will follow that up with an appearance in the Pop Warner Super Bowl in Florida. The gridiron got Zwicker to where he is, and at least this weekend, the gridiron is where it ends. Two victories would be a sweet way to enter the holiday season.
Zwicker would like to thank his wife Carla, his son Duke and his daughter Maniya. He would also like to thank all of his coaches and training partners, both in California and Tennessee, as well as the Temecula Valley Golden Bears, his friends, his fans and his sponsors: La Cocina Bar and Grill, Jason Young, J.T. White, Pizza Factory-Temecula, and Paradise Chevrolet. Follow Virgil on Twitter:
@VirgilZwicker
---
Advertisement

---