When life throws lemons, a person has two choices. They can get out of the way and take the path of least resistance, or they can take those lemons head-on and make lemonade.
Professional mixed martial artist Ryan Roberts has had a lot of lemons thrown his way in recent years.
In the mid-2000s, Roberts was early in his MMA career. Like it did for many guys who are just getting started in the sport, fighting and drinking booze sort of went hand in hand. When Roberts began his recovery period in 2009, he was at a low point. He fought through his issues, got better as an athlete and a family man, and created an overall better sense of self and life.
---
Advertisement

---
Fast-forward a few years.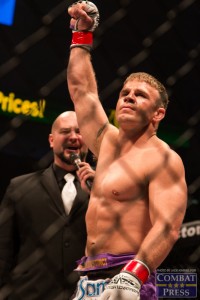 By December 2012, Roberts had fought some of the top names in the sport, secured the Victory Fighting Championship featherweight title, and was on the road to being one of the most dominant fighters to come out of Nebraska. Then, in August 2013, life decided to chuck a big lemon his way.
On a late summer evening, the VFC champ lost his sister, Andrea Kruger, during a high-profile crime spree that took a few lives across the Omaha, Neb., metropolitan area. She was in the wrong place at the wrong time and left behind a family of her own. Later that year, L.C. Davis, another standout fighter from the Midwest, lost his brother. So all eyes were on VFC 41 in December 2013, as Roberts met Davis for the promotion's bantamweight title.
There are a lot of people who would not have been able to bounce back so quickly to take a fight of this magnitude. Roberts is not one of those people.
"I think that being a fighter, working with all of the different disciplines, forces you to have better concentration in life, forces you to make the right decisions so you can do better in the future, and going through this, and the information that was thrown at me, a lot of times my training has taught me to breathe and relax, control my heart rate and make intelligent decisions," Roberts told Combat Press. "You can work through any situation that comes around. I feel that mixed martial arts helps me deal with everything I am, especially the addictions I struggled with in the past and not allowing those to rear their ugly head and take advantage of me when I'm at my most vulnerable point. I attribute a lot of that to mixed martial arts."
2014 was shaping up to be a banner year. The VFC champ had a renewed spirit, and a lot of that spark came with the loss of his sister and his concentration as a fighter. In March, he successfully defended his title against former WEC bantamweight champ Chase Beebe. He followed that up with a September win over Jeremy Spoon at VFC Fight Night 1, an event that was held outdoors on a fall evening.
"It was horrible," Roberts said. "I felt bad for Jeremy Spoon and myself. We were prepared to go in there and battle it out. Well, we get out there and it was literally like an ice-skating rink. They had a vinyl canvas outside. The day before, it was like 90 degrees, and that night, by the time I fought, it was 30 degrees. The condensation from the lights hitting it and the moisture in the air from the humidity, it was unreal. Within two minutes, it was nothing but beads of water all over the place. It was very tough to maneuver in and to do anything."
The promoter offered the fighters their show pay regardless of whether they fought, because a lot of people were unhappy, but Roberts and Spoon decided to do it anyway. Roberts gained a lot of respect for Spoon for taking the fight, and both men walked out of the cage without injury, which cannot be said for some of the earlier fighters.
After his last fight, things were lining up well for Roberts. He got a new job, was training regularly, taking care of his family, and, by early December, was getting ready to celebrate the holidays. Two weeks before Christmas, life decided to throw a whole bucket of lemons at his family.
"My mom got Group A Streptococcus, which is kind of similar to a staph infection," Roberts explained. "They don't exactly know the point of origin, but they were guessing it was like a hangnail or something, is the only way it could have made its way into her body. Once it gets into your body, it has flu-like symptoms, so my father just thought she had the flu. She waited about four days too long before she went in. She finally goes in to take care of herself, and my dad takes her to one hospital and they said she's too sick, so they're going to move her to the ICU at Methodist. So I got a call at that point telling me they're going to move her to Methodist, and that's like four in the morning."
People get sick all the time. With everything the Roberts family had been through in the past, it was easy to stay calm, leave it in the hands of the doctors and let this thing ride itself out. However, this was only the beginning.
"We get up and got there and my mom's talking," Roberts elaborated. "As normal, she was more worried about me and whether I missed work and things like that. Then she slips into a coma, and the process was over about four hours. From when she first went to the doctors to the time she went into a coma was about 12 hours. She went into a coma, and we didn't realize what was going on. We did not understand how the infection worked, and the family was kind of in the dark. We didn't realize that toxic shock syndrome was an effect of having a severe infection that, if you wait too long to treat, your body becomes sepsis and goes into shock."
Just like that, the matriarch of the Roberts family was in a coma, and they didn't even know how she got this infection. Things were about to get worse.
"Through that process, the first Sunday was really rough," Roberts said. "We didn't think she was going to make it. We were literally being told hour by hour that she might not live another hour. And she somehow kind of got through that. The second week, she started showing some signs of improvement and they were able to take her off of her blood-pressure medication, and her heart was pumping on its own. Everything was on its own, except for her liver and kidneys were failing. They told us that these have failed by now. Then, the following Sunday was really bad. It was the worst day she had there. At that point, her hands and feet were turning black from the lack of circulation was down. Her body was sacrificing limbs to save her organs. It was six or seven days before her body was able to pump blood into those extremities, which was too late. The tissue was just dead. That Saturday, they told us they were going to make a decision on amputation by Monday. They were also talking about putting a tracheotomy in."
In a surreal turn of events, the Roberts family went from Christmas planning to making a decision on amputations with no input from the person who was to be operated on. What does a family do at this point? Do they let her go, or do they try to move forward? This is a decision no family should have to make. Ultimately, they left it in the hands of their higher power.
"Talking with the family, we knew my mom wouldn't want to be like that," stated the pro fighter. "She wouldn't want to wake up being that disabled. We finally made the decision Sunday to move her to hospice, not going on with surgeries, and leave it in God's hands.
"That night was the worst night she had. They had to revive her two or three times. Her blood pressure was all over. Her temperature started skyrocketing. They were bringing an ice blanket in to lower her core temperature. My dad came in and said we made the right decision, because he didn't want her to suffer anymore. I went home and made my peace with God, that this was the right thing we were doing."
It is very difficult to understand what could possibly be going through a person's head at this point. Roberts is a tough guy who has been through a lot and he attributes his strength to his training, but genetics are a more powerful force than a lot of people give credit to. Ryan's mom, Teri, showed the real source of Ryan's strength. It is in his DNA.
"After I got home and was in bed for about a half hour, my phone rang, and somehow I answered it, and my dad said, 'Mom woke up. She doesn't want to be with Andrea. Get your ass up here!' I remember I rolled over and asked [my wife] Lori, 'Was I just on the phone?' And she said, 'Yeah.' I said, 'Who was it?' So I called my dad back, and he goes, 'You heard me. Get your ass up here!' So the wife and I quickly got up and I got showered and we raced up there. I will never forget, as I was walking into the room, my mom looked up at me, and she had a bunch of people around her, but making that eye contact that I never expected to have again. I can't explain that feeling."
A couple days before Christmas, Teri Roberts, who was on her last thread only hours prior, was awake, alert and not ready to give up. She knew she was going to lose her hands and feet, but she had fought through her son's past transgressions and the loss of her daughter. She was not about to let an infection take her from her life as a wife, mother and grandmother.
Since Teri Roberts has been released from the hospital, she is on the road to recovery. The Roberts men, along with the help of many others, have retrofitted the house to be handicap accessible. A nice low-mileage handicap van was donated to the family, and Teri has been working through the different stages of prostheses.
"It was just such an inspiration to see this poor old lady not giving up," Roberts said. "As she was healing and getting used to the prosthetics, she was feeling this unfathomable pain. It was the phantom pain, like her feet cramping, and she just kept fighting through it. She walks around. She doesn't have the robotic hand yet that allows her to grab stuff, but it's cool watching her. All she wants to do is help out, and now it's interesting that she can't do everything herself. She needs to direct and be patient and get help."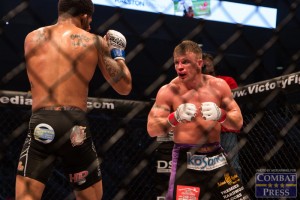 With his parents back in their home and his mom recovered and getting used to her new lifestyle, there is one lingering matter out there. Roberts is still a professional fighter, and people are lining up to get a shot at his VFC featherweight strap. His next title defense takes place on Saturday night at VFC 46, live from the Ralston Arena in Ralston, Neb. Standing across the cage will be Ramiro Hernandez, Jr.
Hernandez is 18-6 as a pro and fights out of Iowa. He has had stints with the UFC and Titan Fighting Championships, as well as past appearances in VFC. He is on a four-fight winning streak and ready for a shot at the belt.
"Another tough opponent," said Roberts. "I've got to find a way to start stopping these guys. I can't just fight with them for 25 minutes. To move forward and to raise the value of my stock, I need to start getting some finishes. I've been really focusing on that. When I get in those situations, I need to explode, blow through them without gassing and get the finish.
"There's going to be fireworks. He's going to get finished. I just don't know exactly how it's going to happen. He's going to walk into something."
Roberts is an extension of his mom, through and through. Anybody with that blood running through his veins has got to be tough. Even after remodeling his parents' home, taking care of his own family and holding down a full-time job, he has not let his training go by the wayside.
Roberts trains constantly. He has had five solid weeks of camp, and come Saturday night, he will be ready to show everyone why he is the one holding the VFC strap. His biggest fan will be watching, too. Teri Roberts will look on as her son battles to the finish, struggling to overcome adversity just like she did only months prior.
Lemons into lemonade, that's the Roberts family motto.
Roberts would like to thank his family, his mom and dad, his wife, his daughters and, of course, his coaches and training partners at Premier Combat Center. He would also like to thank his primary sponsor, Truck Center Companies. Follow Ryan on Twitter:
@AreYouReadyMMA
---
Advertisement

---