Sitting at 0-2 in his past two bouts, Wayne Barrett isn't entering the GLORY 20 middleweight contender tournament with a lot of momentum and fanfare. However, the rising star is out to change all that on April 3.
He plans on reminding GLORY fans of what made him one of the promotion's breakout stars.
"That wasn't me that night," Barrett told Combat Press. "I don't want to make any excuses, but anyone who has seen me fight before and saw me that night knows they were two different fighters."
---
Advertisement

---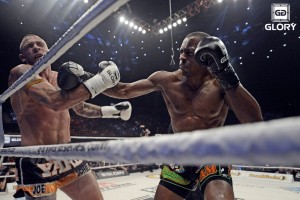 Barrett is, of course, speaking about his GLORY 18 loss to Jason Wilnis. Wilnis was on a two-fight skid and Barrett was coming off a controversial split decision loss to fan-favorite Joe Schilling. Heading into the bout, Barrett was widely considered the favorite.
Instead, Barrett found himself on the losing end of a unanimous decision and seemed to be losing some of the momentum he had built up. Despite the setback, Barrett has managed to spin the negative experiences into a positive.
"I truly believe I didn't lose that fight against Joe," Barrett said. "And then the hiccup against Wilnis. I'm just learning on the job. I know who I am."
Barrett has no other choice but to learn on the job. He's only been competing professionally since 2013 and currently sits at 5-2. It's a considerable difference in experience than what many of GLORY's competitors possess. Barrett's GLORY 20 semifinal opponent, Simon Marcus, is a perfect example of the experience disadvantage that Barrett faces.
Marcus is a veteran of over 40 fights. He is one of the more renowned Muay Thai fighters competing today. Although the previously ranked No. 1 Thai Boxer in North America, Marcus has found mixed success under GLORY's kickboxing rules. Still, the experienced Canadian represents a good barometer against which Barrett can test himself.
"Simon is a guy I grew up watching," Barrett said. "I thought before if I really wanted to test myself I'd have to fight him."
What Barrett doesn't possess in professional experience, he makes up for with his past in traditional martial arts. Starting with karate as a child, Barrett has lived the martial arts life for the majority of his years.
"My original karate teacher blended different styles," Barrett explained. "He took what worked and used it as a message to his students. He'd say, 'Do what works for you.' I think it definitely gives me an advantage, but at the same time it's fighting. You're going to need aggression, speed and power while mixing it up."
Barrett's ability to utilize multiple backgrounds in the GLORY ring, along with throwing unorthodox strikes, has become a hallmark of his style. It's also helped Barrett become one of the promotion's biggest stars. In just his second professional fight, Barrett was competing inside a GLORY ring.
"It feels like I'm on the fast track, because so much has happened in just a short amount of time," Barrett said.
Barrett is already making changes to his training camp in the weeks leading up to GLORY 20. He's looking to make fighting a full-time job. Looking for any type of help he can get, Barrett has set up a "Go Fund Me," albeit with some reservations.
"It's been one of the changes I've been looking to make moving forward," Barrett said. "It took a lot for me to do it. I have a dream and I'm trying to be the best I can be. I started thinking about how I can do this and I actually got the idea from my fans. I remember posting that link on my page with a hand over my eyes because I was so worried about receiving negative backlash."
Currently, Barrett is nearly halfway to his $5,000 goal, so it would appear the kickboxing star doesn't have to worry about fans thinking poorly of him.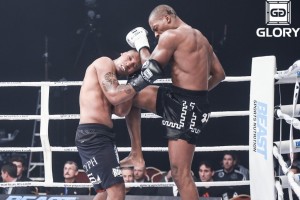 Barrett knows what it means to be a true professional athlete. Although not as acclaimed as UFC light heavyweight champion Jon Jones, the two men share a similar story involving a quick rise through the ranks of their respective organizations. While Barrett has yet to win a world title, the middleweight contender knows he can't afford to make similar mistakes.
"There's a lot of responsibility. There's no time for mistakes," Barrett said. "I'm not up against the same type of temptations as [Jones], but you have to stay true to who you are. I don't drink or smoke and I'm not much of a partier, so that alleviates the distractions."
He may not be much of a partier, but Barrett certainly plans on celebrating at GLORY 20.
"I just don't see anyone at GLORY 20 being able to beat me," Barrett proclaimed. "They're all tough guys and it's fighting, so anything can happen. But I plan on reminding everyone of who I am. Just watch on April 3. I'm going to put on a show."
Win or lose, there's one thing guaranteed with a Barrett fight: it's definitely must-see TV.
Wayne would like to thank all his coaches, training partners, Uriah Hall and all his friends and family who continue to support him. Follow Barrett on Twitter:
@1WayneBarrett
---
Advertisement

---