The idea of the two-sport athlete is not necessarily a new concept, but it is extremely difficult, nonetheless. The most famous athlete to semi-successfully pull this off was Bo Jackson. Sure, guys like Michael Jordan and even Brandon Weeden attempted two sports, but they did so with limited results. Jackson, on the other hand, was arguably one of the most successful.
In combat sports, most athletes throughout the world are one-sport athletes. Most fighters are either grapplers or strikers, competing in various sports like Brazilian Jiu-Jitsu, judo, submission grappling, kickboxing, Muay Thai, sambo, wrestling or boxing. However, with the current rise of mixed martial arts, many have started competing across multiple modalities.
Joe Schilling is a modern-day American Muay Thai pioneer, to say the least. The Ohio native began training as a teenager, and he has since become one of the most dominant forces in the sport on a global level. Out of pure necessity, as well as a need to support his family, he opened his own gym, The Yard Muay Thai in Los Angeles, along with his longtime coach, Mark Komuro.
---
Advertisement

---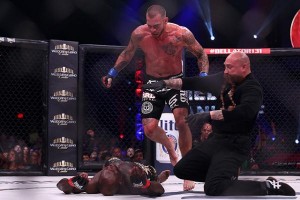 Komuro has been there to guide Schilling to the upper echelons of the kickboxing world. Currently sitting at 17-7 as a pro, with 11 knockouts, Schilling has earned five professional titles across three different weight classes. The 31-year-old is a striking machine who earned the moniker "Stitch 'Em Up" through his vicious use of elbows.
The last couple years of Schilling's career have been spent in GLORY, which has become the top showcase for the kickboxing elite. After compiling a 4-2 record in the promotion, Schilling was not going to allow a temporary break between contracts to keep him from doing what he loves.
In 2008, Schilling dipped his toes into the MMA waters a handful of times with mixed results. After four fights in nine months, he finished 1-3 and decided MMA was probably not his forte. However, after several more years of training and some downtime from kickboxing competition, he decided to make the leap back into the fastest growing sport in the world.
Last November, at Bellator 131, Schilling stepped into the cage to face Melvin Manhoef, a fellow knockout artist who had been competing professionally in MMA and kickboxing since Schilling was about 11 years old. Even with his own extensive kickboxing background, Schilling was possibly facing the toughest challenge of his career. However, unlike the outcome endured by some of the aforementioned two-sport athletes, things went Schilling's way, as he coldcocked Manhoef in the second round, earning 2014 "Knockout of the Year" accolades.
"It was a great experience," Schilling told Combat Press. "It was a big step in my career, moving over to Bellator and being able to fight for both Bellator and GLORY on Spike TV. So, yeah, it was the outcome I was looking for, and it was great.
"I've been fighting for GLORY for two years, and I had a little break in my contract and I had some opportunities in MMA, I've been training in MMA for a couple years now. I've been cross-training and sparring with a lot of high-end guys, so when the Melvin Manhoef fight was offered to me, I jumped on it. I got to come back to GLORY after dealing out some contract issues, and I'm happy to be back with GLORY. And I'm also still with Bellator, so I'm a two-sport athlete now, and I'm really happy about it."
Schilling has a lot to be happy about going into 2015. With contracts under two of the biggest promotions in combat sports and a decisive victory over Manhoef, this is shaping up to be a pretty amazing year. His next bout takes place this Friday night when he fights on the main card of GLORY 19 at the Hampton Coliseum in Hampton, Va.
Facing Schilling this weekend will be a relative up-and-comer in the form of Canadian Robert Thomas, a young, twentysomething standout who is 1-1 under the GLORY banner. Thomas is a dangerous kid with a lot to prove, so Schilling is not letting his guard down for this one.
"With GLORY, it's the best kickboxers in the world, so any time you get a fight in GLORY, you have to take the guy seriously," said Schilling. "He's a really young guy — he's 22 or 23 years old — and he's hungry. He's a big, strong kid with a lot of experience, so it's going to be a good fight."
Schilling and Thomas suffered their most recent losses to the same guy, top light heavyweight Artem Levin, arguably the most dangerous kickboxer in the world. Thomas had his chance for redemption when he took out Mike Lemaire at GLORY 18 in November, but Schilling is just now returning to the GLORY ring. Schilling is ready to get back to his winning ways on the GLORY circuit and Thomas just happens to be the unfortunate soul standing across from him.
"I think my speed is going to be the biggest difference," Schilling explained. "That's probably going to be too much for him to handle, as well as my experience at this level. He's a little new to this level. My experience and my speed are going to be the deciding factors."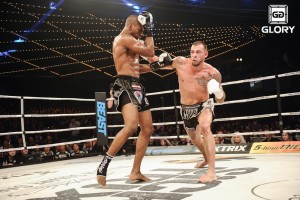 With his GLORY fight on the horizon, Schilling's big focus right now is on kickboxing. However, he is also preparing for his next Bellator bout, which should be coming in April. Schilling trained with the Diaz brothers in Stockton, Calif., for Nick's recent bout with Anderson Silva.
"Now that I'm competing in two sports, I've been training quite a bit," Schilling explained. "2015 is going to be a big year for me. I expect to be fighting every month or every other month. When I'm not training, I've got two kids and I try to spend my time with them."
Schilling decided to open The Yard almost a decade ago, after he and longtime girlfriend Cina Brown found out they had their first child on the way. Now, with two boys under 10 years old, Schilling arguably has three full-time jobs — kickboxing, MMA and fatherhood.
Schilling and Brown have been together for over 10 years, and with two young men to raise, they are functionally, if not legally, married. Brown is Schilling's biggest supporter, biggest fan, and really the only reason he is able to maintain his three jobs.
"She's a stay-at-home mom, and she's a great mom, taking care of the kids," Schilling said. "She makes sure I'm up, keeps me motivated, keeps me moving around, and makes sure I'm not slacking. She's really supportive, and she's always been there for me.
"She's been a huge part of my career. I don't think I would have gotten to where I am if it wasn't for her."
With Komura in his corner, the Diaz camp up north and Brown by his side, there is no telling what this year holds for Schilling. One thing is for sure, though. He is in a position to be one of the greatest two-sport athletes of all-time. The Ohio native is positioning himself to make a historic run in combat sports.
"I finished 2014 with two back-to-back highlight-reel knockouts. I was nominated for 'Knockout of the Year' in Bellator. I've been training hard, staying focused and plan to put on a bunch more knockouts this year. My goal is to be undefeated in 2015."
Schilling would like to thank all of his coaches and teammates at The Yard, his fellow training partners in northern California, and his family and fans for making this all possible. He looks forward to making them proud in 2015. Follow Joe on Twitter:
@Joeschilling
187
---
Advertisement

---