What do Brian Ortega, Pedro Munhoz, Kevin Casey, Josh Copeland and Christos Giagos all have in common? Most casual MMA fans probably have no clue. This is a question that can only be answered by a true fan of the sport.
In 2014, it started to become more and more apparent that a few promotions have become the true feeder organizations to the UFC. Resurrection Fighting Alliance is one of the top organizations that contributes talent to the biggest name in the game. The fighters mentioned above are all guys that won titles in the RFA last year and immediately turned around to fight in the Octagon shortly after.
When a sport is on a meteoric global rise like mixed martial arts has recently been experiencing, it may seem glamorous to fight on television in front of millions of viewers. At the end of the day, though, most guys can make more money mowing lawns than they can in a professional fighting career. As the sport matures, the truth of the business has become more and more of a reality for many of these aspiring athletes.
---
Advertisement

---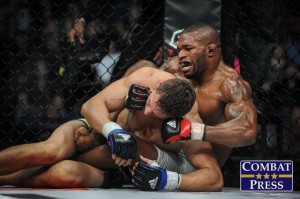 It goes without saying that the men mentioned above made several sacrifices to make it to the top. Between families, restrictive diets, "real" jobs, gym memberships, coach and corner payouts, and other outside obligations, the financial trade-offs don't really make sense, even in victory. Hitching the wagon to a feeder organization like the RFA may be the only way to eventually get in a position of net financial gain, or even net break-even for that matter. Gilbert Smith, a former contestant from The Ultimate Fighter, has experienced much of this firsthand.
Smith has committed the greater part of his adult life to perfecting himself as a combat athlete. He wrestled at Colorado State University-Pueblo, was a soldier in the U.S. Army, went back overseas to train other soldiers in hand-to-hand combat, opened an MMA gym in Colorado Springs, competed in many grappling tournaments, and has been fighting professionally for four years.
When Smith tried out for TUF, he was undefeated as an amateur and had a pro record of 5-1. His initial fight once he made it into the house did not go his way, but the UFC brought him back to fight in the season finale, where he lost via submission to show teammate Bubba McDaniel. Down but not out, Smith got right back to the grind, and in the last year and a half, he strung together another 5-1 run. Now, he is perfectly positioned to get back into the Octagon. His last fight, a grinding decision win over Bojan Velickovic, was a true testament to the heart Smith has in his journey to the top.
"I really was able to show my grit and my grind, and show that I don't quit," Smith told Combat Press. "I have the ability to go the distance and turn it up in the last round. It was an awesome fight for me."
After his win at RFA 20 in November, Smith knew that he was in line for a shot at the RFA welterweight title. For guys like Copeland, Ortega and fellow TUF alum Casey, this turned out to be a golden ticket into the UFC. Smith has similar hopes.
Shortly after his win, and some business dealings with the promotion, the RFA offered Smith a shot at the vacant title.
"I had a feeling that night," Smith intimated. "They said it was coming back to Colorado in a couple months. I didn't know it was going to be that soon, in January, like two months down the road. We had some negotiation issues that we were working through, but I was saying I could fight the next day. The next day, I did a grappling tournament — literally, the next day. I never stopped training, so it didn't matter to me. I just wanted to make sure the contract was solidified, the money was looking OK, and I had a decent opponent."
As everything started to fall into place, Smith found out he was facing another rising star looking for his own spot in the Octagon. Chidi Njokuani, younger brother of UFC veteran Anthony Njokuani, will be standing across the cage at RFA 22 tomorrow night.
Unlike Smith, who is a stocky, 5-foot-9, grinding submission specialist, Njokuani is a 6-foot-3, lanky Muay Thai specialist. This poses a big challenge for both fighters. Smith is stronger and better on the ground, and Njokuani is quick and rangy on his feet. Njokuani has also been stopped in all four of his losses on the regional circuit, but Smith has only been stopped once, by submission, in his only Octagon appearance.
"The match-up is solid," said Smith. "We know that Chidi is a strong kickboxer. We know that he's been working on his wrestling and his grappling. We know he's coming from [Las] Vegas, and they always have good guys out there to train with. So, for me, I'm just ready to show that I'm better than he is in all facets, including the kickboxing. At the end of the day, it's a fight. So, what's going to happen is we're going to step into the cage, we're going to punch each other in the face, and we're going to see who is the tougher man. And I'm prepared to go all five rounds, I'm prepared to go wherever the fight goes, and I'm going to show that I really deserve that belt."
Ah, that belt. That belt may not be made of gold, but it's definitely worth its weight. Last year, it was a golden ticket. This year, Smith hopes to keep that streak rolling.
"Honestly, the RFA is known for putting guys into the UFC, and that's one of the biggest reasons I took this fight," Smith explained. "It damn sure wasn't because of the money, because I'm not getting paid anything special. They provide you with great opportunities to be showcased to the UFC high-ups. Definitely, coming away with the belt should solidify my position in the UFC. Most people get signed to the UFC and you don't even know who they are or where they came from before. I'll be coming to the UFC with a belt from the RFA, which is one of the top organizations outside the UFC. I feel that will give me a decent name and give me a little bit of a push."
Before his last fight, Smith was starting to weigh other career options, because fighting on the local and regional circuits just doesn't foot the bill when there's a family to feed. If things don't go his way tomorrow night, Smith may have to look at other options, but that is not what all this sacrifice has been about. Njokuani is no pushover and will have a sizable reach advantage over Smith. However, with everything Smith has been through in the last couple years, he knows that before he sees that golden ticket, he needs to see his hand raised tomorrow night.
"Right now, I'm focused on fighting, but we can have that conversation after this fight," Smith elaborated. "I am really tired of training and busting my butt and not really making a good living financially, but this is all just a huge sacrifice to reach my end game. Hopefully, after this fight, everything pays off. Right now, the only thing I'm worried about is a tall, 6[-foot-]3, lanky guy from Las Vegas named Chidi. He's the only guy I'm worried about right now."
Smith has had a history of being a grinder that wins by submission or decision. Training at Factory X Muay Thai and Hustle Hard Boxing, he has been putting in a lot of time over the last year and a half to really round out his game. On the ground, he has been largely unmatched. On his feet, he is ready to show the world the results of all the work he has been putting in.
"I want people to see a true mixed martial artist. I want people to see a true professional, someone who has dedicated his life to this sport," Smith said. "Somebody who has dedicated his life to being an athlete. Somebody who has dedicated his life to being a father, to being a friend, to being a part of the community. This fight is bigger than me. This fight is for Colorado Springs. This fight is for southern Colorado. This fight is for MMA in general. This is one of the first times I feel like I have a family coming into this fight. The community is so behind me and it feels so good. I want people to really watch this fight and understand that what they see in the cage is the result of the last few years."
Like many fighters, Smith is at a crucial crossroads. Tomorrow night's fight could potentially define not just his career, but his life. A win over Njokuani could earn him a spot in the Octagon. A loss, and he may have to weigh those other options.
Smith would like to thank Victory MMA, Factory X Muay Thai, Castle Rock BJJ, Hustle Hard Boxing, Peak Krav Maga, Kineo Fit, FitQuest, Rocky Mountain Rehabilitation, ChiroCare Recovery Center, Fox and Hound, Panino's Restaurant, SafeAuto Insurance and, most importantly, his family and friends. Follow Gilbert on Twitter:
@JamalSmithMMA
---
Advertisement

---