On Saturday, Dec. 19, MMA fans watching Titan FC 32 will likely be most interested in watching the promotional debut of Rick Hawn and the two title fights that top the lineup, including a featherweight clash between Desmond Green and Steven Siler. However, there is another fighter on this card that is worth watching. His name is Andre Harrison.
Harrison will be fighting for the second time in three months when he steps inside the cage to take on Aaron Neveu on Saturday. In his last bout, which came against Jeff Lentz under the Ring of Combat banner, Harrison captured the featherweight crown. He decided not to waste any time before returning to action.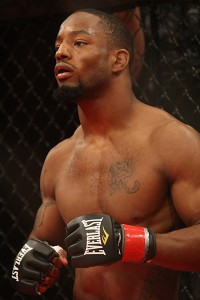 "Well, personally, I didn't suffer any injuries during my title fight in Ring of Combat, so I was literally back training that following Tuesday," Harrison explained to Combat Press. "I was already training and working on things I should have done during the fight and just fixing some things that I didn't necessarily execute on during my fight and then we just started to build on that, me as a fighter, and got right back to work.
---
Advertisement

---
"As far as fighting on a bigger stage, none of that stuff really matters too much to me because at the end of the day it is a fight. So it doesn't matter where I am at or anything like that. It doesn't matter to me how many fans are out there watching. It's just me and another person. There is only one other individual that I have to worry about. I'm not worrying about everybody else in the stands, or more and more people being able to see the fight. All of those are added pressures that I think athletes put on themselves. It doesn't matter if everybody was watching me, I am still going to perform the exact same way.
"All of those other things are just variables. They are change. The one thing that remains constant is, Thursday night we weigh-in [and] Friday night we fight. That's the only thing that remains constant, so all of the other variables that could change at a second's notice, it is pointless worrying about it."
Fight fans and fighters in every organization put a lot of focus on winning streaks and undefeated records. Maybe even too much focus. Harrison owns an unblemished record, with seven victories. That creates another unnecessary mental hurdle for most fighters. Not for Harrison, though.
"Until I am doing an interview and somebody brings up this, it never ever crosses my mind," Harrison chuckled. "In my mind, going into the fight, the only thing I am focused on is having a better performance than the last time I stepped into the cage. I am going in there to be a better Andre than I was in my last fight."
Every mixed martial artist needs a base. They need a certain skill set that sets them apart from the rest of the division, especially in a weight class as wide open as the featherweight division. It seems that Harrison has found his niche when it comes to his fight style. That niche is wrestling.
"Well, I am 26 years old right now and I have been wrestling since I was in seventh grade," he said. "I still coach and train wrestling to this very day. I know some people that get away from their first love but, unfortunately and fortunately, I am still stuck with mine. I was [a] two-time All-American in college, and I have been down to the Olympic Center quite a few times. I very much so can wrestle if need be, but again I do train in Bellmore Kickboxing Academy, which the focal point there would be striking. I do love, love striking. Keith Trimble, in my opinion, [is] a world-class trainer. I mean, he does have Chris Algieri, who you know was the 140-pound world champion in boxing, so he definitely knows what he is doing when it comes to striking and overall fighting."
The age-old quandary of quality vs. quantity plays a big part in the training regimen of many fighters. Fighters need to have guys on every level to push them and improve their overall skill set. For Harrison, that means training alongside Dennis Bermudez and Costas Philippou at the aforementioned Bellmore Kickboxing Academy in Long Island, N.Y.
"It's amazing," Harrison said. "I mean, up until earlier today, I was in there actually watching the gym and one of the guys [was] a familiar name, Costas Philippou. He was in there working on his grappling and wrestling. On any given day, you will see somebody of that caliber. Costas is a top-10 guy in the world and has some phenomenal striking, and he's in there working on his wrestling and getting better. So, having people like that around you, it constantly challenges you to become better because you don't want to be at the bottom of the totem pole. Nobody does. You just keep pushing, pushing, pushing and trying to outwork them because if you are outworking them, you are pretty much outworking everybody."
There's a good reason why Harrison works as hard as he does.
"History remembers results. Your name is either going to be imprinted with a W or you are not really going to be known," Harrison said.
While Harrison does solely focus on the task in front of him and nothing else, he will be keeping an eye on the co-main event between Siler and Green. Harrison's position in the division means there's the potential for him to become one of the next contenders for that featherweight title.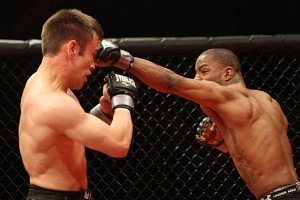 "Aside from being an actual competitor, I am a fight fan as well," Harrison explained. "I really do enjoy watching the sport. Whether it's the top two fighters in the world or the bottom two fighters in the world, I believe you can learn something from any and everybody. Everybody has something that they do very, very well, otherwise they wouldn't be where they are.
"I remember Siler fighting one of my good friends, Dennis Bermudez, who's also one of my training partners, and one of the things I noticed about that was he didn't do too well, particularly in the wrestling department. And I know that Desmond Green is a Division I wrestler, even though he doesn't display his wrestling too much in a fight because it looks like he enjoys the stand-up portion of it more. He does possess that ability that if things were to go rough on the feet, he can shoot in and take you down. So if I had to place it with it being a close-close fight unless Desmond gets caught with a guillotine, which Siler attacks a lot, I would say that Desmond Green would probably steal that crown, and I would say via unanimous decision … well, split decision."
In the end, Harrison just wants one thing. It's really the first thing on any fighter's list.
"I am all about the W's," he admitted. "However they come, I am more than happy to take them that way. If I can submit a guy; if I can knock him out; if I can grind him out. However and whatever it is that I need to do it, I will do it."
Andre would like to thank his coaches, especially Keith Trimble, who has gone above and beyond for him and Harrison is very appreciative of that. He would also like to thank his strength coach, Dr. Michael Camp, who also does his physical therapy work, as well as Professor Joe Scarola and Spiro Vlantis, who helps with his cardio regimen. He would also like to thank Tony Ritchie, Gregor Gillespie and his sponsors: Total Nutrition, Mio Posta Restaurant, George's Tire Shop, Next Level Auto Body and Martino Auto Concepts. Follow Harrison on Twitter:
@Drethebull
---
Advertisement

---