As the doors of the auditorium swing open, the sound of shoulders hitting mats can be heard bouncing off the walls. Coaches scream out words of encouragement as scores of competitors eagerly await their turn to hit the mats. Lives are forged here. Champions are created. High-fives are commonplace, and a sense of pride gives the whole auditorium an aura like no other. This is just another day in Hannibal, Mo., where wrestling is a huge part of everyday life. And for a young Tyler Perry, it has made all the difference.
"Wrestling has defined my life," Perry admitted to Combat Press. "I was an average, overweight kid when I first stepped onto a wrestling mat, and the sport changed my life. I can't imagine where I would be without it. The life lessons wrestling and martial arts have taught me are priceless, and it's a journey I plan to continue even after my days of competing have ended.
"I grew up wrestling all through my youth and all the way up until I graduated from the University of Missouri. While I was at Mizzou, we had an American Top Team located in Columbia. I went there to help some of their fighters with wrestling and they offered BJJ classes in return. I trained in BJJ in the spring and summers as a way to try something new but stay sharp for wrestling season.
---
Advertisement

---
"One of my assistant coaches, Shawn Charles, called and asked me if I would want to go to Vegas and help UFC vet Justin McCully with wrestling for an upcoming fight. I jumped at the opportunity and came out and trained for three weeks. I had a lot of success in the grappling department and felt that if I could pick up on the stand-up aspect, I could be successful. Two years after that trip, I made the move to Vegas and here I am, three years later."
For his upcoming bout, Perry returns to Hannibal, Mo., where he forged out his wrestling career. On Sept. 20, he competes under the Survivor Fighting Alliance banner as part of the promotion's inaugural show. This fight marks the first time that Perry has competed in mixed martial arts in front of a hometown crowd.
"I am fighting in the town that I was born and raised in, and this is a huge deal for me," Perry explained. "During my high school career at Hannibal, I never lost at home, so that's a trend I have to keep going. Hannibal is a wrestling town and has a very deep, loyal fan base. It will be a little nostalgic competing in front of the home crowd again, but I always performed my best in front of them, so I can't wait."
Coming off a second-round submission loss earlier this year, Perry now has a .500 record since debuting as a professional in 2012. One of his losses came at the hands of 2008 Olympic wrestler Steve Mocco in the Resurrection Fighting Alliance cage. His more recent loss came against Josue Lugo via submission.
"My last fight was all bad, to say the least [laughs]. I wasn't myself, I didn't use what I had been working on, I didn't listen to my coaches and I learned a painful lesson because of it," Perry admitted. "I learned more from a few losses in wrestling than I ever did from all my wins, so I feel like this has been the same way. Dropping down to a catchweight of 220 [pounds] and eventually dropping to light heavyweight is essentially a clean slate. I was 260ish in mid May, and right now I'm walking at 230 and feeling the best I've ever felt. I feel lighter, faster, stronger and more explosive than I've ever been, and I'm beyond excited to show off the new version of myself."
Perry's first two professional bouts were featured under the nationally recognized RFA banner, but his loss to Mocco sent him back to the lower levels of the regional circuit. The NCAA Division I wrestler looks forward to one day working his way back up to taking bigger fights.
"It's possible," Perry confessed. "I still have a good relationship with the guys at the RFA, and I understand and respect what they're doing. My main goal is to just continue to improve, and when the call comes, I'll be ready. I really believe that as long as I continue to keep my diet in check I can be a force at a lower weight, and I'm excited for the new challenges that come with that."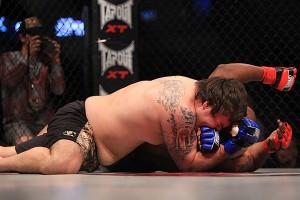 Sept. 20 will be a chance for Perry to redeem himself. After starting his year off with a loss, it's vital for Perry to bounce back and replicate his success in wrestling in his mixed martial arts career. Although Perry's opponent, Matt Larson, may have a record of 3-4, Perry isn't leaving anything to chance. He knows he needs to be at his absolute best to get back to his winning ways.
"My opponent is a tough, hard-nosed guy," Perry explained. "From what I understand, he's a wrestler as well, so I know the fight will be fast-paced. I think it's going to come down to who can control the grappling aspect and land the bigger shots. I've been training with a lot of great wrestlers, as well as elite, world champion level kickboxers, so I feel comfortable wherever the fight may take place."
Tyler would like to thank his coaches, Master Nick Blomgren and Master Sergio Penha, and all of his teammates at One Kick's Gym and Sergio Penha BJJ that have pushed him and helped him get ready. He would like to thank Sir Jason Winters Products and Gladiator Mouth Guards for always taking care of him. Last, but not least, he would like to thank his family and friends, whose support is never ending, and his awesome girlfriend Marisa, who tolerates his crazy lifestyle like a champ, and his late brother, Phillip, for his love and inspiration. Follow Perry on Twitter:
@TPerry265
---
Advertisement

---