The last-minute change. It can break hearts just as quickly as it can make dreams come true. For a fighter, when that phone rings days or even weeks out from the fight and the caller ID displays the promoter's name, it's more than likely going to be heartbreak on the other end of the line.
That's just how the sport goes sometimes. Week after week on the regional circuit, lives hang in the balance. A win could see the right people taking notice, and a loss could send someone back to shoveling shit in day-to-day hell. On Oct. 20, 2012, Bec Rawlings was supposed to face her first international opponent. This was the chance she had been waiting for. This was the chance to get the world's attention.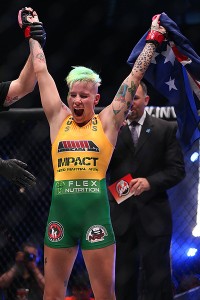 As it does, things went wrong. Her opponent changed, leaving her to face a very game debutant. Rawlings was lucky to still be fighting, but it wasn't going to be the same. Although she was grateful, this change kind of sucked. In the end, though, it made no difference. She won the fight and America came calling, and after that win, she was answering.
---
Advertisement

---
"I had no idea that my showing on Nitro was gonna land me an opportunity to fight with Invicta," Rawlings admitted to Combat Press. "I definitely thought that I would have had to fight a more worthy opponent. The girl I fought just stood up on 24 hours' notice because my opponent couldn't get into the country. It wasn't a very competitive fight, and I definitely felt that I'd need to be tested before I would be considered over in the States to fight. But Invicta obviously saw something in me and gave me a shot to prove myself in the U.S., and I went over there and proved that I belong there, which is what I wanted all along anyway."
Fighting is hard, and the life of a fighter is even harder. Outside of the UFC, it's rare to see a fighter make a living in the cage, which makes training, nutrition and even traveling to fight an expensive exercise. With the seemingly endless talent pool in MMA, it can be hard to get a break in the sport and more often than not there will come a time when a fighter has to hang up the gloves well before their big opportunity comes. Rawlings, too, had been there. However, fighting wasn't just about a paycheck. It was about surviving.
"I guess at times [quitting] would run through my brain," Rawlings confessed. "It was a hard time at home at that point of time as well. It always ran through my brain—'Why am I doing this? Is it really worth it?' MMA was always my escape and it was always an outlet for me to express myself, so I could never imagine retiring. It would maybe run through my mind, but I'd never do it."
Having big-fight experience before stepping into the famed Octagon is critical for any fighter, and perhaps even more so for the women competing in the UFC's brand-new strawweight division. For Rawlings, her time with Invicta FC prior to being signed by the UFC was paramount in helping her prepare for what is to come when her dream of fighting for the world's biggest mixed martial arts company finally comes true.
"I became a real fan-favorite after my debut fight in Invicta. I took the fight with Carla [Esparza] on like a week's notice and I was a huge underdog," Rawlings explained. "Everyone thought that I wasn't gonna make it out of the first round, but I took her five rounds and nearly knocked her out at the end. I definitely gained the respect of a lot of fighters and a lot of fans, and I definitely feel like that was my big break."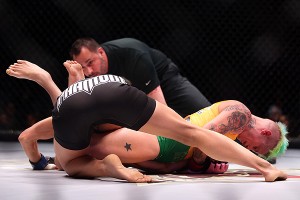 With the broadcast of a history-making season of The Ultimate Fighter just days away, along with Invicta FC's debut on UFC Fight Pass, women's mixed martial arts is getting more exposure than ever before. With that exposure, the number of up-and-coming female fighters from Australia has been increasing steadily. Rawlings has some sound advice for those hopefuls.
"Keep taking fights and winning, and try to promote yourself," Rawlings explained. "It's no good if you're winning fights and nobody knows who you are. You've gotta be loud and really promote yourself and bite the bullet and get on social media and get noticed. That's what I did. If I hadn't of been on social media and made people notice me, I may have still been fighting in Australia and no one would know about me."
The hardest part of Rawlings's life as a professional fighter is the time that she spends away from her family. As a mother of two, those days, weeks and sometimes months away from the biggest part of her life can be heart-rending. Luckily, Rawlings is able turn that into motivation to keep fighting through. Leaving them is hard, but fighting for them makes that pain worthwhile.
"I guess I was just excited and really motivated to win it for my kids and put all my hard work to the test, really," Rawlings explained. "I was more excited to get over there and prove that I am one of the best and that I deserve to be in The Ultimate Fighter to fight for the belt."
Bec would like to thank her team and coaches at Gamebred Combat Club and Alliance MMA. She would also like to thank Alchemist Management, as well as her sponsor, Perfectly Yum. She would also like to thank her family for looking after her boys while she is overseas. Follow Rawlings on Twitter:
@RowdyBec
---
Advertisement

---