GLORY returns to Spike TV this Friday with an early start time and a stacked card. The headliner for the event will be a heavyweight contest between current champion Rico Verhoeven and rising challenger Benjamin Adegbuyi.
The two fighters enter the contest at different points in their careers. Verhoeven is the established star, a champion built upon victories over some of the biggest names in kickboxing history. Meanwhile, Adegbuyi is a relative newcomer to the GLORY ranks. He sports a 3-0 record in the promotion since making his GLORY debut in 2014.
"It will make a huge difference," Verhoeven told Combat Press. "Five rounds is tough. And if you're not used to going that deep in a fight, it will be one hell of a shock."
---
Advertisement

---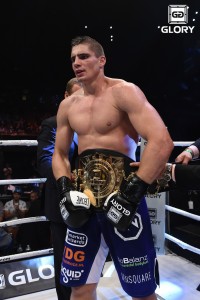 Five-round bouts are nothing new for the champion. GLORY 22 will mark the second time Verhoeven defends his GLORY heavyweight championship. He won the title after defeating top contender Daniel Ghita for the second time. Verhoeven also holds wins over kickboxing legend Peter Aerts, current GLORY light heavyweight champ Gokhan Saki and former title contender Errol Zimmerman.
His most recent title defense ended in anticlimactic fashion. The two rivals exchanged blows early on, but a knee injury suffered by Zimmerman caused the fight to come to a halt.
"It's like if you're watching the World Cup and one of the teams accidently score on their own side. That's about the same feeling — winning, but not fully satisfied," Verhoeven explained.
It was a much-needed victory for Verhoeven, though. He'd seen his reputation falter a bit due to a loss outside the GLORY ring to Andrey Gerasimchuk.
"No doubt that was important," Verhoeven said. "I had a lot of stuff going on, so it was important for me to make sure I set everything aside for the Errol fight."
Luckily for the GLORY heavyweight champ, he won't have to worry about getting his travel agenda in order for his next fight. GLORY 22 takes place in Lilles, France, which requires Verhoeven to travel far less than for his other recent outings.
"I get to sleep in my own bed a bit longer, but my focus and training is still the same," Verhoeven said. "The big advantage is the time difference that we don't have to get used to."
Verhoeven has built a reputation as one of the best heavyweight kickboxers in the world by taking out top names. Adegbuyi, on the other hand, has built his GLORY resume with a pair of knockouts and a win over Hesdy Gerges. On paper, it would appear to be a classic match-up of a technical fighter against a knockout machine.
"Fans can expect a sharp, technical, well-rounded Rico that will show Benny that it takes more than just a hard punch to become champion," Verhoeven proclaimed.
Among those helping Verhoeven prepare for GLORY 22 are the members of the Blackzilians camp. The MMA team has brought in other kickboxing stars like Nieky Holzken to prepare their MMA fighters, and Verhoeven is just the latest kickboxing star to pay a visit to the Florida-based gym.
Despite his success, Verhoeven remains focused on staying atop the GLORY heavyweight rankings. For a man who's accomplished so much at such a young age, the question of how long Verhoeven can maintain that focus is one that's easily answered.
"Never get comfortable," Verhoeven said. "Always be the hardest working man in the business. That is my motivation. I'm evolving from every fight and continue to get better and more complete."
An improved Verhoeven looks to defend his GLORY heavyweight title once more on Friday in the GLORY 22 main event.
Rico would like thank all his trainers and training partners for their help. He invites fans to check out
www.xsdata.com
and follow him on social media, including on Twitter:
@RicoVerhoeven
---
Advertisement

---