How does parenthood affect the career of a professional athlete?
The answer to that question is pretty simple. Athletes are no different than any other professionals in that respect. Children are a responsibility that needs to be integrated into a couple's life just like anything else. Time needs to be made to feed, bathe, change diapers and educate children, and functional parents in any profession will make it work. That's what a family is all about. However, having a family is one thing. For female athletes, creating a family is a whole different ballgame.
If a woman is a C.P.A., an attorney, a doctor or a member of any other "non-physical" profession, barring any health issues, she can pretty much work while pregnant. Of course, there are additional events that need to be scheduled, like doctor visits, infant classes and some additional shopping trips, but, for all intents and purposes, a typical office professional is in business-as-usual mode for the bulk of the actual pregnancy. This is not the case for female athletes.
---
Advertisement

---
For women in sports, especially combat sports, pregnancy can put their careers temporarily on hold. For fighters, it can be hard to start a family and maintain a professional career. One of the biggest challenges for fighters is that they can have a relatively short shelf life, but that also stands true for pregnancy. It can be a difficult choice to prioritize. If any women are considering building a family and undertaking a fight career side-by-side, they should look to one of the most successful fighting moms out there, Michelle Waterson.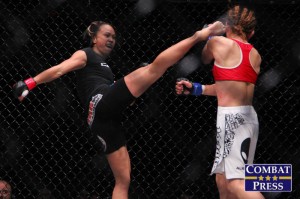 Waterson, the 28-year-old Invicta FC atomweight champion, has been fighting professionally for almost eight years. She's 12-3 as a pro, has finished 10 of her opponents, and has only been stopped twice. She is also a wife and the mother of a three-year-old daughter named Araya. It doesn't take a mathematician to figure out that she was pregnant and has been a successful mother in the middle of her extremely successful fight career. She chalks it all up to teamwork.
"The way [my husband] gets our daughter ready for school in the morning, or the way he gives her a bath and gets her fed—it's just the little things that make the biggest difference, I think. The communication is the most important part," Waterson told Combat Press.
Well, being a mother to one child is one thing, but any parent knows that once one comes along, the question of whether or not to provide a sibling will soon follow. Having been through it once, Waterson knows exactly the career sacrifices that she will have to go through again. However, her career looks a lot different now.
In March 2011, Waterson's daughter entered the world. Thirteen months later, Invicta FC was born, forever changing the landscape of the Colorado native's career.
At Invicta FC 3, in October 2012, Waterson made her first appearance with the organization, taking a split decision over Lacey Schuckman and earning a shot at the inaugural atomweight title. At Invicta FC 5 the following April, she finished Jessica Penne by fourth-round armbar to capture the strap, only to be placed on the sidelines for 17 months as Invicta got some business housekeeping items sorted out with Zuffa, the parent company of the UFC and Invicta's current broadcast partner. During this time, Waterson had some serious soul-searching to do, and the opportunity to bring another child into the world was a very real possibility.
"It was one of the biggest things that stood out in my mind when I had that long layoff. 'I should just have another baby right now,'" Waterson intimated. "I was like, 'I'm a mom. I have a family. What am I doing training for nothing?' You know? 'I should just continue on with my family.' Those are the things that creep into your head as a mother—at least, for me."
Well, the Invicta champ kept herself busy, decided to keep the pregnancy ideas on hold. She even tried her hand at American Ninja Warrior, an obstacle-course competition reality show, in the spring of this year. After her long layoff, Waterson got back into action in September with her first title defense at Invicta FC 8. Standing across the cage was a formidable challenger in the form of Yasuko Tamada.
Tamada entered the cage at 15-8-3 with two more years than Waterson as a pro. It was Tamada's first fight outside of Japan, and Waterson was ready for an all-out war. After 14 minutes and 58 seconds of action, Waterson secured a vicious TKO victory in round three to earn her first successful title defense. It was a long time coming.
"It felt great to actually get in there and finally fight again," explained Waterson. "Fighting for the championship and defending it for the first time, you definitely have those nerves. This was the first time in my fight career that I was able to stand and bang the entire fight. That's what allowed me to execute my game plan so well.
"Tamada's a veteran. She's been in the game longer than I've been doing martial arts. You can't take that away from her. She has the heart of a samurai warrior, and I swear she must be a robot, because she just kept coming."
Every champion knows that the most important fight is that first title defense. That's what really validates a champion's status. Waterson was aching to fight again, and her wish had finally come true. Little did she know, this was the gift that keeps on giving. She found out in October that she was going to be right back in camp, preparing to defend her belt once again in December against another tough opponent.
On Saturday night, the women are back at it. Invicta FC 10 takes place at the Arena Theatre in Houston. Waterson headlines the event as she faces off against Brazilian grappler Herica Tiburcio, who holds an 8-2 record. This will be the shortest layoff between fights in Waterson's career.
"Coach [Greg] Jackson told me to be careful what I wish for," said Waterson. "Before my first title defense, I was doing some complaining, and I was like, 'When am I going to fight? I just want to fight.' And here I am with back to-back shots. It's good. I stayed in shape for the last few months. This will be a challenge for me, because this is the first time I've had back-to-back camps like that, but I look forward to the challenge."
Tamada was a veteran who had almost exclusively gone to decision for the entirety of her career. Tiburcio is not a distance fighter. She is young, hungry and likes to put her opponents away early, as evidenced by the five first-round finishes in her 10-fight pro career.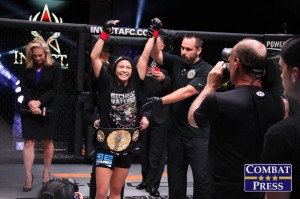 "I know that she's a Brazilian submission specialist," Waterson stated. "She's tapped out a lot of people. I know that she's coming down from 115 [pounds], and I know she was supposed to fight on the November card but had some complication with visas. So I know she's more than ready to get in the cage and try to take my belt away from me. That's not going to happen.
"She's got some slick submission attacks, and I think that's why she has so many submissions on her record. I think that's going to be the biggest thing to avoid in this next fight."
With seven submissions of her own, Waterson is no slouch on the mat. Even with a karate-based striking background, she is a force to be reckoned with in the grappling arena. She knows Tiburcio is good, and she's planning accordingly. Her opponent had better be affording her the same respect. No mother wants to spend the Thanksgiving holidays in fight camp, away from her family, but, for Waterson, that just adds fuel to the fire.
"It's really hard, because you want to enjoy the holidays," explained Waterson. "You want to go be with your family and have that pumpkin pie and drink some hot cocoa. To me, it makes me that much hungrier. After the long layoff, I take it upon myself to be a fighter day-to-day, and not just when I have fight camps. I think it's important to always be improving as a martial artist. There's always something to be working on, and if I'm not learning, then somebody else is, and I don't want that to happen."
Waterson's husband is a huge supporter of her work and family lives, so he completely understands the importance of balancing both. However, the fight game is physically dangerous, so he is doing everything possible to make sure the home life is covered.
"He just wants to make sure that I'm ready," Waterson said. "He supports me as a fighter, and he believes in me 100 percent. If I'm going to fight, then I have to be 100 percent sure that I'm ready. Otherwise, he wouldn't want me to go through with it."
Now, Waterson is in a tough position, both as a mother and as a pro fighter. She is absolutely peaking in her career, and she can only get better. Yet, Father Time never stops ticking. At some point, she would like to grow her family. However, for now, she has to focus on the task at hand, and that's remaining the Invicta atomweight champ. That is her priority.
"I think, with the fight game, you can never really tell," Waterson admitted. "You have to play the hand you're dealt. For the time being, my husband and I are pretty happy with our little family, but, of course, we do want more children. I just think it's really dependent on how the next couple of months [and] the next couple of years pan out. Hopefully, I'm able to ride this wave for as long as I can and go after my dreams. We'll just have to see how it goes with that other kiddo, and, you know, that's all I can really say."
Being a mom is a life-changing experience. Planning a family makes it even tougher. Waterson has been a great example for other aspiring fighter-mothers, but, for her fans, she is a great example of hard work paying off. Come Saturday night, she's going to be anything but motherly when the cage door closes and she looks to extend her winning streak to seven.
"I feel like this fight is going to be really high-paced with a lot more scrambling by both of us. We're both finishers and we're both going to be trying to finish the fight at all times, so I think it's going to make for an exciting main event."
Waterson would like to thank coaches Greg Jackson and Mike Winkeljohn, UFC Fight Pass, her fans and, most importantly, her husband and daughter. She would also like to thank her sponsors: Onnit, Dragon Do Fight Gear, Caveman Coffee, Americana and EatFitABQ.com. Follow Michelle on Twitter:
@KarateHottieMMA
---
Advertisement

---