Sometimes, it can feel like life is passing us by. Like we are just a passenger in its journey. Minutes merge into hours, hours into days. It all becomes a blur. We've all had that moment when we are undertaking a mundane task and autopilot kicks in. Later, we might look back and wonder, how did that happen?
Ben Nguyen had one of those moments. It came when he won the Nitro MMA bantamweight title. In his highly anticipated fight against Julian "Julz the Jackal" Rabaud at Nitro 11, Nguyen scored the knockout in just 25 seconds. Then, he wondered that exact thing: How did that happen?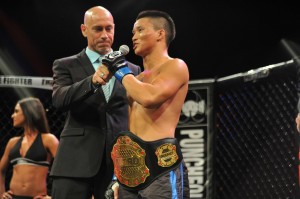 "It felt surreal, like it never happened or took place. I've never had a fight end so quickly. And usually my body feels really sore afterwards, and I never had that feeling. And it just felt so surreal," Nguyen confessed to Combat Press. "I knew deep down I was gonna beat him, but beating him in that fashion was probably the sweetest way it could happen. It was a bit of karma, I'd say. I knew that I couldn't let it get to me and I had to focus on the task at hand, and I did that, thankfully."
---
Advertisement

---
Although Nguyen's natural and preferred fighting weight lies in the flyweight division, the American fighter has had to adapt to fighting above his weight throughout his career.
"With fighting down at flyweight, realistically, with the small talent pool down at that weight, it's just not possible to get opponents," Nguyen revealed. "I have no choice but to fight at bantamweight. At the same time, though, I feel really good at bantamweight, I feel almost stronger and I feel that I have more of a speed advantage over my opponents because I'm coming from a smaller weight class. I feel really strong at bantamweight and I've had a lot of people tell me that I'm really strong at my weight, regardless of my size. I've had people think that I'm a featherweight or even a lightweight because I'm really strong on the ground or because of punches."
Throughout the training camp for his Oct. 11 fight against Reece McLaren, Nguyen has continued with his coaching duties at Fightcross MMA. When a fighter is also a coach, their life becomes more about balance than ever before.
"I've built a big crew, and a lot of competitors coming out of it that really want to get serious," Nguyen explained. "I love it. I love that every day I'm touching people's lives and affecting them in their careers and they wanna strive to be like me and I'm helping them. I love seeing people progress every day."
With the first defense of his Nitro MMA bantamweight title, Nguyen is on the brink of heading into a career-best, six-fight winning streak. With that streak, Nguyen eyes the opportunities of once again fighting abroad. However, the prize he has in mind is a much bigger stage than what he has fought on before.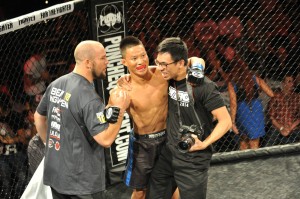 "I feel like with my last couple of wins I've definitely gotten a stride and a rhythm and the science down," Nguyen explained. "Not only physically, but also mentally, and learning how to keep my cool and not panic, and learning how to reserve myself for the right time. Fingers crossed, I really hope the six-fight win streak will be the tipping point to get me into the big leagues. I guess I wouldn't mind fighting in Australia for the next fight or two, but, I mean, who doesn't wanna fight on the biggest platform for MMA?"
Going into his Nitro title defense with so much momentum, Nguyen has a newfound air of confidence about him. That confidence is going to be the key to him putting on a performance to remember. His goal is to continue to show that he is one of the best fighters competing in Australia's lighter divisions.
"I feel great and feel really confident," Nguyen said. "I've worked on all my skills, and I've just been sharpening them up and adding new tools to my shed. I've been doing my camp in Australia for the first time this time around and I'm not able to train as much, but I'm doing a lot more focused work and a lot of one-on-one time with a lot of good people. I wasn't getting the quantity of training, but with limited time and resources, I've had to focus a lot more. And I feel like I've gotten a lot more efficient with training and absorbing knowledge and getting fitter just by working out smart."
Ben would like to thank Tristar Brisbane, King Brown Mouth Guards, ASN Chermside, Advanced Fight Gear, Tiger Muay Thai and Fightcross MMA. Follow Nguyen on Twitter:
@Ben10MMA
---
Advertisement

---