In the simplest of explanations, wind is caused by temperature differentials. The larger the difference, the stronger the wind. And generally speaking, wind is what does the most damage in a storm. A heavy snowstorm is one thing, but add high winds and you've got yourself a blizzard. And a blizzard can be downright deadly.
On Friday, Oct. 10, Resurrection Fighting Alliance 19 may have a lot of fantastic match-ups, but one of the most exciting is a women's strawweight bout between Jocelyn Jones-Lybarger and Rebecca Ruth. Jones-Lybarger has trained with the some of the best MMA minds and coaches in the world at the MMA Lab. Ruth trains at 21st Century MMA, a smaller hometown gym with great coaches. Jones-Lybarger has gone the distance in quite a few fights. Ruth has never gone past the second round.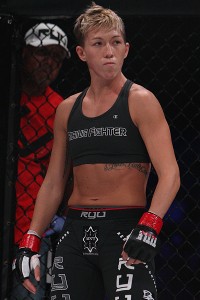 Jones-Lybarger lives in the Phoenix area and has experienced firsthand what an unexpected storm can do. Last week, the area was rocked by unusual thunderstorms with, as Jones-Lybarger put it, "thunder and lightning right out of the movies," hard rains that caused flooding and winds that did some damage. Luckily, her and her wife's new home were spared. Despite being in training camp and being mothers to two active little girls, the ladies couldn't pass on the deal of that new house.
---
Advertisement

---
Jones-Lybarger, who holds a 3-1 record as a pro, was supposed to have fought earlier this year against Jenny Liou, but withdrew due to her status as an alternate for The Ultimate Fighter house.
"Going there was awesome," Jones-Lybarger, in an interview with Combat Press, said of her TUF tryout experience. "I got called to be there for the whole week and filling out the 500 pieces of the paper with 'The Ultimate Fighter' all over it. I mean, there were only eight spots and they only kept 20 girls out of the 133 fighters that tried out. It was a huge honor.
"I've trained with [Carla] Esparza and we're friends. I know she works extra hard. Her stand-up has been improving, and her wrestling and jiu-jitsu are really amazing. She is the Invicta champ for a reason. She is the best one in the house and I think she is going to win it. But I am really enjoying watching this season, and I love the fact that they are showing Invicta FC footage and the clips of the tryouts.
"Now there are lots of girls who have earned their spots on the UFC roster. I am glad to let them fight to keep their spots, and I am happy to be fighting for RFA. The UFC has so much respect for Ed Soares and their promotion. I don't feel like there's a rush for me to get into the UFC. I just need to focus on getting better and working on myself.
"I know I need to get more wins and I need to work on getting more finishes. I can't go to decision every time and I need to make it more exciting."
Jones-Lybarger's last two fights have gone the distance. Every fighter and fan knows that leaving the decision in the hands of the judges can certainly lead to unpredictable outcomes.
Jones-Lybarger's last fight was a catchweight bout at 120 pounds, and this upcoming contest will mark the first fight at 115 pounds for both ladies' professional careers.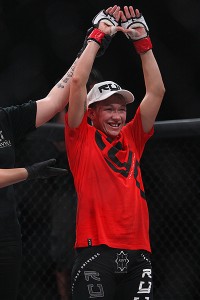 "Ruth fought once as an ammy and has never had to cut down to 115, but I have fought at 115 as an ammy and I know what to do," Jones-Lybarger explained. "This is going to be new to her. At 125, I only had to diet for about three weeks and even then I could have a late night bowl of cereal. At 115, I can't do that, but I have been friends with Mike Dolce since before the 'Dolce Diet.' If I have a question, I can just send him a text [laughs].
"This camp has been awesome. I have been training non-stop. I knew it was coming. I just wasn't sure if it was going to be this card or the one before, in New Mexico. I've got a great feeling. Everything is coming together.
"[Ruth] has hands, but she has hands that I'm not scared of. I'm known for my stand-up and I train with some tough girls. [Bantamweight fighter] Lauren Murphy and I train together, and I stand up with girls who come in, like Miesha [Tate], and I hold my own even though I am outsized. I plan to keep her guessing, but she won't be able to guess where the fight will be or when the takedown might be coming."
Meteorologists keep their eyes open for certain conditions. The jet stream moves just a little, a heat wave lingers just a little too long, a front stalls out—anything can set the stage for awesome displays of Mother Nature's strength. And all the signs point to the perfect storm on Friday night.
Jocelyn would like to thank her wife, Jana Jones-Lybarger, without whom she wouldn't be able to do any of this. She would also like to thank her amazing kids, her team and coaches at the MMA Lab, including John Crouch and especially Randy Steinke for everything, adding, "Thanks for taking over my stand-up!" She would like to thank her friends, family and fans, and would like to encourage support of her sponsors: Intensity Nutrition, Klenchguards and Cancer Treatment Centers of America. Follow Jones-Lybarger on Twitter:
@mmajocelyn
---
Advertisement

---