Let's go back 21 years. The year was 1993 and UFC 1 was revolutionizing the sport of MMA as we know it with a tournament-style format where a fighter could fight as many as three different opponents in just one night. Since that night, the tournament format has been removed and nearly forgotten. Even Bellator had a running tournament format to fight for a title and $100,000 prize, but those fights took place over weeks and months, not just one evening.
There is one organization that is willing to bring the old tournament style back, though. Battlegrounds MMA will be hosting an eight-man, one-night tournament for a prize of $50,000. Aptly named O.N.E (One Night Elimination), the tournament contains a few familiar faces, including Luigi Fioravanti and Brock Larson. The rest are up-and-comers looking for the spotlight and a chance to become $50,000 richer. Filling out the tournament are Jesse Taylor, Roan Carneiro, Joe Ray, Randall Wallace and, last but not least, Trey Houston.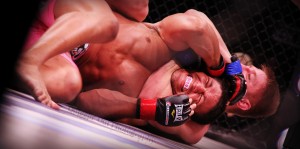 "When I first started—well, when everyone first started—watching the UFC when it first came about, that one-night tournament format was how I was introduced," Houston told Combat Press. "It was how I was indoctrinated, sort of, into the sport in general. Perhaps maybe it's a bit of nostalgia. It's definitely exciting,and with the format like this, it's not necessarily who the best person is that night, it must just be who can survive the longest. It's an interesting concept, and it's a different way to approach a fight as well, a different mentality going into it.
---
Advertisement

---
"I think it's just that desire to test yourself. I am not an aggressive person or an aggressive personality. I mean that desire to test yourself and push your limits is something inherent with males in general. There is something primal about it and stripping down kind of back down to the most ancient human conditions."
Houston has a point. This isn't an everyday, run-of-the-mill fight night. With the chance of facing three different fighters in one evening, the odds of the best fighter making it through are slim. Houston has devised a simple plan to prepare for this challenge.
"Hopefully you can end the fight quick and be fine for the next round," he said. "It's a different mentality, as I said before. Most of the time I'm entering a fight and no matter what happens during that span of 15 minutes, I just need to make it through that 15 minutes and figure out a way to win. Any injuries, any damage I take, can be dealt with after that 15-minute period is up, as long as I can keep going.
"If I win [in the tournament] and I take a lot of damage, I might not get cleared to the next round. I've never been one who's cautious at all in my fights, and I'll take damage to give damage most of the time. I have no problem doing that. It's definitely going to have to be a more careful approach and strategy, I guess. You can't really prepare, because you have seven different people you could fight and you can't prepare for each one. I'm just making sure I am in shape, cardio-wise, and just working on bad situations and situational drills."
Fighter's records truly show the road they have taken to get where they are in this sport. Sometimes a record may show something that is very unusual, and this is why Houston should stand out in this crowd. He boasts an astounding 100 percent finishing rate, and his record of 11-2, including four victories by knockout or TKO and six via submission, can be very intimidating for his opponents.
"I don't want to get hurt," Houston admitted. "I understand in this sport that there's a certain amount of risk that comes with it, more so than most hobbies. I don't want to be 40, 50 years old and be punch-drunk or anything like that. I'm going to take as little amount of damage as I can in order to secure the win."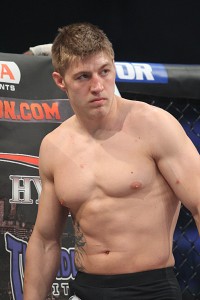 So far it seems as if this philosophy of his is working to his advantage. But things don't always go according to plan, as Houston found out when matched against Sergio Junior at Bellator 94 in March 2013. Houston would go on to lose by submission in the third round, but the damage he took was more than just a broken ego and a loss on his record.
"I had to have surgery after that fight," he revealed. "I broke my hand, and when he kicked me in the first round in the groin, it broke my cup. I had to have surgery. It tore the lining in between my testicles, and I didn't realize it was that bad until I tried to continue fighting and every time I moved I thought I was going to throw up. I had no idea it was that bad at the time. So, my hand was in a cast and then I was in a wheelchair after the surgery for a few months."
These injuries kept Houston out of the cage for over a year, including the six months his hand was in a cast. As he sat in that wheelchair, he was thinking about hanging up his gloves for good. But he decided that he still wanted to fight. He finds something different about fighting than almost anyone ever would.
"To me, it's sort of self-discovery," Houston explained. "You're putting yourself in this ancient human condition, and you have nothing but your own hands and your own head to rely on. People deceive themselves all day long and lie to themselves, but there's no lying to yourself once the cage door closes. You find out who you truly are. Any semblance of self-deception is gone. It's one of the most honest things that I have ever done, and I think that's hard to come by, just in life in general. There's not many things that are that straightforward and honest. It's honesty on a level that this life rarely affords."
If one thing is clear about Friday night's fights, it's that Houston is definitely the dark horse. Don't think for a second that Houston isn't aware of that.
"Hopefully I am the one that everyone is looking past. You know, thinking I'll be an easy match-up."
Trey would like to thank his coaches, Pete Wilhelm and Thomas Longacre. He would also like to thank his sponsors: Triumph United and Trigger Athletics. Follow Houston on Twitter:
@houston_trey
---
Advertisement

---