In everyday life, it's the bond that ties us to another family member, but it can also mean so much more. Friends truly are the families we choose for ourselves. It could be the best friend of the last decade(s) or the group of friends that have had your back through thick and thin.
This brotherhood can be seen in the sports world. In football, it's the offensive line working together to protect their quarterback. In baseball, it's the outfield counting on their pitcher for another strikeout and it's the pitcher counting on his outfield when a rogue pitch flies out of his hand and gets smashed into left field.
In the world of MMA, it's the group of core training partners that make up the brotherhood. It's the guys that push a fighter when he or she thinks they are unable to go anymore. It's this group that demands another five minutes, because they know it's for the greater good of the fighter and themselves. This brotherhood could also involve any individual outside of the gym, like the fighter's nutritionist who helps to keep their weight in check or a sports psychologist who aides in keeping the competitor's mental game strong.
---
Advertisement

---
The one brotherhood that is universal is that of the armed men and women serving this country day in and day out. It's not just those serving in the military around the world, but those same heroes in our very own backyards. Police officers and firefighters working together, not just as a team, but as a true family. The point where these two worlds intersect has only one name: Stipe Miocic, the current UFC heavyweight champion.
Miocic began his UFC career in 2011 when he scored a unanimous decision over gritty veteran Joey Beltran. Miocic tore through his next two opponents before running into a tall order (pun intended) in Stefan Struve. The setback for Miocic, as with many other fighters, seemed to fuel his desire to improve even more. He notched three consecutive victories before he was matched with former UFC heavyweight champ Junior dos Santos. In a five-round war that became an instant classic, Miocic showed amazing durability and withstood everything the former champion threw his way. While Miocic didn't get the nod that night, the MMA gods saw it fit that these two would cross paths again.
The devastating run that followed was a true show of amazing talent and raw power. Miocic went all five rounds with the always tough Mark Hunt before knocking out Andrei Arlovski in the first round and getting a chance at the title against Fabricio Werdum. In a shocking upset, Miocic captured the belt in just under three minutes. The newly crowned champ wasted no time defending his belt against Pride, Strikeforce and UFC veteran Alistair Overeem at UFC 203. Miocic again showed his durability and heart en route to the TKO victory, once again in the first round, for his first title defense.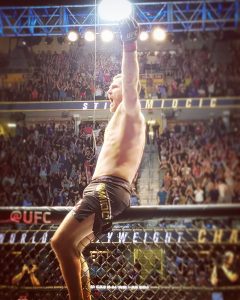 The task that stands in front of Miocic now is none other than his previous foe and only one of two men to defeat him: dos Santos.
"I've watched [our first fight] a few times recently to see what I've done wrong." Miocic told Combat Press. "That was over three years ago, so a lot has changed. We've done a lot of things different. Every fight, I get better. I'm not going to give you my game plan, but we definitely worked on a lot of things so far in this camp. We still have four weeks, so we are working on what he does good and what he does bad [and] try to capitalize and do what I do in the cage.
"I don't think he'll try for takedowns. If he does, I'll be ready for it. Honestly, I don't care what he does. I'm not gonna let him dictate what he wants to do. I'm going to go out there and do what I do and walk out with the belt still wrapped around my waist — 'And still!' I really don't care what he does. I'm gonna win and do what I do."
Miocic seems to be the more improved fighter since their last meeting, as evidenced by not only the amount of fights he has had, but his 4-0 mark in subsequent fights, whereas dos Santos has gone a meager 1-1 with a loss coming to Overeem, the man Miocic just defended his title against. A lot can change in three years.
"He's gotten a lot better, too," said Miocic. "I've fought a lot of tough guys and some five-round wars, and I'm excited."
The champion truly had the toughest test of his career in his last bout, but it wasn't only because of the dangerous opponent in front of him. He also faced the challenge of fighting in front of a hometown crowd in his native Cleveland. The city itself supported him in an overwhelming way. Even the locals who did not have any inkling of MMA knew who Miocic was and what was happening in their city. The support is unlike anything seen in the sporting world.
"It's great, man." Miocic said. "I love the city of Cleveland. You have to live here to understand it. It's a Midwestern thing. We're loyal [and] we're all blue-collar workers."
The UFC's heavyweight division has always been a quandary when it comes to available contenders for the title who aren't named dos Santos or Cain Velasquez. However, with Miocic sitting atop the heap, it seems the future of the division itself could be changing.
"Oh, it's definitely getting better," said Miocic. "There's still a lot of the same guys around, but also a lot of new guys coming up. I'm happy, too, that I'm fighting every couple months. Like, before, every year, year and a half, there was a heavyweight title fight. [Now] there was a third title fight in a year."
The increased activity of the heavyweight division means a lot more work for the champion, and he truly has his work cut out for him on May 13.
"I don't want to wait, because everyone is evolving so much," said Miocic. "[You end up] taking time off, then you get complacent. I want to get better every day and keep fighting."
In the history of the heavyweight division, not a single champion has ever defended their title more than twice.
"Yeah, well, that's going to change," Miocic stated confidently. "I'm going to change that, because I'm not giving this up. I've worked way too hard and sacrificed way too much to give it up."
It is not uncommon for a champion to brim with confidence, but Miocic's comments resonate as those of a man truly full of confidence, but not arrogance. He's shorter than most heavyweights in the division these days, but he makes up for his lack of height with speed, endurance and raw power.
The secret? Miocic is still a full-time firefighter.
The biggest challenge for Miocic since winning the belt? The added attention.
"Yeah!" Miocic exclaimed. "There's a lot more obligations. I'm a lot busier, but I knew that was going to happen. I take it in strides. [It's] getting better day by day [and] I'm learning more on how to handle it."
With all of these obligations and additional time dedicated to being champion, how can there possibly be a solid work balance?
"I'm lucky. I have two great chiefs at the fire station," Miocic said. "They're amazing people. They look out for me and take care of me. It's the same for all the guys at the station. All the guys got my back [and] they help me out. It's like a playground for older people. We're always busting each other's chops, learning and getting better. We are helping people out and saving lives. I love it. I wouldn't change it for the world. I worked hard to get it. I don't want to give it up — just like the heavyweight title."
This interview was conducted while Miocic was on break from saving lives and putting out fires. This is a man dedicated and ready to fight. In the end, Miocic kept it short and to the point.
"[Dos Santos is] a good guy, but unfortunately it's business. I'm gonna do what I do and smash him."
Stipe would like to thank all of his coaches, his wife, his family and his friends. He would also like to thank everyone who supports him, including the city of Cleveland and his head coach, Marcus Marinelli. Follow Miocic on Twitter:
@stipemiocicufc
---
Advertisement

---