Crushing it – a phrase that gets tossed around in a lot of different settings. Everyone from accountants to tractor operators have their own version of crushing something. Whether it's at work or at play, there's a lot of crushing to be done.
For UFC middleweight Chris Camozzi, work is play, and he's definitely doing some crushing of his own. As one of the most dedicated fighters in the sport, he was crushing opponents when he won his fight to get onto The Ultimate Fighter with a broken jaw, he was crushing the timid when he took on Ronaldo "Jacare" Souza twice on short-notice, and he crushed veteran Joe Riggs with a stiff jab and devastating knees in 26 seconds last February to earn a Performance of the Night bonus. That last piece was icing on the cake.
"It was great, man," Camozzi told Combat Press. "Anytime I can go in there and showcase what I can do live on TV, and get out of there without any injuries, it's always a good night. The bonus on top of that made it even better, and just the fact that I was able to make a statement and show what I can do. I've always known I could do stuff like that. I've had fights like that before, but it's been a while, and it felt great to have that back."
---
Advertisement

---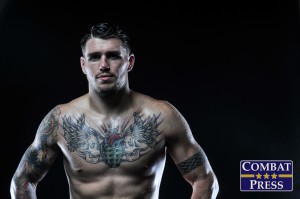 The UFC loves having guys like Camozzi on the roster. He doesn't bitch about opponents, he doesn't bitch about pay, and he, frankly, doesn't really bitch about anything at all. He does, however, take on just about anybody they throw his way. And, his next fight is a perfect stylistic set up.
Tomorrow night at UFC Fight Night 88, Camozzi will show up on the main card once again to face a fellow high-level striker in Brazil's Vitor Miranda. Miranda is a former kickboxing champion who is currently riding a three-fight winning streak in the UFC, all by TKO. Camozzi is coming off his own TKO of Riggs. The two are primed to collide and make their respective stakes in the UFC's crazy middleweight division.
"I love that fight," Camozzi said. "A while back, my coach and I looked at the division, and we made a list of guys that best suit my style of fighting. And, his name was one of the top names on the list. So, when [UFC matchmaker] Joe Silva sent that name, I was like, 'oh, perfect.' We didn't ask for that name, but it was definitely on the list I had made. We made that list six months ago, and since then, the middleweight division has flipped, flopped, and turned around, but Vitor Miranda is on a winning streak and he's finishing guys, so it's a good fight for me. I think beating him gets me a top-10, top-12 opponent."
While Miranda's pedigree seems very impressive on paper, people close to the fight game know that affiliations get tossed around so much anymore, that his crushing performances in K-1 kickboxing could be subject to some debate. Camozzi has his own opinions.
"I think K-1 is a loosely used term nowadays," Camozzi intimated. "For me, when I hear K-1, I think of the K-1 Grand Prix that I used to get up and watch in the middle of the night. That's the real K-1. Now, you've got guys that fight in, I guess, K-1-sanctioned fights, and to me, it's a little bit different. I think that term gets used loosely too much. 'Muay Thai champion' could mean winning a belt in a local show. Unless, you've won one of the major world titles, I don't care."
Camozzi's training camp is no slouch in the kickboxing department. He has trained under Kru Marc Montoya at Factory X Muay Thai in Englewood, Colo., for the majority of his career, and in his huge stable of training partners lies Dustin Jacoby who just fought for the Glory middleweight title. Needless to say, he is very confident in his training.
"We've been crushing it," Camozzi said. "I feel great. This camp, I trained with so many high-level guys. We had Lorenz Larkin at the gym, I had Anthony Smith out here training, James Krause is out here right now, and he's smaller than me, but he's a very technical guy and he's great on the ground. I went out to New York, and spent some time with Chris Weidman and Gian Villante, and those guys out there. All these pieces put together from training with these guys, and my team at Factory X is just crazy. Everybody that I'm training with has been making it a lot tougher than the fight.
"Training with Weidman, especially, is always huge for me, because one of my weaknesses has always been wrestling, and he's as good as they get for MMA wrestling. And, training with a former champion is never bad. I mean, the guy won the world championship and defended it several times, so he's doing something right. For me, to get rounds in with him is great for me."
Going into Sunday night's event, Camozzi is confident as ever, and he has no problems calling his shot. His training has never been better, and his prediction is simple.
"I said this last fight, and I'm feeling it again, that I will finish him in under two rounds," Camozzi said with confidence. "I told you this last time, and I told myself again, I'm not going in there to win, I'm going in there to finish. If I tell myself that I'm going in there to win, then a three-round decision is OK. In my eyes, I need to finish fights. I want to get in and get out as fast as possible."
Who can blame the UFC for loving this guy? Camozzi is not a kiss-ass company man. He's a dedicated fighter that doesn't have to walk around talking "any opponent, any time." He just does it. Hopefully, a win over Miranda will get him that top-10 opponent that he's pining for. With all the recent turmoil in the middleweight division, from dirty urine tests to injuries to athletes moving to different divisions, it's hard to even gauge what a real "top-10" opponent is anymore, but Camozzi does have his eye on one potential match-up.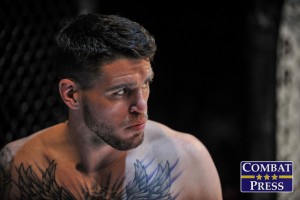 "I haven't even looked at how the division has shifted recently," Camozzi admitted. "I've just been focused on this fight. I know that's a cliché answer, but the other cliché thing to do is to fight Bisping – because everybody wants to do that. But, my reason is different.
"A lot of people want to call out Bisping, because he talks all this shit and everything, but what stands out to me is that recently I read an interview with him where he's talking about all these guys juicing, failing drug tests, and all the middleweights being dirty. So, in my head, I'm like 'why don't Bisping and I fight?' Everybody knows I'm clean, I don't look juiced up, I've passed every test, I've never had any inclination of failing anything, and I agree. I think the sport's dirty, this division is one of the dirtiest, so why don't two of the cleanest guys fight?"
Camozzi has one hell of a point. The middleweight division is tainted, Bisping does have a huge target on his back, and that would be an amazing match-up between two very similar styles. There is no way the Zuffa brass can overlook that as a potential next step, but a lot of that is contingent on what happens in the middleweight title fight next month, as Bisping fills in for an injured Weidman to challenge incumbent champ Luke Rockhold for the strap.
The fact remains that regardless of what happens in the next month, Camozzi is ready to crush it once again tomorrow night on the main card of UFC Fight Night 88, live from the Mandalay Bay Events Center in Las Vegas. Definitely a Fight of the Night candidate, fans will be crushing themselves if they make the mistake of missing this middleweight collision
Chris would like to thank his coaches and training partners at Factory X Muay Thai, MusclePharm and Landow Performance. He would also like to thank his wife, family, friends and fans, and his sponsors, Koios and Performance MMA, and his management at Ingrained Media. Follow Camozzi on Twitter:
@ChrisCamozzi
---
Advertisement

---