Invicta FC is home to a number of talents that the company has introduced to the larger stage. Invicta has taken amateurs and regional fighters that you may not have known otherwise and made them into recognizable faces.
One of those fighters is Rachael Ostovich, an islander girl from Hawaii who has broken into the mainstream of women's MMA by competing under the Invicta banner twice. Previous to her Invicta debut, she had been sticking out in the Hawaiian islands, where she was building herself up.
At just 2-2, Ostovich has a lot of room to grow and is likely at the beginning of a career that could have great longevity. She is young, so she is still developing her all-around skills. That said, she's already a strong fighter and has the toughness to hang with any woman she competes with in the flyweight division. She gets to prove as much on Saturday at Invicta FC 17.
---
Advertisement

---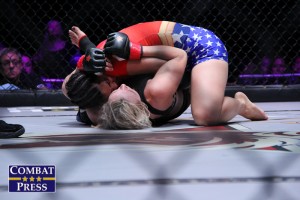 "This training camp, I have switched up a bunch of things and it's been amazing," Ostovich told Combat Press. "It's great to have a caring team around me, and a great family. I am just staying positive and getting better, so you will see improvements in my game come fight night."
Ostovich last fought in September in Kansas City, where she was put in a high-profile bout with fellow prospect Andrea "KGB" Lee. The bout was given great attention by the company, which even featured the two fighters on the event's fight poster.
When it came to the fight, though, Ostovich was not fortunate enough to walk away with the victory. In fact, she was finished by Lee, who denied Ostovich her second win under the Invicta banner. It was a temporary halt to Ostovich's momentum, which she hopes to get back this weekend.
"I was obviously sad I lost, but I used it to get motivated and get back in the gym," she said. "It helped me get back into the gym and really work on the things I needed to improve upon."
It's been some time since we've seen Ostovich compete at that Invicta 14 event, but she's back now. She'll fight a little closer to home, too, when she takes to the cage in Costa Mesa, Calif. On her plate is a contest against Ariel Beck, a 3-2 fighter who is also coming off a loss to Lee. Beck's loss to Lee came in Legacy FC for the promotion's vacant flyweight belt.
"I think [Invicta] matched us both up since we both just took losses to Andrea," Ostovich joked. "She's got a ton of heart and it's going to be a battle. She's an exciting fighter. I'm an exciting fighter, too, so I think it'll be a great bout to watch."
The bout represents a clash of styles. Beck is a knockout fighter, whereas Ostovich can be described more accurately as the submission grappler. Both ladies are very exciting, bringing the possibility of a "Fight of the Night" to the undercard.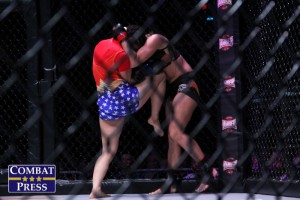 "I always try to make the fight my fight," said Ostovich. "I feel a lot more comfortable on the ground, but I have definitely been working hard on my stand-up. Ariel's losses come via submission, so I think it plays right into my game, but I know she will be tough."
Ostovich comes from a long line of tough Hawaiian fighters who have a reputation for bringing nothing more than heart and determination to the cage. It's that type of ethic that has sent numerous Hawaiians to the grand stage. That's why fighters and fans alike from that tiny chain of islands await a big-time show to land on their shores.
"Hopefully the UFC comes to Hawaii soon," Ostovich said. "We have guys like Max Holloway and B.J. Penn to make a card on our island great. Plus, it's paradise here and Hawaiians portray the warrior spirit. I think them coming here is a no-brainer."
Win or lose this Saturday, Ostovich made one thing clear. She has a strong desire to stay more active.
"I would like to fight maybe two or three more times before the year's end," said Ostovich. "Invicta has been nothing but great to me, but I want to be more active. My last fight was in September of last year, so I would like to get more fights."
---
Advertisement

---