When it comes to talking about mixed martial arts in South America, there is only one capital. Brazil is the central hub of the sport on the continent. The UFC is hoping to turn that around, but MMA has been in South America for quite some time. On Saturday, one of the pioneers of the movement looks to add the World Series of Fighting lightweight title to his mantel.
Luis Palomino and his family came to the United States when he was a kid. From there, his journey to finding the sport that he loves today started in a little boxing gym.
"I left Peru when I was about 10 years old, going on 11, and I landed in California, and that is where the boxing began," Palomino told Combat Press. "My father was taking one of my older brothers to try out boxing and I just tagged along — I asked if I could go. My brother ended up doing it for a couple weeks, [but] it wasn't his thing. I stayed there doing it for three years."
---
Advertisement

---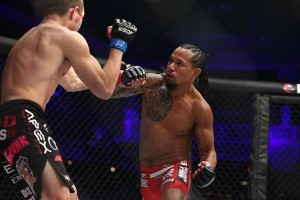 Palomino's family decided to make another move. This time, they headed to Miami.
With the move, Palomino found that he had the drive for competition. There was only one thing standing in his way. There was not a boxing scene in Florida like there was in California. So, Palomino turned to other ways to fill the void. He found the Brazilian martial art of capoeira.
"I turned 14 in Miami, and in Miami I pursued boxing but it wasn't the same thing as it was in California." Palomino explained. "There weren't as many shows and not as often. The shows were far. There wasn't as much love for boxing here in Miami.
"I did capoeira for 14 years and I know how to speak fluent Portuguese thanks to them. In the last seven years, I started Brazilian Jiu-Jitsu. I am now a black belt in Brazilian Jiu-Jitsu."
For those that are not familiar with the belt structure of Brazilian Jiu-Jitsu, seven years is pretty fast to advance to the level of black belt. It's obvious that when Palomino finds something that interests him, he throws everything he has into it.
"I am a gym rat," Palomino confessed. "It took a while for me to adjust my life to the point to where I can actually live and fight. I started doing jiu-jitsu about six or seven months before my [first] pro fight. I didn't have any amateur fights. Here in Miami there was no amateur scene, so I just started fighting as a pro. My first fight was a first-round knockout at a minute and 23 seconds. Things just took off from there. I was just barely a blue belt and I know that I had to step my game up, so I just trained every day, even if I had to work. At that time, I was working construction and I would wake up at 5 a.m. to train first. Then, go to work. Then, take a shower and go train again."
On Saturday, Palomino takes that work ethic into the World Series of Fighting cage to take on one of the fastest-growing names in the industry. At WSOF 19, which takes place in Phoenix, Palomino will challenge the WSOF lightweight champion, Justin Gaethje.
Gaethje is undefeated in 13 bouts. His last outing came against the always-tough Melvin Guillard, in what turned out to be a non-title fight when Guillard was not able to make weight.
Gaethje will have the size advantage against Palomino. However, that will not make much of a difference when it comes fight time.
"They can be taller and they can be heavier. This is nothing new to me," explained Palomino. "I have over 30 professional fights. I have faces 6-foot-4 guys, 6-foot-3, 6-foot-2 — it doesn't matter to me. Even when I dropped to 145 pounds, I face[d] taller guys. It makes no difference to me. When I first started fighting, I fought at 170 pounds. I didn't even weigh 170 pounds; I weighed in at 165 [or] 166 pounds. I didn't have to worry about cutting weight. Then, come fight time, I would look across the cage and they would look completely different than when they weighed in."
Come Saturday, Palomino has one thing on his mind. That, of course, involves winning the WSOF lightweight title.
"It's just a belief. Once you pass 10 years, you look back. And I look back at my fights, and people talk about age and stuff. I am 34 years old and I feel great," Palomino confessed. "I feel strong and I feel fast. I'm not slowing down at all."
When Palomino does reflect on his lengthy career and looks at his loss column, he admits that most of the losses are his own fault.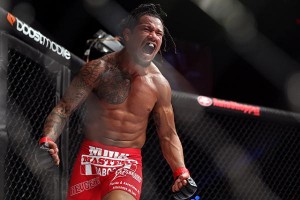 "I look back at my fights and I look at my losses. I haven't faced some[one] that has beat me up or hurt me," the Peruvian fighter pointed out. "I look at the losses, and they are all dumb losses. It was either a lack of focus or a dumb mistake. Just looking back at that, I am done wasting time. I am done making dumb mistakes.
"All the torture I put my body through. Having my son waiting. Not being able to spend much time with him because I am training so much. Then, going to perform and not giving my all. The focus level is at its highest peak right now. My body is peaking. The hunger is just the greatest. I want something out of this. I have been fighting for many years and I am ready for success."
On Saturday night, Palomino sees it going one way.
"I am going to win. There isn't [anything] anyone can do about it. I am on top of my game."
Luis would like to thank all of his coaches at MMA Masters, Physical Nutrition, Rev Gear, his friends Manny and Eric, Nove Kitchen and Bar, and Grit Mouthguards. He would also like to send a special thank you to his girlfriend and children. Follow Palomino on Twitter:
@luisbaboon
---
Advertisement

---