In sports, a spoiler is defined as "a person who beats a predicted winner." Generally, we also see the terms upset and dark horse linked with the word spoiler. The person who fits this tag has a chance to win, but they aren't expected to have their hand raised at night's end.
That's exactly what Colleen Schneider did in her last fight with Invicta FC. As a replacement fighter set to meet Raquel Pa'aluhi, who was rapidly ascending into the title picture, Schneider was expected to be a body that filled in to give Pa'aluhi one more win before challenging champion Tonya Evinger.
Schneider did not get that memo.
---
Advertisement

---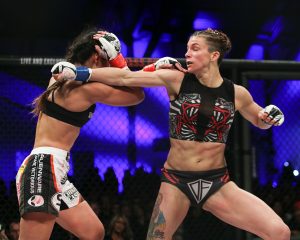 Instead, Schneider put on one of the best performances of her career, outpointing the tough-as-nails Hawaiian and effectively taking her out of the title picture. Inserted in Pa'aluhi place was an experienced, seasoned veteran of the sport who has challenged and won titles in the past.
"My win over Pa'aluhi made sense for me to get the title shot," Schneider pointed out in an interview with Combat Press. "Evinger doesn't have a lot of opponents in the title picture, especially after beating Irene Aldana and Pannie Kianzad. Invicta was expecting Pa'aluhi to beat me and earn the title shot at Tonya, but I played the spoiler, which I love."
Schneider used improvements and a workmanlike approach to earn the victory over the Hawaiian.
"A lot of what I was working on in that camp worked well on Raquel," Schneider said. "My movement was vastly improved, which is why it was tough for her to get a beat on me. That is why people thought my striking was what was most improved, but really it was how I moved that complimented my striking that I already had."
In the aftermath of her victory, Schneider has dabbled in more than just the world of cage fighting. She has appeared in the squared circle as a professional wrestler. Given her training and link to Josh Barnett, Schneider has taken to pro wrestling like a duck to water. She had a match after her Pa'aluhi fight against friend and fellow MMA veteran Shayna Baszler. It was well received, giving Schneider options in the future.
"I think pro-wrestling training compliments my training, but my focus is still MMA training," said Schneider. "I have only had that one match with Shayna, and after that, it was back to focusing on MMA. It's great to take matches in my down time to stay busy — and I love doing it — but I'm a mixed martial artist first."
That last assertion is especially important given the fact that she has the biggest fight of her career coming up. That fight is for Invicta gold. She takes on reigning, defending champ Tonya Evinger in the main event of Invicta FC 17.
Evinger has been running roughshod over the Invicta bantamweight division. Since failing to make an impact on The Ultimate Fighter 18 (a season that also featured Schneider), Evinger has been on a rampage. It's a rampage that Schneider hopes to stop in her title bid.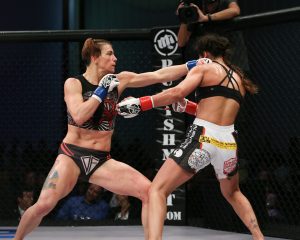 "I have no personal animosity toward Tonya. She might have some towards me, though," Schneider pointed out. "She said I ducked a fight with her before, which I have no idea what she's talking about. Maybe she has some personal animosity toward me or maybe she's just building the fight to motivate herself. I actually find her antics somewhat entertaining."
While she might admire Evinger's approach, she will not let it get to her head. Schenider is focused on the match-up and the opportunity to earn a major title victory. She has all the tools to do it, which is why this title bout is so anticipated.
"This is a good match-up," said Schneider. "You can look at it as a striker versus wrestler, but I think it'll be more than that. We both will fight wherever the fight goes. We're both fighters. My biggest advantage is probably on the feet, but I am more than comfortable to grapple with her too."
It's a fight that's sure to deliver between two warriors with vastly different, yet uniquely interesting, personalities.
Look no further than Schneider's outside-the-cage activities. She's not your typical woman. She's very much into political and social issues. She does things that most females may not be into, such as wrestling. She's a very unique individual that is just living life as it comes and enjoying the ride.
"I'm building an old motorcycle in my spare time, but I'll probably have more time to get down and dirty to play with it once this fight is over," Schneider said. "Plus, I would love to get back into the wrestling ring, because I like to stay busy outside of the cage. And I will have more time to do that stuff after I fight Tonya."
---
Advertisement

---