In poker, there are sharks and fish. Fish, despite a popular cartoon's best tries, are actually food for sharks. Well, most sharks anyway. Back in 2010, Bellator decided to have an eight-woman tournament for the inaugural strawweight belt. There wasn't a weak link among the title hopefuls. However, at the start of the tournament, many experts figured they knew who the sharks were and who was being fed to them.
Zoila Frausto had just beaten Rosi Sexton by knockout in the first round, so everyone knew she had power. But there weren't many experts who thought she'd make it past the tournament's opening round. She surprised them. Frausto beat Jessica Penne to open the tournament. Then she upset Jessica Aguilar and handed the respected veteran Megumi Fujii her first loss to win the belt. She stunned the women's MMA world while making history as the first — and only — woman to hold Bellator gold. She showed the whole world that she was not a fish. She was a fearsome shark.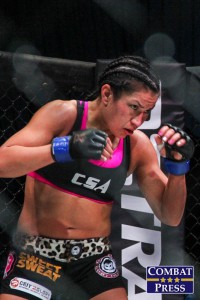 Frausto beat Karina Hallinan in March 2011, but was sidelined after major knee surgery and didn't fight again until October 2012, when she won against Casey Noland. Then Frausto fell on hard times. Alas, even sharks get beat. Frausto lost three fights in a row. First, Jessica Eye got her in an arm-triangle choke in the first round. Then Frausto lost hard-fought decisions to Jennifer Maia and Vanessa Porto, both while fighting at 125 pounds for the all-women's promotion Invicta FC. Frausto had gone between 115 and 125 pounds in her career, and she even fought at 135 pounds, showing her willingness to take fights whenever she could.
---
Advertisement

---
"I was in a bad place, mentally and physically," explained Frausto in an interview with Combat Press. "I was in need of a major change. I moved back to California from Ohio, started working with Kirian [Fitzgibbons] and got back on track. I almost considered retiring, but coming home and getting back to my roots was the best thing for me. I wanted to fight in Muay Thai and so I pursued that goal. And it brought the love of fighting back. When I started, I started training Muay Thai, but I was kind of pushed into MMA. So Muay Thai got thrown out the window for a time. I mean, of course we trained it, but not the same."
Since going pro in Muay Thai, Frausto has gone 3-0 and rediscovered the joy of fighting.
"I did what I wanted to do in Muay Thai and will continue, but now I see all these girls that I could beat or have beaten, and they are having all this success in the UFC," said Frausto. "I know that I can take them, and every single one of them should be worried to face me. So I decided to drop back down to 115 [pounds] and make my run."
Frausto's next foe will be Jocelyn Jones-Lybarger, a 5-1 strawweight who has been on a tear in the Resurrection Fighting Alliance, where she has won her last three fights. They will be fighting for, get this, the inaugural RFA women's strawweight championship. Sound familiar?
"Back then, in Bellator, I was young. And I wasn't eating right. Taking those big fights at 125 [pounds] was easy — making weight was easy — and I took them because it was Invicta and I could easily make weight," Frausto explained. "But now I know 115 is better for me. And now that I know how to do it properly, it's not a problem. I have coaches and nutritionists and trainers, and they have it down to a science. This camp is awesome. I have never been this close to weight at this stage before. And I have never worked this hard.
"I am working with a lot of different people to be prepared for this fight. Ring rust? Ring rust is an excuse for not being prepared. I am coming into this fight with more knowledge, skill and strength than I have ever had before.
"I don't think the Bellator tournament format was healthy. Fighting every four to six weeks is just too much for anyone. But for those of us who celebrated our wins with drinks and bad food, we just made it harder each time. And it did get harder and harder to make weight. I didn't do it right and my body paid for it. I got weaker.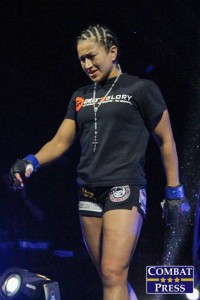 "But everything is trial and error, and I am better now for it. I feel like I stack up against [Jones-Lybarger] very well. I think I am better at everything. She is scrappy, for sure, but at this point in my career all the 115ers should be concerned. I dropped down to 115, where I dominated for a reason. I want that gold. When I won the Bellator tournament, I did it with only 18 months of fighting under my belt. I've got so much more skill now and experience.
"And the biggest thing is that I have nothing to prove. Before, when I was fighting, I would hear what people had to say, like 'Girls don't have KO power,' and I would let that bother me. I have proved that we do, so let them say whatever they want. There are guys at every weight class who have never scored a TKO or KO, so let them talk about girls. Whatever. I won't waste time or energy on them.
"Now I am doing this for myself. To make me happy. To accomplish what I want to accomplish. The motivation is coming from inside and it burns brighter. I've got more fire now and I don't have to listen to what anyone else has to say. I am excited to get back down to this weight class where I dominated."
Frausto is a very hungry shark looking to reclaim her territory and remain undefeated at 115 pounds. Jones-Lybarger is also a very hungry shark looking to keep her territory and remain undefeated in the RFA. You would do well to keep an eye on this fight. The sharks are in the water, and there will be blood.
Zoila would very much like to thank her coach, Kirian Fitzgibbons, who she says is "the one who has made me believe it's not over and that there is a lot more fight in me." She would also like to thank her new family at Combat Sports Academy for all their support. Follow Frausto on Twitter:
@ZoilaFrausto
---
Advertisement

---