MMA is an individual sport. When the cage door closes, it's a one-on-one battle. Even in Chuck Norris's promotion, World Combat League, which was a team competition, each individual bout was still one person against another. However, so much goes into getting a fighter mentally and physically prepared that it actually is a team effort.
The struggle to constantly improve is grueling, sometimes frustrating work. Without the right coaches knowing when to push that fighter or when to ease up a little, without the teammates there to lend emotional support, without the friends and family who are there to help with all the challenges outside of the gym, the fighter would be lost.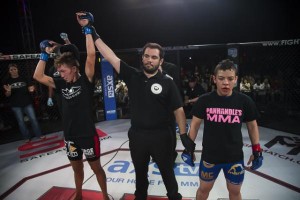 There are multiple reasons Jocelyn Jones-Lybarger has found success. Her will to compete at the highest levels, her determination to be the best strawweight in the world, her athleticism, her mental fortitude, her fire — those are all things that can't be taught. They can be strengthened and reinforced, but a fighter either has them or she doesn't.
---
Advertisement

---
Jones-Lybarger's coaches at the MMA Lab in Glendale, Ariz., know how to help fighters achieve their goals. Benson Henderson, Efrain Escudero, Joe Riggs, Chris Gruetzmacher and so many more high-level fighters train under John Crouch and his knowledgeable coaches. The coaches at the MMA Lab have such a tremendous reputation that fighters have moved from the Midwest and even Alaska to further their careers by training at the camp.
All of these coaches, teammates and training partners — and even former opponents — have been preparing Jones-Lybarger for her biggest fight and biggest opportunity: the first women's championship in the Resurrection Fighting Alliance, which takes place this Friday when Jones-Lybarger squares off against veteran Zoila Frausto.
Originally, the 5-1 Jones-Lybarger was slated to face top Brazilian prospect Kinberly Novaes for the RFA's USA vs. Brazil card. But a few weeks before the fight, Novaes found out she was pregnant.
"I am so glad they found out," Jones-Lybarger told Combat Press. "It would be horrible to be training for a fight and do damage. She emailed me and apologized. She is super sweet and wished me good luck in this fight. I found out this fight [with Novaes] was off and then a couple of days later I found out that this title fight was on. I am surprised at how it happened, but wasn't surprised to finally get the title shot. I had a feeling that once they signed Zoila, that the title was coming soon.
"Being able to face Zoila for the RFA's first women's championship is awesome! I've met her a few times and have a lot of respect for her. What she has done for women's MMA and what she did in Bellator? That was amazing. I am excited to face her. I had been in fight camp already, so I took one day off [for] a pre-season Chargers game with the whole family and then right back into the training.
"We really didn't have to change that much. [We] re-calibrated for a five-round fight instead of three, preparing for Muay Thai. Kinberly was shorter but also a strong striker, but it really is mostly the same thing."
Frausto hasn't fought in an MMA bout for around two and a half years. She has competed in kickboxing, though, and is 3-0 professionally there. Could there be some ring rust when Frausto steps into the RFA cage?
"Oh, I think that she will have to deal with that," said Jones-Lybarger. "Muay Thai and MMA are very different. You can stand back in Muay Thai, but in MMA there is more engagement."
Frausto's MMA record now stands at 12-4. She has wins over such notables as Jessica Aguilar, Jessica Penne and the legendary Megumi Fujii. However, she is coming off a three-fight losing streak in which she fell to Jessica Eye, Jennifer Maia and Vanessa Porto.
"Nobody likes to go backwards," said Jones-Lybarger. "I plan on pushing the pace against her to drive her back, like her last loss to Vanessa. If I can keep pushing her — pushing the pace [and] throw her off balance — that will really be in my favor. I can't let her get comfortable in the middle of the cage. I don't want her to get her combinations off, the hook, jab, leg — pop, pop, pop.
"I sort of do feel like she thinks of me as more of a wrestler because we have such strong wrestlers at the Lab, and I think she thinks I don't want to stand with her. I just want to show her that she isn't going to walk through me. She is going to have to meet me in the middle."
Jones-Lybarger has competed at strawweight professionally for years now. And with the help of fight nutritionist Mike Dolce, she is perfecting the cut. Against Rebecca Ruth, Jones-Lybarger was around 136 or 137 pounds in the cage after eating and rehydrating. She felt sluggish. So in her last fight against Maria Rios, she weighed around 133 or 134 in the cage.
"I felt good in all three rounds," she admitted. "I was having fun in that fight, for sure. It was fun being back in California with my friends and family there. I feel like I should have finished her, but it's also hard. Us girls, we don't throw as hard as the guys; it's harder for us to get KOs. But I know, from that fight, that I need to be more aggressive. When I landed shots, I had a tendency to sit back. I have to move forward and not stop. I can't let my opponents recover before my next combos.
"That first round against Rios was weird. I kicked into a takedown and she got full mount very quickly. But there was a good scramble, and she tried for an armbar before the end of the round. In the second and third rounds, I kept expecting her to go for the takedown again, but she never did. That was strange, too. If you watch the fight, you can hear her coaches telling her to keep kicking me, and the announcers totally questioned that advice. They thought, like me, that she should have taken the fight to the ground."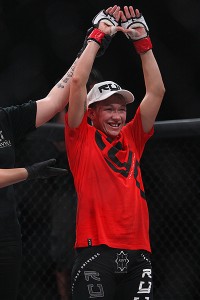 There is one other person who helps Jones-Lybarger be the successful fighter and person that she is. This person is the one that brings the Jones into the equation, in fact. Jana Jones-Lybarger and Jocelyn have two very active daughters and a full life. Somehow, Jana is able to get everything done for all her girls during fight camps, even extra long ones like this one.
"Jana is phenomenal. She lets me do what I need to do to be successful. She… I am just so lucky; she is superwoman and somehow makes all my doctor's appointments, sends applications, cooks, everything. Today, I made the bed and folded laundry," Jocelyn said with a laugh. "I wouldn't be able to do any of this without her.
"When the courts finally decided on the gay marriage, we were overjoyed. We wouldn't want to have to explain to our girls that the U.S. didn't recognize our marriage. But they announced the win, and we called each other and pulled the kids out of school and went to celebrate together. The kids got to pick, so we went to Red Robin. They were excited, but I don't think they understood what a big deal it was, and hopefully they will never experience the other."
Jocelyn Jones-Lybarger has everything in the world to fight for, and she plans on bringing everything she's been taught into the cage on Friday. Frausto better bring everything she's got, too. This is an individual sport, and once that cage door locks, Frausto will be dealing with one determined individual.
Jocelyn would like to thank her sponsors: Sissy Fighting Gear, Cancer Treatment Centers of America, and minoTOR. She would also like to thank everyone at the MMA Lab and "her sexy wife" Jana. Follow Jones-Lybarger on Twitter:
@mmajocelyn
---
Advertisement

---