If you research the pioneers of women's MMA, there will be names that pop up of women who were trailblazers of the sport. These are women from the early days of the sport who had to struggle to even find fights in a sport that did not offer a lot of female combatants. These are names like Megumi Fujii, Tara LaRosa and Roxanne Modafferi.
Modafferi has been around longer than a large majority of females in this sport. She has had a roller coaster of a career, but one thing has remained the same: she still finds herself in the spotlight after all these years.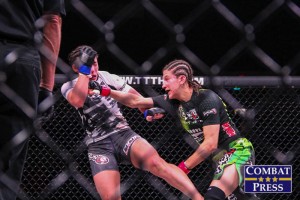 A lot of that spotlight was redirected at her when she participated on The Ultimate Fighter 18. There, she displayed her charming personality that earned her even more fans than she already had. She hasn't looked back since. Her following pushes her forward every fight and continues to build her legend.
---
Advertisement

---
"I am very honored that I have a lot of fans and people who look up to me," Modafferi told Combat Press. "I can show people that this sport isn't just about violence, but a sport of skill, and we as fighters can be role models."
Modafferi's personality is very bubbly and not so serious. Between being overly nice, dressing up as different characters at the weigh-ins and generally showing great respect for all, she's a nice change of pace to the tough-guy attitude we see in most MMA fighters. It's a very different outlook on MMA. Many fighters go into fights angry so they can pump themselves up to engage somebody else in physical combat. That's not the case for Modafferi. She constantly has a smile on her face and never has any negative vibe about her while in the cage.
"For me, it's not about anger, but a calm determination," Modafferi explained. "I look at my opponent and want to apply all the techniques I have tried to perfect to make them quit. I don't want to hurt people, necessarily, but I want to showcase my skills. I want them to give up. I don't get angry. Anger leads to the dark side of the force!"
Previous to her aforementioned run on TUF 18, Modafferi had hit a stagnant point in her career. She was in the midst of a five-fight losing streak and seemed to be finished in MMA. It would have been a ride off into the sunset after a trailblazing career, but she tightened her bootstraps, got back to work, changed things up and made one of the best comebacks in the history of women's MMA.
Modafferi packed up and left Japan, her former training ground, and made a move to Syndicate MMA in Las Vegas. There, she trains with coach John Wood and has the benefit of high-level female training partners like Jamie Moyle and Liz McCarthy. In fact, both of these ladies are fighting on the same card as Modafferi.
"I attribute that losing streak to taking on a high level of competition and my training had stagnated," Modafferi stated. "Before TUF, I moved back to the States and got a different style of training, which has really helped me improve. I credit all of my improvements to coach John Wood at Syndicate MMA. He didn't make me change my style, but instead added to my arsenal. He explains things so well and that's why my stand-up improved so much."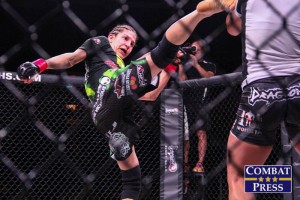 On her plate right now is Mariana Morais, a youngster in the sport who has been making mincemeat of the competition in Brazil. Though the 20-year-old Morais lacks in age, she does make up for it in skill and natural gifts. Modafferi, though, is more worried about what she wants to do as opposed to what Morais wants to do. Modafferi's plan is to "finish her," in homage to Mortal Kombat.
"Mariana Morais is pretty tough, even though I have never heard of her," Modafferi admitted. "I think I am a little better in every area than her and I want to prove that. That said, I am not taking her lightly at all. My biggest advantage is my burning spirit!"
It's that burning spirit which will need to be on display, as Modafferi, a top-five flyweight in the world, looks to get back into title contention. She was knocked out of contention by Vanessa Porto in her most recent fight, a bout that still burns at her.
"I want to fight both Barb Honchak and Vanessa Porto," said Modafferi. "I am really mad I lost to Porto. But whoever wins the title match between them, I want them next. Those are both fights that I really want."
Modafferi looks forward to stepping back into the cage. She has a tough opponent and future prospects in a sport she has already given so much to. She is already in the books as a pioneer of the sport, but her trailblazing days aren't over yet.
---
Advertisement

---