There are many different paths a fighter can take on their way to the ultimate goal. Depending on the situation, some get labeled as promising prospects and others fly under the radar until that one big, shining moment. We always tend to feel the need to associate a fighter with a certain label. In the case of Bellator 141 competitor A.J. Matthews, the label is that of a top prospect. He could not avoid the label even if he wanted to.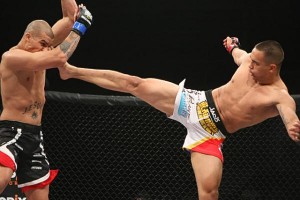 Matthews was featured on the NOS Energy Drink "Prospect to Watch" video early in his career. The hype machine for Matthews started early for the California native, who began his career with four wins in a row, including three by way of knockout or TKO.
"At that time, I was a really good training partner for high-level guys," Matthews told Combat Press. "I wasn't signed to a long-term deal with any organization. And Team Alliance is one of the best teams in the world, and when you are surrounded by those guys and those coaches, you have access to the media and things like that. I think just being part of a team like that had a lot to do with me being labeled a top prospect, along with, of course, the fact I can beat some dudes up."
---
Advertisement

---
Today, many would say Matthews has progressed beyond the label. He is a three-year veteran under the Bellator banner. Since the NOS video was released, he has piled up some nice wins to move his career to where it is today. But if you ask Matthews, he would disagree with that sentiment. Just like most young, up-and-coming fighters, the 27-year-old Matthews hit a bit of a rough stretch recently, losing back-to-back fights for the first time in his career.
"I honestly think that I might not even deserve that [label of prospect] yet," said Matthews. "To me, being a prospect is being competitive with high-level guys. I haven't even beaten anybody I wanted to beat. I haven't fought anybody that I really wanted to fight. Maybe I am a prospect still, even though I have been with Bellator for a while now. I did drop the ball a couple times, so maybe I even lost my prospect status. I try not to think about that too much. The only important fight is the next one."
Matthews may feel that he has a ways to go, but he sure looked like he got back on the right track in his last fight when he knocked out Kyle Bolt in the very first round. Most fighters, when they suffer a loss, immediately want to get back in the cage and wipe the awful taste of losing out of their mouths. In other cases, fighters who have an impressive performance want to keep the momentum going and take a fight with a reasonable turnaround and build from that previous performance. However, Matthews has not been in action since November 2014. Here we are, more than halfway through 2015, and this will be the first time he is stepping back in the cage since that memorable knockout in San Diego as part of Bellator 131.
"I was retired before that fight," Matthews said. "We fought this guy just to see if I could and then my manager just wanted me to enjoy the holidays. We were going to fight back in May for Bellator, but I ended up breaking my foot in training. Then life happens and a couple of things get in the way, so here we are, almost a year later, ready to go."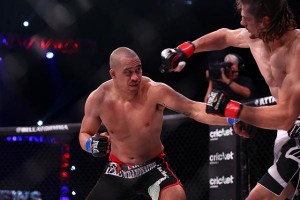 Maybe this is all part of a bigger plan for Matthews, who just under a year ago wasn't sure if he would fight again. Now he is a few days away from fighting for Bellator coming off a very good performance in what has been one of Bellator's biggest shows to date. The promotion is in a whole different situation than it was just this time last year. With Scott Coker running the show now, the company has undoubtedly made strides and the viewership numbers on Spike TV reflect this. That could only be a positive thing for the career of a fighter like Matthews, and it may be the reason why many fighters are looking at Bellator as a viable option when it comes time to sign a contract.
"One difference I could see now with this new Bellator is that they cleaned up the look a little bit and they are doing a little bit more of social media and being more creative with the ways they are promoting guys," said Matthews. "Being a little more active as well. I wasn't doing interviews before, but now I am doing interviews. I think they are trying to build their fighters as well as making those big fights some people talk crap about. But those are the fights the laymen fans want — that Kimbo [Slice] versus [Ken] Shamrock fight was the most watched Bellator fight or something like that. Many people are not going to tune in to watch me, because they don't know me, but if you put me on the same card as that fight and I do something like I did to Kyle Bolt, then people get to know me and I'll keep getting interviews. So Bellator is just getting behind the fighters a little bit more, and it feels pretty cool."
There was uncertainty in the air for Matthews just a few fights ago, but now he is coming off a big win and poised to fight another credible opponent in Emiliano Sordi at Bellator 141. You could say things are on the up and up for Matthews. If he turns in another impressive performance, we could see him fight all those guys he claims he hasn't fought yet.
"[A win] definitely will get me one step closer to fighting the guys I want to fight," said Matthews. "I am the best middleweight in Bellator, so I guess you can say I'll be the champ. But I just want to fight Brandon Halsey, who is arguably one of the best wrestlers in all of the middleweight division. I want to fight Joe [Schilling], who is the best striker in the division. I want to fight that [Hisaki] Kato guy. I want to fight all of them and I'm cool with that. It's my job. So whatever Bellator wants, Bellator gets from me."
---
Advertisement

---