Long-reigning champions in an organization tend to define greatness and invincibility in the world of mixed martial arts. Fighters who have defended their titles time and time again are instantly recognized. While this may not be the case for the Bellator featherweight division, it does not mean that greatness is not present.
In the last three years, Bellator's featherweight title has changed hands between three different men. Pat Curran held the title and defended it twice before losing it to Daniel Straus at Bellator 106. Straus would then lose his title in a rematch with Curran at Bellator 112, just five months later in their trilogy match. The title then found its way around Patricio "Pitbull" Freire's waist at Bellator 123, and his first title defense came against Straus at Bellator 132 this past January. Straus was unable to recapture the title, though.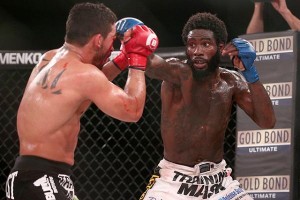 "I took some time off for myself [after the fight] obviously and, you know, just getting back to business." Straus told Combat Press. "It wasn't one of those things where I was like, 'Ohhhh, I lost by submission again! I need to go and train a bunch.' It wasn't like anything like that. I just had a mental error where I just lost focus and, like I said, I was injured. My fucking knee was hurting and my head was everywhere. So [for] the five months, I've just been rehabbing myself and just trying to work on that. I just have to move on."
---
Advertisement

---
Five months is a long time off for a fighter such as Straus. His first seven professional fights took place over the course of two months. Straus compiled a 4-3 record in that time and then went on to win 17 of his next 18 bouts en route to capturing the featherweight strap. In fact, further looking at Straus as a fighter, four of his six losses have come at the hands of Pitbull and Curran, and that's just in the last three years.
"Losing to those two guys over the past three years is such a feat to people, and it sucks that it's those two guys," Straus said. "Those are the only two guys I have lost to, and the only times I have lost have been in title fights. I just want to keep that momentum — not that I want to keep losing or anything. There's so much that's going on inside the cage. There's so much that's going on with the build up around it. To get to where I'm at, I just don't feel like these guys can beat me."
Straus has learned a lesson in that time: without evolution, a fighter will not and cannot be successful.
"The thing of it is… that's the thing about fighting. People think that once you're a certain type of fighter, you're that type of fighter for your whole career," said Straus. "Even [Quinton] 'Rampage' [Jackson] wasn't the same fighter he was towards the end, because you get these different injuries and different things happen to you. You can't move a certain way, so you have to learn how to learn another way. And that's what's going to make you the fighter that you are."
On June 19, at Bellator 138, Straus will take on a relative newcomer to most fans in Henry Corrales, a 23-year-old fighter who will be making his Bellator debut. Corrales brings an all-around attack and an unblemished record of 12-0. Most fighters put so much focus on how to prepare for a specific fighter and what to work on, but not Straus.
"My biggest strength is just being me. I can't lose focus of that," he said. "Every one of us has been that guy that's just now getting to Bellator and fighting for the first time. Every one of us at some point has to try and make a name for ourselves. At one point, I was a fighter who was just coming into Bellator. No one knew me and look where I am at now. I've won a world title, I've lost a world title, I fought another guy for a world title and damn near beat the shit out of him. [Corrales] coming in here… he's just as dangerous."
That respect is what makes Straus such a versatile fighter.
The former champ's immediate task is to pick up the win over Corrales, but what does the future hold? Ask Straus and he'll say he sees a trilogy fight with the current champion, Pitbull. All of that is dependent on Freire retaining his title when he takes on Daniel Weichel in the co-main event slot of Bellator 138.
"I don't really know who is going to win that one," Straus admitted. "Weichel is a veteran. He's been fighting all across the world and he's delivered. He's been really one of those quiet guys that, unless you've been in MMA, you haven't heard much about him or whatever, but he's a beast. He proved that. That guy is a beast and that guy can bang. He's fought Pat [Curran] and let Pat have it. People say, 'Pat was on an off day, blah, blah, blah, and all this shit.' No. He made Pat have an off day. He came in, he got the job done and did what he had to do. He's done it more than once and he's a very talented fighter.
"With that being said, you have Pitbull. Pitbull is a guy who just got his ass beat and then did something that all champs should be able to do — be able to pull it out when the champ needs to. And that's what he did. Pitbull is a tough fighter. I kind of see… I don't know, man, it's so hard for me to say this. I don't wish either one of them to win it over the other. I think Weichel might win it because of where he's at in his head. He just really doesn't give a fuck about anybody. He doesn't care who you are. He's not one of those guys that's starstruck. Like I said, he's a veteran and he's been in the game for a while. And he's had tons of fights… he's like 30-something…
"He's 35-8! That's impressive. That guy's fought some names, you know what I mean? And that guy can bang. So it's like you can't count him out. I kind of see him winning this now. I got Weichel to win."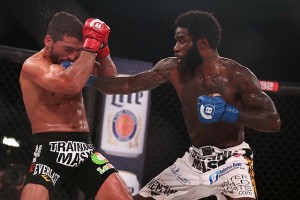 A match-up of Straus and Weichel would be intriguing, as it would bring a different dynamic to the trifecta that is the Bellator featherweight division. However, while the featherweight title is on the line at Bellator 139, it falls second fiddle to a main event of two fighters that need no introduction. Kevin "Kimbo Slice" Ferguson will take on Ken "The World's Most Dangerous Man" Shamrock in the evening's headliner.
"Here's why I think Kimbo beats Ken Shamrock: Kimbo has still been fighting over the years," said Straus. "Yeah, he hasn't been doing MMA, but he's been still boxing and he's still been in the gym. And Shamrock, yeah, he might have been in the gym, but he hasn't been, like, actively working. I see it going Kimbo's way."
Training and experience are things that a fighter gains over time. But that's not all a fighter gains each time they step into a cage or ring. They also gain fans.
"It's stuff like that. That's why I do it," Straus explained. "When you meet honest fans, and it doesn't matter whether you win or lose, they're still just fans of you because of your fight style. That's what makes me fight. That's what the different part is about fighting. It's not about running into these half-assed fans after I've lost and some guys tweet some shit — 'He's a piece of shit' [or] 'How's he ever going to explain to his daughter how he lost?' It's like, dude, are you a fight fan or a fucking dick rider? You know what I mean?"
On June 19, Straus will look to start his journey toward another run at featherweight gold when he takes on Corrales. He's sure to add some more fans along the way.
Daniel would like to thank his team at American Top Team. He would also like to thank his family, including his recently turned three-year-old daughter Makayla, and his fans. He would also like to thank his sponsors: Infitnitude, Defense Soap, Virus, Azad Watches and Strong Board Balance. Follow Straus on Twitter:
@DanielStraus
and on Instagram:
@danielstraus
---
Advertisement

---