Glass slippers. Evil stepmothers. Fairy godmothers. Those are three things you won't find in a kickboxing ring.
But that doesn't mean you won't find happy endings in the world of combat sports. They're just fewer and far between.
In June, middleweight Wayne Barrett learned this reality firsthand. The New York-based fighter suffered the first loss of his career in the semifinals of GLORY's Last Man Standing tournament in a closely contested split decision against Joe Schilling.
---
Advertisement

---
"It was heartbreaking," Barrett told Combat Press of the loss. "When I dreamed about being a professional, I dreamed about staying undefeated. Living my dream.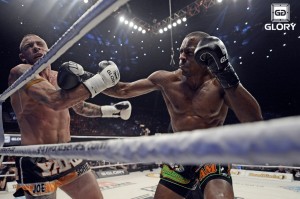 "It crushed me a little bit, but at the same time there's a lot of great fighters that have lost fights. There are guys that don't have the best records or don't have a [Floyd] Mayweather record, but they have great careers and are great fighters."
The encounter with Schilling in Los Angeles was a stark contrast to the pair's first meeting, just seven months earlier in Barrett's backyard of New York City. At the time, Barrett was a largely unknown 3-0 prospect who appeared to be overmatched against the 20-fight veteran. But the back-and-forth battle quickly put Barrett on the map.
"Joe makes mistakes. He puts his chin up. He's not as great as people may think he is," declared Barrett of Schilling. "I watched his older fights, and he's usually just towering over guys. Me and him are about the same height, same reach. By the time they tried to punch him in the face, they were met with a knee and they were out.
"He didn't know how hard I hit."
Barrett rocked Schilling badly in the second frame of their first bout, but Schilling survived and returned fire in the final round with a big knee that dropped Barrett.
"I was dazed," recalled Barrett. "I won't lie and say I wasn't, but I was not hurt."
When the scorecards were revealed that night, it was Barrett whose hands were raised. The upset signaled a new wrinkle in a division that was previously viewed as a two-man race between Schilling and Russia's Artem Levin.
"I believed in myself prior to the win. I don't know why, but I'm a guy that believes that it doesn't matter how many fights you have. I'm a sucker for the Cinderella story, I guess," said Barrett with a laugh.
"I've seen it numerous times, whether it be in the ring or in real life. The guy that's supposed to win loses because he underestimates another guy. Society tells you that other people are better because they drive a certain car or makes a certain amount of money. I've learned through life that nothing is what it seems. Everything is about perception."
The mental fortitude Barrett displays toward both his fighting career and his life can be traced back to his earliest roots in martial arts. Prior to competing in Muay Thai and kickboxing, a 10-year-old Barrett competed in karate.
"I think karate in and of itself is a good base for a lot of people," he proclaimed. "Karate is really good for mental strength, just believing in yourself. It helps me mentally inside the ring."
Barrett's fairy tale will begin a new chapter on Friday, Nov. 7, in Shawnee, Okla., when he takes on Holland's Jason Wilnis at GLORY 18. Wilnis employs a traditional Dutch kickboxing style, and Barrett is aiming to exploit it.
"Coming from a karate background, I think any style can beat any style. It's just how hard you train at it," explained Barrett. "The thing is that they're selling it as the best style of kickboxing. They're predictable. They come forward. They believe they hit harder and [they] keep kicking."
Despite sharing his views openly on Wilnis's fighting style, don't mistake Barrett's confidence as a sign that he's underestimating his foe like so many of his past opponents have done to Barrett himself.
"Jason does a lot of great things and brings a lot to the table," acknowledged Barrett. "I've watched him time and time again. In his last three fights, he's been trying some new stuff: little uppercuts on the inside, changing the timing up on his left hook. His inside leg kick is no joke. I have to stay away from that and the overhand right he likes to throw.
"I've seen all the holes in his game. I'm prepared for all of his strengths and I'm really prepared for his weaknesses. Nov. 7 is going to be my night."
Against Wilnis, Barrett will not only be looking to get back in the win column, but he'll be looking to prove he's ready for a rubber match with Schilling, or something even bigger: a crack at middleweight champion Artem Levin.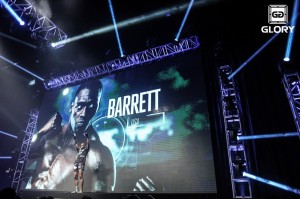 "Of course a title fight is the ultimate dream, but before I get there, I'd like to right the wrong. Joe's the only guy I haven't knocked out yet, and I want to rectify that," stated the fighter.
"Next time, I won't be so relaxed. I'll be a little bit more aggressive. I was trying to be smart that night and it played against me. I'm still new to a lot of things. And hometown robberies is something you have to equate into your calculation, especially when you beat the hometown favorite first in your hometown. Payback is something that you have to mindful of."
Before Barrett can exact revenge on Schilling, he must get past Wilnis. With his journey already taking a different path than he envisioned, Barrett is embracing what's in front of him.
"I'm fired up for this fight," proclaimed the No. 2-ranked middleweight. "I want to be loose. I'm coming out there to fight. When an opening comes, I'm going to take it. I'm going for the knockout. I'm going for the finish. I'm here to show guys that how dare they put a loss on my record.
"Expect the unexpected."
If Barrett has his way on Friday night, he won't have to worry about turning into a pumpkin come midnight. And he'll be one step closer to living his Cinderella ending.
Wayne would like to thank his sponsors: Adidas Combat Sports and Rockin' Wellness; his coach, Jason Strout; all of his fans and GLORY. Follow Barrett on Twitter:
@1WayneBarrett
---
Advertisement

---